This post is sponsored by FitFluential LLC on behalf of Koss.
I was so stoked to get this earbuds to try out.. because well.. mine are about to bite the dust. No seriously. I can hear the parts rattling in the casing when I run. The Koss Fit Series was designed by women for women.. so they know what I like!
I was thinking I would love the FitBuds.. the ones that just sit inside your ears. They have the different size cushions to change out. I had a semi-dance party around the house the night I got them while trying them out.
I found that the FitClips were actually more comfortable and fit better in my ears once I got them situated. Plus… they are that shade of mint that I just LOVE. I must say that I was a little disappointed at first, because they don't have controls on the cord and my iPod can only be controlled through that. Luckily, I have a pair of capris that are iPhone friendly, so I was able to use them with that. I also had to take my case off so the plug would fit.
I thought the sound was AMAZING in these things! The base sounds incredible and I was honestly a little shocked that they could sound this good. I'm a little bit of a music snob and being married to an A/V nerd, I have been drug to MANY a home theatre stores and these are some of the best sounding earbuds that I have ever heard. The sound is so clear and they FitClips do not move and are ridiculously comfortable! They are also sweat resistant… which is nice, since I've been known to get shocked by ear buds in the past.
I did do a little research and Koss makes some earbuds that do have the controls on the cord, so that was good to know.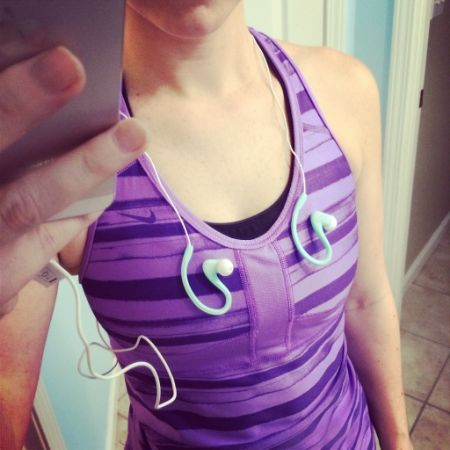 The Koss Fit Series comes in some pretty colors and they would make an amazing gift for any active chicka. You can find them on the Koss website HERE and they retail for $29.99.  They are also available at Wal-Mart, Best Buy, Walgreens, Kmart, and Sears. These retailers have them for $19.99 during the holiday season! What a deal!
Y'all know I love a company that is active on social media and they are one of them! Follow them on Twitter @KossHeadphones, Instagram @Koss, Facebook– www.facebook.com/Koss, and Pinterest– www.pinterest.com/KossHeadphones.

I have had several people ask me my opinion on the whole Lululemon thing… Here's my opinion: Chip Wilson is a chauvinistic asshole. You are the CEO of a company that makes athletic clothing for women!! You should love women! You should embrace all shapes and sizes and rejoice in the amazingness of a woman's body! But instead, you are a woman's worst nightmare. Pointing out her flaws and places most women are the most insecure about?? Shame on you, Chip.
I think that Stephen Colbert said it nicely in his Alpha Dog of the Week…
Now, will I continue to buy Lululemon clothing? Most likely… not. I am not supporting a company who's CEO is a complete jackass. I have turned the other cheek at the ridiculously priced clothing and I've even made excuses when certain colors bleed onto other colors or when $118 jackets start tearing up after 2 weeks of wear.
I tried not to be angry. I really did. I tried not to take it out on the beautiful clothing. But.. that tiny bit of feminism deep down inside me got all riled up, and I decided that I needed to break up with the company. I love their stuff. I do. But, it's like continuing to get back together with the boyfriend who insults you in public and it makes me feel icky. I will continue to wear what I currently have, but I won't be spending anymore money in that store. Sure, I will miss the Cool Racerback tanks… but somewhere, I will find a new love. I feel certain. But for now? Me and my thighs that rub together are taking it elsewhere, and my bank account thanks me.

Recently, I was sent some Athleta gear to try. I've always loved to look through their catalogs whenever they come in the mail. When I tore into the package, I was expecting a pair of black running pants… talk about surprised!! It was as if Athleta already knew me and new I wasn't a black running capri type gal. Since I am on the shorter side (5'4" on a good day), they sent me the capri instead of a full length pant. I immediately put them on and they felt so good!! The Relay Capri was so soft and thick, yet light weight. I love the thicker band up top too. For those that are wondering, this is the coral color. LOVE.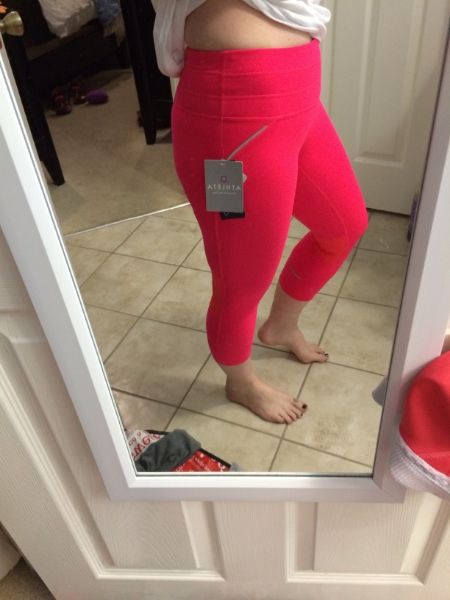 I'm so in love with this pocket looking reflective strip. It just adds a nice little detail, don't you think?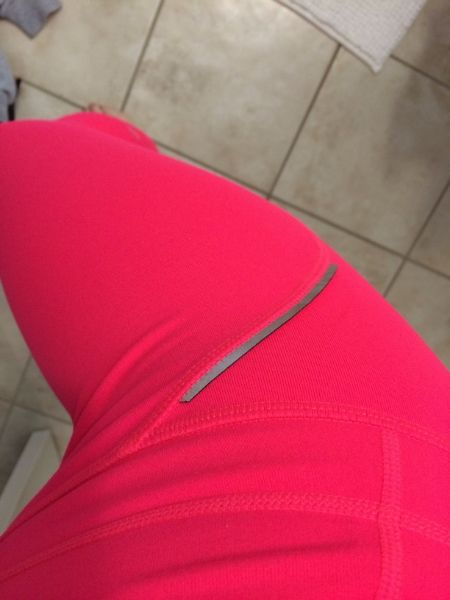 The bottom part of the Relay capri has a and that keeps from riding up. It also has some gathered detail and is ventilated behind the knee, which is a must have!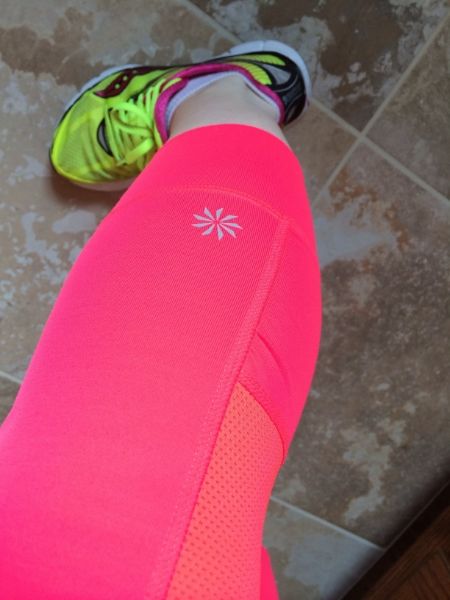 I have run in these a couple of times and I love them! I use the drawstring and these things do not move. I ran in them when it was 20 degrees last week and the only part of me that was cold was my exposed skin at the bottom. They seriously didn't let my butt fat freeze like other capris and I was most thankful. I am in need of some black running capris, and I actually ordered the Bare to Run Knicker this week. I'm ready to try it out!!
I have been so happy with Athleta as a company! I love that they interact with their customers on social media and I honestly think they are an amazing brand. They have a partnership with Girls on the Run, which is a non-profit organization to help young girls build confidence through setting and achieving goals. Their blog is a wealth of knowledge from running, to cycling, to triathlons, to training plans.. you name it, it's probably there.  I can't wait to try out more of their products. Did I mention they come in tall, regular, and petite sizing as well?? Score.

As you may recall, I was in a bit of a training funk, so I tried to see if getting out of my comfort zone would help.
I ventured to Birmingham, to attend the Birmingham Track Club's social. They have a massive running group, with well over 1,000 members. I may not be a shy person, but I am extremely awkward where I don't know people, so this was a huge step for me. I met some super nice people, and signed up for the Vulcan 10K in November and went ahead and joined the club… I am going to try to run with them a couple of times a month and see if just running with a big group and in a new setting helps keep me excited about training.
They had multiple distances and I was planning on doing the 6 mile, but ended up not grabbing directions and came up on a guy with directions in his hand and stuck with him, anyway, he was nice and ended up being more socially awkward than me, so it was a win. Except for the fact he was doing the 4 mile distance, so that's what I did.
Afterwards, I headed over the Lululemon and treated myself to a new outfit. I was shocked our Lululemon actually had what I was looking for. That never happens.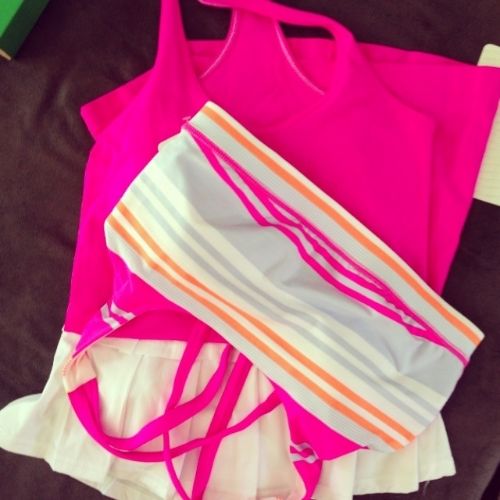 I got the white ruffle skirt, a free to be sports bra, and the cool racer bank tank. I can't wait to run in it!
I also decided that I need to get back in the habit of getting up and getting my workouts in before the rest of the world wakes up. Yesterday, my training called for a swim and a bike, so I thought I'd get in the pool and then hit the 5:15 spin class. The spin instructor was NOT what you needed for an early morning spin class, so I don't know if I will do that, since I was afraid I was going to die of boredom. I'll have to think of something else, I guess.
While, I don't think my funk will completely go away until the weather cools off, I think it's much better. Too bad it'll be another 3 months before cooler weather is upon us!
How are you making it through your summer training?

I can't tell if it's the color or not.. but something about the Saucony Kinvara 4 makes me at least feel like I am running faster. P.S. How fantastic is this packaging?!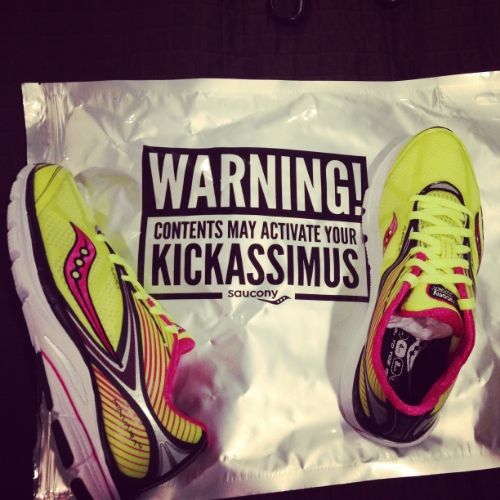 This shoe is SUPER lightweight.
I ran in them for about a week before going back to my Ravenna's for a distance run, and the Ravenna's honestly felt like a brick on the bottom of my leg.

If you remember my review of the Virratas, I was super impressed with that shoe. This one? I'm sort of in love with it. The 4mm heel-to-toe drop is much better for me than the 0mm heel-to-toe drop. I literally ran a half-marathon in them with less than 30 miles on them. (I never said I was smart.)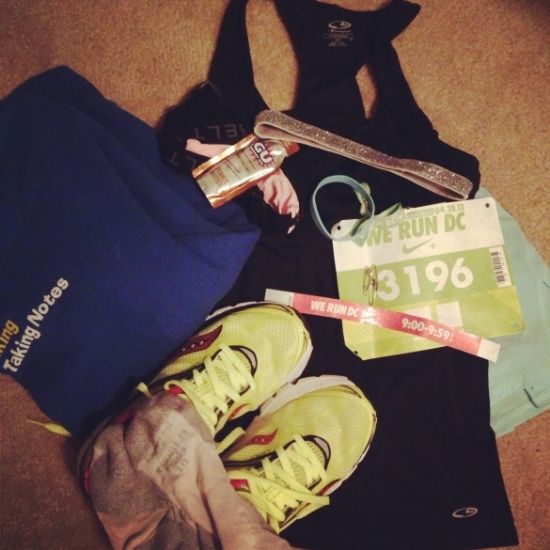 \
The Ravenna's I have been running in are a stability shoe, and the Kinvara 4 offers more cushion and support than a normal minimal shoe. Also? More room in the toe box and it doesn't feel as long as the Virrata, if that makes sense. They didn't take as much getting used to as the Virratas did.. I was able to hop in them and go with minimal discomfort.
I think I have inadvertently made the switch to a more minimal shoe. At least, for the time being. Besides.. who doesn't love a shoe that can glow in the dark?
Here is what Saucony has to say about it.

I got the amazing opportunity through FitFluential to review the Saucony Virrata's. Let me tell you, I was stoked because A) I've always wanted to try a minimal shoe and B) I love the color scheme of this shoe. Like a whole lot.
My initial thoughts were, "OhMyGosh, they feel so different from my Ravennas!" Which, I've been wearing for about a year and a half, possibly two years. If it ain't broke, don't fix it.. right? But.. they went and re-did my Ravennas and well, they broke it. So, this felt like a good time to try something new.
I've been scared to try a minimal shoe, simply because, I run too high of mileage to break these in. So, I have been alternating them with my Ravennas to help break them in. I've logged about 20-25 miles in them, with my longest run being about 4.5 miles.
Y'all. these shoes feel super flexible and light weight. It's ridiculous. I just want to FLY in them. While, I think I could have used about a half of a size smaller, it's not uncomfortable. They feel like a glove though the mid foot area, with plenty of room to wiggle my toes.
Saucony did an amazing blog post on them, but basically, they have the standard 0mm drop for a minimal shoe, with 18mm of cushiony goodness underneath.
Hey look! My thighs almost don't touch. That's exciting.
The great thing about these is, that you don't have to break them in like a normal minimal shoe. You can jump in to a 3 miler. So, I did. I could definitely tell that it was working some muscles that I normally don't get to work… *ahem ankles/calves ahem*. The first time I wore them was the day after I ran the Mercedes Half, and even though my legs were sore and tired, the shoes were so light weight I just wanted to fly. It was really hard to reel it in.
After several runs, my opinion is that this is an excellent minimal shoe. It provides great cushion and support for a minimal shoe. I feel good when I run in these. Can I feel it in my ankle? Yes, I can. Is it terrible? Nope. I also think it's getting easier and not as painful. My calves are always a little sore after them, but it honestly makes me want to run in them more so I can continue to work and build those muscles(Is that weird?).
I will say, that this week, I ran over 4 miles of hills in them and that towards the end, My IT band had introduced itself and wasn't a happy camper. But, maybe I didn't think that one through before lacing up.
I really want to keep this shoe in a rotation. It's excellent for speed since it is so lightweight. It has me rethinking my opinion on minimal running shoes.. which hasn't been a nice opinion, just let me tell you.
Since I am at such an impasse with my running shoes, I will continue to rotate this one on shorter distances, but will attempt to work up to something longer in it. Have you ever tried a minimal shoe? What's your take on them?

I don't have much to say today that is of any consequence, so I thought I do a word vomit post. You can thank me later.
1. Parenting is STUPID hard. Trying to turn little demons into respectable, well mannered beings is crazy hard. I'm much rather run half marathons. Those are way easier.
2. I am running the Tuscaloosa Half Marathon on Saturday.. yes. I am crazy pants. And I really want some new Lululemon to wear…
Clearly, I have been deprived of spending money on clothes for too long, because I am in BUY ALL THE THINGS mode. Side note: I realized last night that my running wardrobe is FAR more expensive than my everyday clothing. I will straight up spend some money on running clothes.
3. I've been running in these Saucony Virrata's this week. I love their color. They are crazy light weight. But I have been having some ankle problems (since Mercedes. Old injury.) So, I switched back to my Brooks last night since I will be racing in those on Saturday anyway. I don't want to speak out of turn, but I really dig these shoes.
Aren't they pretty?!
What randomness do you have going on today?

***Giveaway is now closed!!****
I have a person motto that goes something like this, "If it's pink and/or sparkly, chances are, I'm going to want it."
A sparkly headband is no exception to this rule. Truth be told, I'm glad to have found the perfect brand of sparkly headbands for running so I can wear them everyday and not feel like I've stolen something out my child's closet.
I have been wearing Sparkly Soul headbands for almost a year– getting my first one for Rock N Roll DC.
They are pretty much all I wear now. I alternated for a while with some other brands, but generally like the way that they fit my head. They don't slip and aren't too tight. I also LOVE that the sparkle goes all the way around the band.
They have SO many colors. It's hard to ever choose which one that I want.
Here is a blurb from their Press Release:
"Sparkly Soul non-slip headbands are available in a wide variety of colors and two widths. The thin 3/8" headband retails for $15 each, while the 5/8" wide headband retails for $17 each. One size fits all adults and, children ages 5 and up. Sparkle Soul headbands are proudly Made In the USA and professionally manufactured in New York City."
One of the best things that I LOVE about them? They interact with you on Social Networking, building excellent client relationships. It's nice to know if I have a question or post a picture, they are going to answer it or share it!
You can follow them on:
Twitter @SPARKLYSOULINC
Instagram/Pinterest/Tumblr user names are SPARKLYSOULINC
And because Sparkly Soul ROCKS so much, they are going to give away a headband to one of my readers. All you have to do is leave a comment telling me which color and if you would want wide vs thin.
You can enter once a day.
If you'd like an extra entry, you can tweet about it, just be sure to tag me (@runinhighheels) and Sparkly Soul (@SPARKLYSOULINC)
I will end the contest on Sunday, February 10th at midnight… and will announce the winner that week!
Good Luck!!

Last week I ran the Magic City Half Marathon in Birmingham. (I know, I know. Last week turned a tad crazy on me.)
I set my sights on a sub 2:30 half, with my goal being as close to 2:15 as possible. 

It was a pretty chilly morning, but was promising for excellent racing weather.
John and Addy came down with me… Claire was with GiGi and they spectated at Railroad Park.
We always have a pretty strong Cullman crew representing at races.
It ended up being delayed about 30 minutes for the Powerade truck not being there yet. But once the start gun went off, I was in good spirits. Donnie was supposed to help pace me, but had been sick like me so we weren't sure how long we would stay together. He ended up waving me on around mile 5. I was glad that I turned on the virtual pacer on my watch– I really think that helped me stay on track. The miles really flew by and I was just enjoying the race, the people, and the city. They had the 5K people merge with us around mile 6, but by the time I hit them, it was mostly walkers and I wasn't a fan of that at all. My hip started protesting me around mile 9, but I was still in good spirits mentally. As I made the turn into one of the loops, I saw Shannon not far behind the 2:00 pacer and I didn't think she was going to be able to pull out her sub 2 hour goal. Honestly? This is the worst loop in a race. I really hate when races loop. You never know how far ahead those people are who are turning out. As I turned out, I could the 2:20 pacer close behind me, and just thought, "Stay in front of her. Stay in front of her." But it took a lot out of me to cross the overpass over the railroad tracks. The 2:20 pacer ended up passing me around 12.5 and I just didn't have it in me anymore. My foot had started to go numb and my hip was screaming at me.
I saw my family at the finish line, and I high fived the girls, but they ended up running out with me. I finished in 2:20:30. A 12 minute PR. Not too shabby. I certainly shouldn't complain about it. But let's be honest, while I am proud that I was able to shave that much time off my half marathon time, and only trained for about a month, I am a little peeved I couldn't pull a sub 2:20 out of it. But I know I left it all out there on the course and had nothing else to give.
My dad took some pictures… I am not looking like I am having a good time.
After the race… I look like I am about to die.
Quite possibly the best race picture ever… and totally worth every penny  I paid for it.
I've already signed up for the Mercedes Half Marathon in February… and a sub 2:15 is totally going to happen.
I'd like to thank the fabulous
Dorothy at Mile Posts
for my rad race shirt. I freaking love it!!! It helped me channel her awesomeness for sure!!

Saturday was one of those days that was just awesome all around. I woke up to go meet my peeps for a "long" run. I was hoping the hip would hold up to 6 miles. As I waited, I saw tons of small running groups. I was shocked we had so many runners here. Yes, I knew theoretically, they were there. But I hardly ever see them! It made me want to get out and make new friends. Anyway, Donnie wanted to run a small 5K that was going on that morning. I hemmed and hawed about it and he looked at me and said, "What difference does it make if you run in a race or now?" Uhh.. I had no response. So, we signed up.
I had already made the joke about wondering who I was… the crazy girl getting up before the sun to go run in 45 degree weather. Where did she come from?! Then, I became one of THOSE people who were running more miles before the race. Confident enough in their abilities to perform in the race after expending energy. I swear, sometimes I look around and wonder how I got to these places.
My hip hurt, by the way. I'm currently having a love affair with Ibuprofen, ice, and the heating pad. It all seems to be working.
Anyway, I ran and picked up donuts for the girls on my way home, rushed to shower and get dressed and head to work. I found out during work that I had placed 2nd in my age group– major sweetness!
I came home from work to find J had gone grocery shopping and made homemade chili… I was so pumped!!
THEN.. I saw that my new Lululemon crops had came in… YES!!! I love these things more than you should love a pair of workout clothes.
As I was putting away the rest of the groceries, (No he didn't put everything away.. I'm a little anal about where things go) I noticed these bad boys…
Yes please!!! We straightened up the house and Donnie and Shannon came over to watch the Bama game… I was a little shocked by how much she screams. She and John were like two peas in a pod! I'm not gonna lie.. I was more than a nervous wreck the entire game.. it felt like last year and we were about to have our dreams crushed! With 1:34 left on the clock, John announced that he wasn't sure if he could watch the rest… but then, TJ Yeldon came through for us with the winning touchdown, and I looked about like Tom Cruise with his couch jumping. We were all screaming and I was jumping on the couch like a crazy person.


GIFSoup
I really love this.. because touch that thang, fo is something we always say.
I woke up Sunday and had some dominating coffee…
 Sunday was not really productive, and an extremely lazy day. It was awesome, too.
How was your weekend?
Did you watch the Bama/LSU game?
Did you race?