I got the amazing opportunity through FitFluential to review the Saucony Virrata's. Let me tell you, I was stoked because A) I've always wanted to try a minimal shoe and B) I love the color scheme of this shoe. Like a whole lot.
My initial thoughts were, "OhMyGosh, they feel so different from my Ravennas!" Which, I've been wearing for about a year and a half, possibly two years. If it ain't broke, don't fix it.. right? But.. they went and re-did my Ravennas and well, they broke it. So, this felt like a good time to try something new.
I've been scared to try a minimal shoe, simply because, I run too high of mileage to break these in. So, I have been alternating them with my Ravennas to help break them in. I've logged about 20-25 miles in them, with my longest run being about 4.5 miles.
Y'all. these shoes feel super flexible and light weight. It's ridiculous. I just want to FLY in them. While, I think I could have used about a half of a size smaller, it's not uncomfortable. They feel like a glove though the mid foot area, with plenty of room to wiggle my toes.
Saucony did an amazing blog post on them, but basically, they have the standard 0mm drop for a minimal shoe, with 18mm of cushiony goodness underneath.
Hey look! My thighs almost don't touch. That's exciting.
The great thing about these is, that you don't have to break them in like a normal minimal shoe. You can jump in to a 3 miler. So, I did. I could definitely tell that it was working some muscles that I normally don't get to work… *ahem ankles/calves ahem*. The first time I wore them was the day after I ran the Mercedes Half, and even though my legs were sore and tired, the shoes were so light weight I just wanted to fly. It was really hard to reel it in.
After several runs, my opinion is that this is an excellent minimal shoe. It provides great cushion and support for a minimal shoe. I feel good when I run in these. Can I feel it in my ankle? Yes, I can. Is it terrible? Nope. I also think it's getting easier and not as painful. My calves are always a little sore after them, but it honestly makes me want to run in them more so I can continue to work and build those muscles(Is that weird?).
I will say, that this week, I ran over 4 miles of hills in them and that towards the end, My IT band had introduced itself and wasn't a happy camper. But, maybe I didn't think that one through before lacing up.
I really want to keep this shoe in a rotation. It's excellent for speed since it is so lightweight. It has me rethinking my opinion on minimal running shoes.. which hasn't been a nice opinion, just let me tell you.
Since I am at such an impasse with my running shoes, I will continue to rotate this one on shorter distances, but will attempt to work up to something longer in it. Have you ever tried a minimal shoe? What's your take on them?

I don't have much to say today that is of any consequence, so I thought I do a word vomit post. You can thank me later.
1. Parenting is STUPID hard. Trying to turn little demons into respectable, well mannered beings is crazy hard. I'm much rather run half marathons. Those are way easier.
2. I am running the Tuscaloosa Half Marathon on Saturday.. yes. I am crazy pants. And I really want some new Lululemon to wear…
Clearly, I have been deprived of spending money on clothes for too long, because I am in BUY ALL THE THINGS mode. Side note: I realized last night that my running wardrobe is FAR more expensive than my everyday clothing. I will straight up spend some money on running clothes.
3. I've been running in these Saucony Virrata's this week. I love their color. They are crazy light weight. But I have been having some ankle problems (since Mercedes. Old injury.) So, I switched back to my Brooks last night since I will be racing in those on Saturday anyway. I don't want to speak out of turn, but I really dig these shoes.
Aren't they pretty?!
What randomness do you have going on today?

***Giveaway is now closed!!****
I have a person motto that goes something like this, "If it's pink and/or sparkly, chances are, I'm going to want it."
A sparkly headband is no exception to this rule. Truth be told, I'm glad to have found the perfect brand of sparkly headbands for running so I can wear them everyday and not feel like I've stolen something out my child's closet.
I have been wearing Sparkly Soul headbands for almost a year– getting my first one for Rock N Roll DC.
They are pretty much all I wear now. I alternated for a while with some other brands, but generally like the way that they fit my head. They don't slip and aren't too tight. I also LOVE that the sparkle goes all the way around the band.
They have SO many colors. It's hard to ever choose which one that I want.
Here is a blurb from their Press Release:
"Sparkly Soul non-slip headbands are available in a wide variety of colors and two widths. The thin 3/8" headband retails for $15 each, while the 5/8" wide headband retails for $17 each. One size fits all adults and, children ages 5 and up. Sparkle Soul headbands are proudly Made In the USA and professionally manufactured in New York City."
One of the best things that I LOVE about them? They interact with you on Social Networking, building excellent client relationships. It's nice to know if I have a question or post a picture, they are going to answer it or share it!
You can follow them on:
Twitter @SPARKLYSOULINC
Instagram/Pinterest/Tumblr user names are SPARKLYSOULINC
And because Sparkly Soul ROCKS so much, they are going to give away a headband to one of my readers. All you have to do is leave a comment telling me which color and if you would want wide vs thin.
You can enter once a day.
If you'd like an extra entry, you can tweet about it, just be sure to tag me (@runinhighheels) and Sparkly Soul (@SPARKLYSOULINC)
I will end the contest on Sunday, February 10th at midnight… and will announce the winner that week!
Good Luck!!

Last week I ran the Magic City Half Marathon in Birmingham. (I know, I know. Last week turned a tad crazy on me.)
I set my sights on a sub 2:30 half, with my goal being as close to 2:15 as possible. 

It was a pretty chilly morning, but was promising for excellent racing weather.
John and Addy came down with me… Claire was with GiGi and they spectated at Railroad Park.
We always have a pretty strong Cullman crew representing at races.
It ended up being delayed about 30 minutes for the Powerade truck not being there yet. But once the start gun went off, I was in good spirits. Donnie was supposed to help pace me, but had been sick like me so we weren't sure how long we would stay together. He ended up waving me on around mile 5. I was glad that I turned on the virtual pacer on my watch– I really think that helped me stay on track. The miles really flew by and I was just enjoying the race, the people, and the city. They had the 5K people merge with us around mile 6, but by the time I hit them, it was mostly walkers and I wasn't a fan of that at all. My hip started protesting me around mile 9, but I was still in good spirits mentally. As I made the turn into one of the loops, I saw Shannon not far behind the 2:00 pacer and I didn't think she was going to be able to pull out her sub 2 hour goal. Honestly? This is the worst loop in a race. I really hate when races loop. You never know how far ahead those people are who are turning out. As I turned out, I could the 2:20 pacer close behind me, and just thought, "Stay in front of her. Stay in front of her." But it took a lot out of me to cross the overpass over the railroad tracks. The 2:20 pacer ended up passing me around 12.5 and I just didn't have it in me anymore. My foot had started to go numb and my hip was screaming at me.
I saw my family at the finish line, and I high fived the girls, but they ended up running out with me. I finished in 2:20:30. A 12 minute PR. Not too shabby. I certainly shouldn't complain about it. But let's be honest, while I am proud that I was able to shave that much time off my half marathon time, and only trained for about a month, I am a little peeved I couldn't pull a sub 2:20 out of it. But I know I left it all out there on the course and had nothing else to give.
My dad took some pictures… I am not looking like I am having a good time.
After the race… I look like I am about to die.
Quite possibly the best race picture ever… and totally worth every penny  I paid for it.
I've already signed up for the Mercedes Half Marathon in February… and a sub 2:15 is totally going to happen.
I'd like to thank the fabulous
Dorothy at Mile Posts
for my rad race shirt. I freaking love it!!! It helped me channel her awesomeness for sure!!

Saturday was one of those days that was just awesome all around. I woke up to go meet my peeps for a "long" run. I was hoping the hip would hold up to 6 miles. As I waited, I saw tons of small running groups. I was shocked we had so many runners here. Yes, I knew theoretically, they were there. But I hardly ever see them! It made me want to get out and make new friends. Anyway, Donnie wanted to run a small 5K that was going on that morning. I hemmed and hawed about it and he looked at me and said, "What difference does it make if you run in a race or now?" Uhh.. I had no response. So, we signed up.
I had already made the joke about wondering who I was… the crazy girl getting up before the sun to go run in 45 degree weather. Where did she come from?! Then, I became one of THOSE people who were running more miles before the race. Confident enough in their abilities to perform in the race after expending energy. I swear, sometimes I look around and wonder how I got to these places.
My hip hurt, by the way. I'm currently having a love affair with Ibuprofen, ice, and the heating pad. It all seems to be working.
Anyway, I ran and picked up donuts for the girls on my way home, rushed to shower and get dressed and head to work. I found out during work that I had placed 2nd in my age group– major sweetness!
I came home from work to find J had gone grocery shopping and made homemade chili… I was so pumped!!
THEN.. I saw that my new Lululemon crops had came in… YES!!! I love these things more than you should love a pair of workout clothes.
As I was putting away the rest of the groceries, (No he didn't put everything away.. I'm a little anal about where things go) I noticed these bad boys…
Yes please!!! We straightened up the house and Donnie and Shannon came over to watch the Bama game… I was a little shocked by how much she screams. She and John were like two peas in a pod! I'm not gonna lie.. I was more than a nervous wreck the entire game.. it felt like last year and we were about to have our dreams crushed! With 1:34 left on the clock, John announced that he wasn't sure if he could watch the rest… but then, TJ Yeldon came through for us with the winning touchdown, and I looked about like Tom Cruise with his couch jumping. We were all screaming and I was jumping on the couch like a crazy person.


GIFSoup
I really love this.. because touch that thang, fo is something we always say.
I woke up Sunday and had some dominating coffee…
 Sunday was not really productive, and an extremely lazy day. It was awesome, too.
How was your weekend?
Did you watch the Bama/LSU game?
Did you race?

A couple of weeks ago, J surprised me with a new Garmin. Mine died this summer… I think we can blame it on this race and say the cause of death was Powerade. It tried to hang on, but was never really the same.
I've been pleased with the simplicity of this watch. It's super user friendly, and with a price tag of around $125, it's pretty affordable as running watches go. 
I mean, plus it comes in pink. So you know I had to have it. My only complaints are that it takes a lot longer to find satellites for the GPS and I can't get it to sync to Daily Mile. It syncs to Garmin Connect with no problems. So, if anyone knows whats up.. help a sister out!
Here is a video link to tell you more about the watch.. it has a run/walk feature that is pretty nifty, and everything is hard buttons.
http://www.youtube.com/watch?v=B0NJKsE8UEY&feature=relmfu
I also purchased a new Moving Comfort sports bra last week. I am in love with these things. While they are a tad pricey (around $50), they are worth it. First off, you aren't supposed to wash them after every wear. They are made to withstand a couple of wears before washing. You will need to be replace them after about 50 washes. They have adjustable straps and an adjustable clasp in the back… yes, please!
Plus.. doesn't the back just look super awesome?!
What new gear can't you live without?! Tell me!

I could lie to you, but that title came just because I am slightly obsessed with Spotify and yep. I was listening to Travis Tritt. If we can't be honest with the Internets, then who can we be honest with?
That's right.
Mr and Mrs Smith
and I are running the Rock N Roll Savannah 1/2 marathon on November 5th. I could lie and say that Philly was perfectly okay with this, but he was not. November 5th is also the day that the Crimson Tide battles the Bayou Bengals in Tuscaloosa. Yep. You guessed. I am missing an Alabama football game to torture myself for 13.1 miles. Not just ANY game. An SEC game. BIG DEAL, people who aren't from the South or who don't care about football!
Anywho.
We are super pumped and the lovely
Tonia at Racing with Babes
made me a training plan, so it started this week. But not without a new pair of shoes. I finally did my shoe fittings right. I went to Fleet Feet in Huntsville- they have the treadmill. (Side note. Don't go for a running shoe fitting in a dress.) Turns out, I pronate my right foot. B-A-D. Can you guess what knee I have trouble with? Yep. The right one. Amazing! There's the light bulb!
So. I know I wanted a pair of the Frees-but the color was no where to be found and running store dude said no way, bad idea. So, I got some shoes that have some stability on the inside. The Brooks Ravennas.
It's not a glitter stiletto, but it's close!

So.. Of course I had John take some pictures of me on my first week of training, complete with the new kicks- which I have been on a few runs in, and I LOVE them. No knee pain!!
And since J gets mad when I put weird face pictures of him on the Internets, This is just for you.
It's a talent to be this pale. I keep hoping for Edward Cullen to come along…
What? A redheaded kid wants in my picture? NEVER!
I'm getting my majorette pose down..
And.. I'm going to punch this Half Marathon in the FACE!!!
Are there any of you planning to run RnR Savannah? If so, let's plan a blogger dinner? Anyone game?
More importantly.. what should I wear for the race? I was thinking.. something Bama inspired since it's game day. You know how I am about dressing up for games, right??

Guys, I am having a dilemma. While, my Karhu's have helped me knee problem, they are extremely heavy and I feel like I need a secondary running shoe. What I want, is to be faster. And to not have knee pain. I have been lusting over the Nike Free's for a while. They are light weight but I have heard bad things about distance running in them.
I did a bad thing. I tried them on. They felt fantastic. I talked with the guy at Hibbett's- where I normally wouldn't buy running shoes, but I was browsing and he seemed extremely knowledgable. He flat out told me that with my heel strike, these shoes would be my worst nightmare, but he also told me about the Free technology that simulates barefoot running therefore it strengthens the ankle muscle and blah blah blah. He got me thinking though, he said that "natural" runners( those who hit more on the balls of their feet) have the shock of the strike in their muscles and not in their joints and cartilage like a heel striker does.
I am afraid I am doing THE ONE thing that a runner isn't supposed to do and am choosing a shoe based on looks. He put a special insert in the shoe and I tried it on with my normal running sock and it felt fantastic.
I am looking for this shoe as a secondary running shoe, not a primary. Something to start out with 1-2 mile runs to help improve my speed and hopefully my running "style"- is that the right word?
Anyway, so last night I went to run a mile- to help my speed and tried to stay conscious of how my foot was hitting and stayed more on the mid-foot area, and I could feel it working my calves more and different muscles in my feet. I felt much better and didn't get as tired as I normally would and ended up running almost 3 miles.
I am also still having a breathing problem… I am not sure if I just suck wind and therefore my mouth and throat get dry and so I stop to drink some water, but I am getting side stitches. How can I fix this? I think it might be becoming a mental block too.
So, my questions are.. Am I letting my fashion brain overtake my smart runners brain on a shoe purchase? I have enjoyed the Karhu's but would rather get back into my Vomero's and maybe a pair of Free's for shorter distances. What do you think?? Opinions, people!!
And what can I do to help my breathing techniques?

Thank you all so much for the birthday wishes! While I am not digging getting older, I still do love my birthday.
I ended up with the cutest travel coffee mug from my friend Ashley- I love travel coffee mugs! The girls got me lots of dollars on iTunes to buy some books and music and I got two bottles of wine from the wine tasting the other night and a new running outfit- it's Alabama style people. Can I just say how much I love my new WHITE running skirt! After seeing
Racing with Babes
Boston inspired outfit, I knew I had to have a Bama one. Philly heard my cries and somehow got a
Running Skirt
here after pronouncing on Monday that he couldn't find it on the website.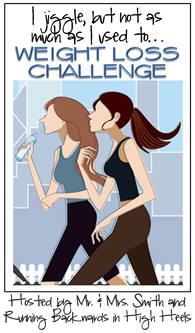 So, onto week 3! I am loving everyone coming together and giving motivation to each other for this challenge.
While, I didn't get on the scales this morning after my birthday dinner, I can attest that I have been staying strong at 130. I can't tell you how awesome it makes me feel to have everyone tell me how skinny I look. I promise that never gets old!
I have decided that I will most likely try to stay around 130 and just tone up my body. My friend Jana has started her second week of Jillian's Ripped in 30 Days- she says it's tough but she is already seeing results. So much that her husband has commented on it. I will be ordering that and doing it in conjunction with running/elliptical. I really want to concentrate on getting my pace under 10 minutes, so I will be working on my speed for a 5K. I am around 10:20 a mile for my 5K pace and I want to get that down to 9:00.
I can't wait to hear about how everyone is doing this week!

I have had 5 workouts with the new shoes. There are super comfy and my knees haven't been bothering me. Here is the downside. My socks don't like them. I wear the thorlo pads and these two aren't meshing. Also, my feet get hot. I can't stand when my feet get hot. Thirdly, I think they are a little heavy for running shoes. I have been thinking my legs felt like lead but now I am thinking it's the heaviness of the shoes. I can only assume that since the shoes a little heavier that they are the reason that my calves are sore. Not that I am complaining. My calves could use a work out.
I also discovered that I can't run Nashville. No babysitters. It's really not a big deal to me. My heart wasn't in that race anyway. But I wanted to look for a 10K to run. It seems like a good distance for me. I found two. One on the day of A-Day and the other is the day we leave for Vegas. So.. no can do. I'm a little ticked about it.
Since I am a person that needs goals, I have decided to really work on bringing my 5K time down. I really want to run a sub 30 min 5K. I am just not sure how to go about concentrating on speed work. How often should this be done? Can it be done on a treadmill?
I am thinking I need a running partner too. I really do enjoy running outside. I don't know many runners, so I either need to find some runner friends/runner group or make the friends I already have, run. Any takers? (yes, Jana- I, too, wish we lived closer together because we could be awesome running buddies.)
On a side note, I want to get toned. I am trying to figure out the best way to go about it. Start working with weights? Run more? Do The Shred? I had my body fat analyzed this morning. This is how is breaks down… 23.1 body fat and my muscle mass is 23.3- basically I am half muscle, half fat. 14-20% is the athletic area of body fat, and I am in the fitness area. I'm not trying to unload my body image issues on here, but basically, I hate my inner thighs, second butt, and my arms. So, anything to help me there would be greatly appreciated.
To answer the anonymous question that was posted in my comments- We are still unsure if we are done having kids or not. We are happy with the way the things are right now. If we do try again, I think we would both be happy either way it went. Boy or another girl- it wouldn't matter to me!