Don't think I have forgotten about my little trip to Dallas..Or what I wore! I'm semi-obsessed with the navy and emerald green combination.
I busted out my green skinnies.. I love them. I found them last Spring at Ross for $11. I paired it with a navy shirt, and a navy and white striped cropped sweater.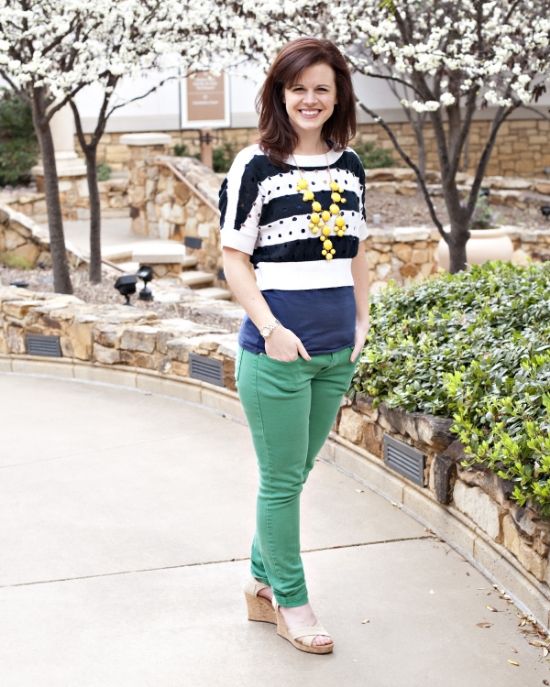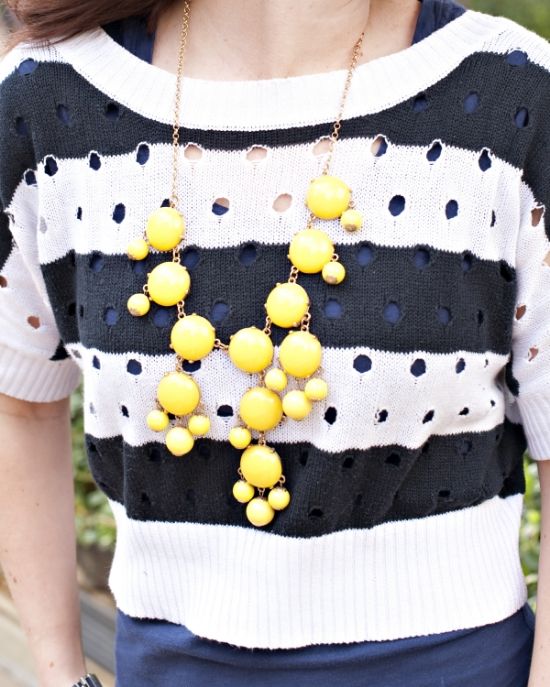 Seriously. I love my Toms Wedges. They go with everything and they are super comfortable.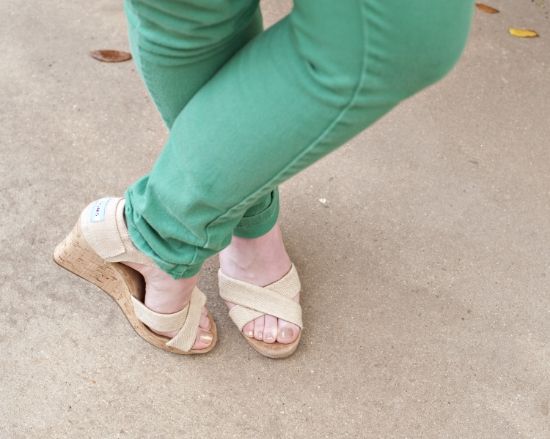 Skinnies-Here's a link for something similar.
Sweater- Similar 
TOMS Wedges can be found here or If The Shoe Fits

I debated on whether or not to write this post for a while, and then I decided against it. Not because I didn't want to share this story, but because I was trying to learn from my mistakes.
I have since changed my tune. I feel like it's something that needs to be brought to the attention of the Internet.
During the summer, I was asked to leave my job because of something that I wrote on my blog. I took my anger and vented about coworkers and customers in a humorous fashion and I guess there were people who didn't think it to be funny. The blog was something I never talked about at work. I never said where I worked on the blog. Someone found my blog by doing some intense stalking of me.
I'm not going to lie, it hurt. Something that I loved to do so much, had cost me my job. Apparently, freedom of speech doesn't apply anymore. I thought it was ridiculous that they used that against me. I went into a little bit of a depression over it. I had to pick myself up and move on though. I had to find another job.
I started my new job the first week of September. I didn't hate it, nor did I love it. About 2 weeks ago, I got a call from one of the boutique owners here in town, and they wanted to talk to me about a job interview for a shoe store they had just bought. I talked to J about it, and we both agreed that it was a better fit for us as a family and we knew I would be a lot happier there. Now.. he's started calling me a gypsy. Comedy, I tell ya.
I finish my two week notice on Thursday and start my new job on Monday. We are pushing to get ready to move into a new space, so it's going to be a lot of work but I am ready!! It's a perfect fit me, y'all. The use of social media, photography, organizing.. and HELLO?! SHOES!!
Anyway, back to my original point to this post. You may not be some anonymous on the Internet. And whatever you say, can and will be used against you. It's all about your digital foot print.. You put it out there, you better be willing to let it cost you something important in your life.
Have you ever put something out on the Internet that you wish you could take back?

Here's a whole bunch of randomness that I wanted to share.
A childhood dream came true. 
I made some Angry Bird cupcakes following THIS TUTORIAL. It was pretty easy! 
I did Christmas with Becca and she got the most perfect gift for my multiple personalities. (You'll only get the tag if you watch Gossip Girl. We are the non-judging breakfast club!) 
Yep. Glitter heels and a running shirt with a Princess crown and the word "Dominate". The back says 13.1
Not the most comfortable shoe to wear for 4 hours, but surprisingly, not that bad to walk in. Your arch just starts to protest after too long. 
A surprise Christmas gift from John.. He did really good with all the surprises! He listened to things I talked about and didn't follow the list completely. Good job!! 
I also got The Hunger Games book.. oh my. Fantastic! I rate the series up there with Harry Potter and better than Twilight. Yep. The characters are different, but the writing is amazing. I was glued to it. I read the series starting on a Friday night and finished on a Monday. (This was also NYE weekend… so I was forced to get out of the house otherwise, it could have been sooner.)
I also got a Sephora gift card.. here is one of my purchases. I debated on this. But ultimately, I am a lip gloss addict and couldn't resist.

And the best game ever. If you love this SITE, then this is the game for you!! And you probably should play it with my husband and Brother in law, as their comments are shocking and hilarious.