Run/swim/bike a combined total of 1500 miles.

Didn't happen. I was right at 1,000 miles.. pretty far off. 

Run 3 half marathons this Spring.

DONE. 

Complete 3 tri's this summer.

Only did 2.. stupid injury. 



Don't die during the Ragnar Relay.

DONE. 

Run a sub 2:15 half marathon.

DONE. 

Cook dinner every night for an entire week.

Totally forgot I set this as a goal..

Grow an herb garden and use it!

Nope. I have a feeling I will never do this.

Balance between my goals, John's goals, and what's good for the girls. Reaching goals take sacrifice for all parties, and it's very easy to become selfish with what you want, and not what's best for the family.

I'd like to think I did this! 

Take the girls on a weekend trip.. somewhere fun but within driving distance.

DONE. The cruise counts, right??

Be able to do the splits.

This is laughable that I set it as a goal..

Continue with cross training and weight training.

DONE… Err… still a work in progress! 

Clean up my eating… being more mindful of what I am putting into my body.

Still a work in progress…

Go to a Pro Football Game.

Another one that's probably not going to happen. 
I haven't set my goals for 2014 yet.. I'm a little disappointed that I missed so many. Oh well! Let's take a look back at how EPIC 2013 was.
We started off the year with C turning 4…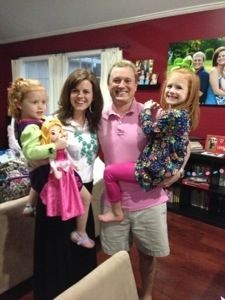 And then I ran Ragnar Relay FLK… I still can't believe I did that.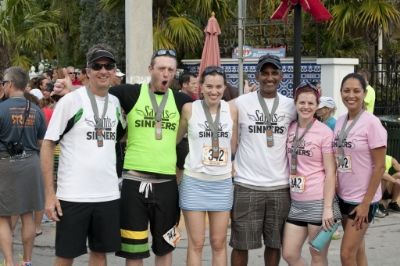 We went to the National Title game… and I was photobombed by my brother in law.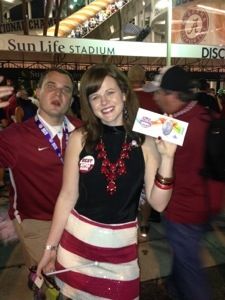 We had a snow day…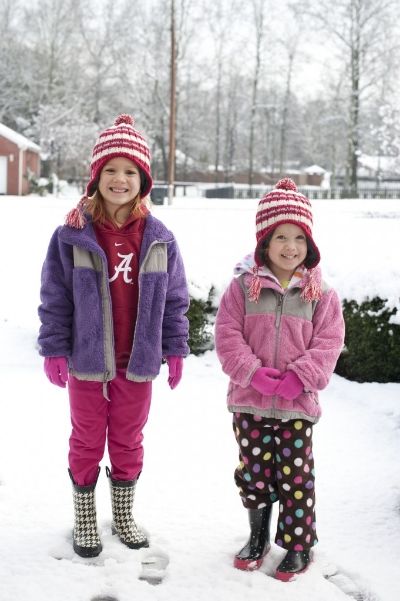 I ran Mercedes.. and officially crushed my sub 2:15 goal.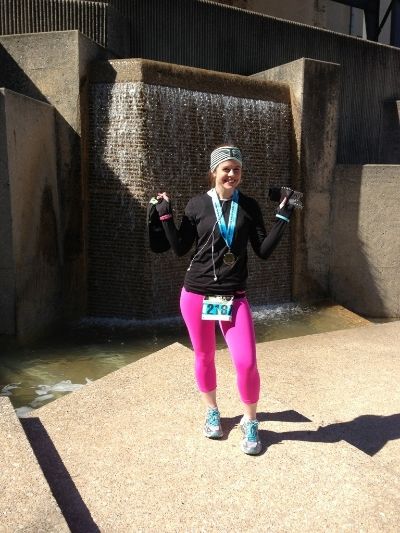 And then 2 weeks later, I ran Tuscaloosa and PR'd again..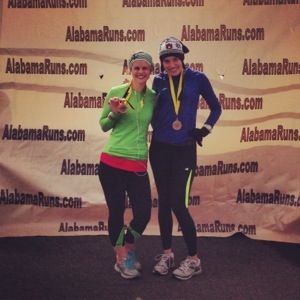 I went to Texas for the final BlissDom…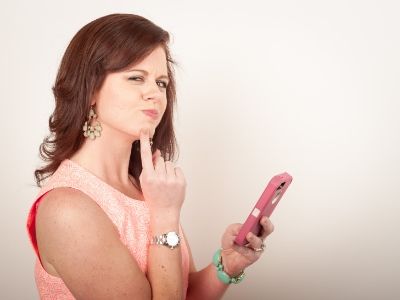 C discovered her love of a knee pop..
I went up to DC and ran Nike Women's with Molly… No PR for me, but still was one of my favorite races.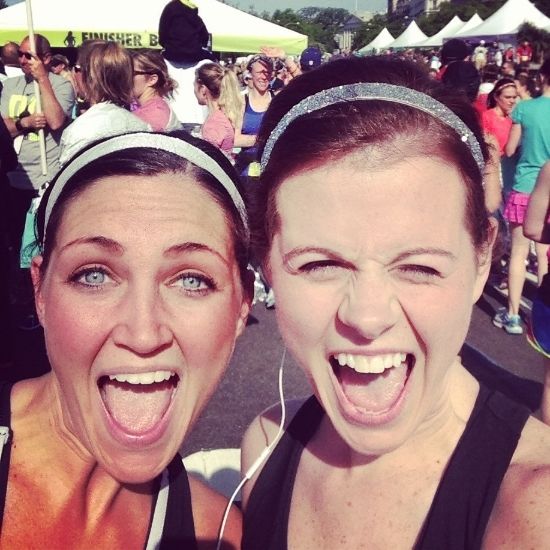 I did another Tri.. this one with J and I placed in my Age Group again.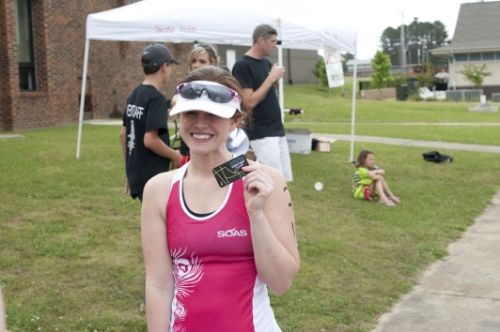 We went on a cruise… and had a fabulous time.
On the cruise, I got this super sweet bruise from an EPIC Dodge Ball game.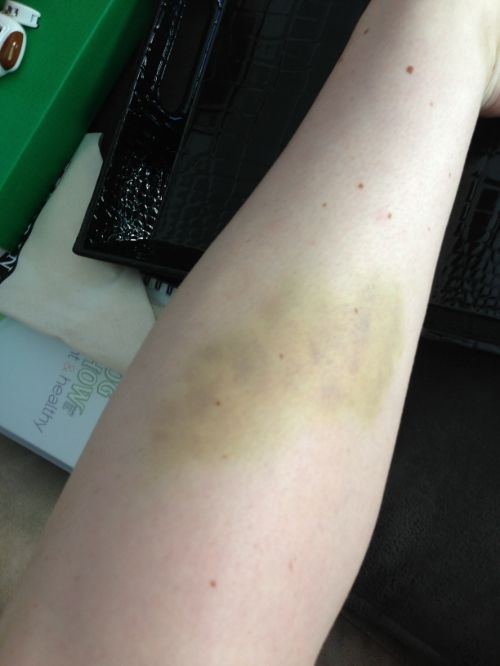 Tried some Energy Bits… loved them so much I became an ambassador. (Use RUNINHIGHHEELS for 15% off!)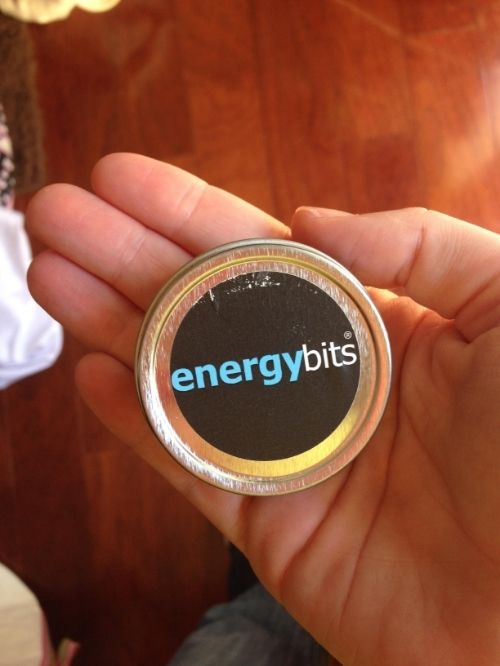 We went to the lake and Addy drove a Sea-Doo…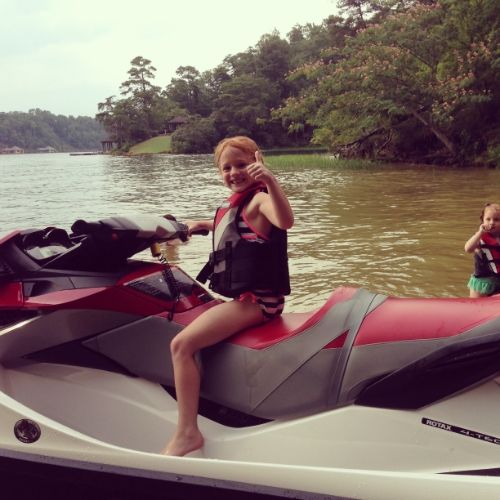 I raced twice in one day.. Triathlon in the morning and a 5K at night.
C found out just how dangerous treadmills can be…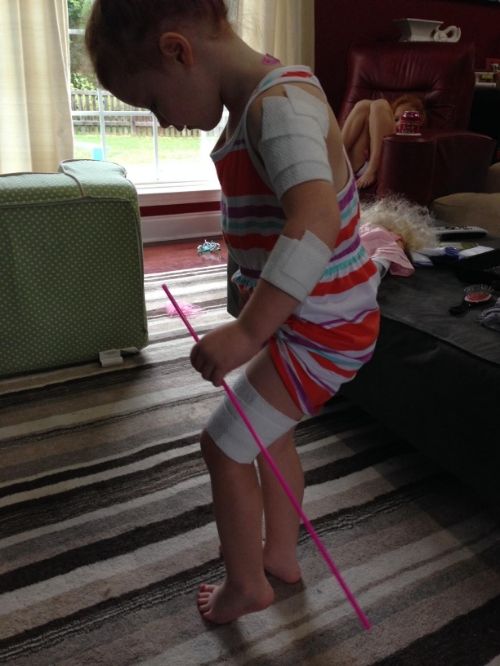 We had our yearly girls trip to the lake…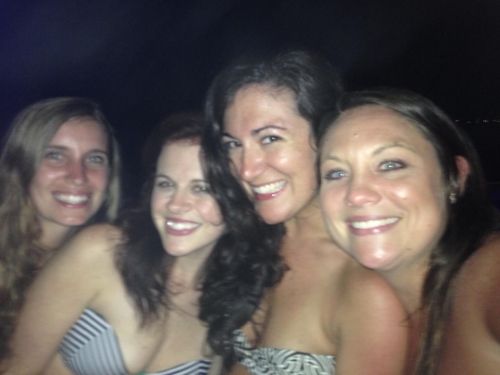 And I got injured… not at the lake. Just injured in general.

We went to the Georgia Dome and hung out with some Hokies… Hubs photobombed pictures with "number 1″.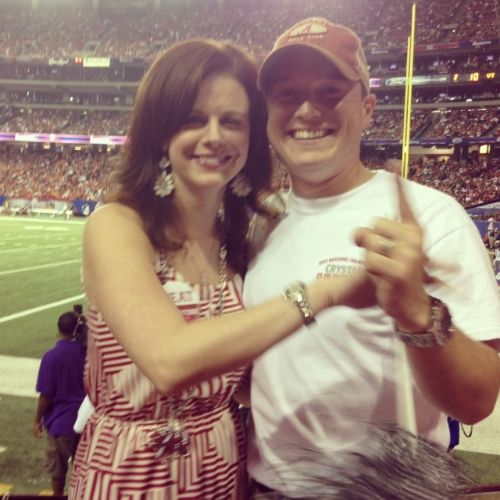 We took the girls on the Carnival Conquest…. and had a fantastic time.

We went to a few more football games….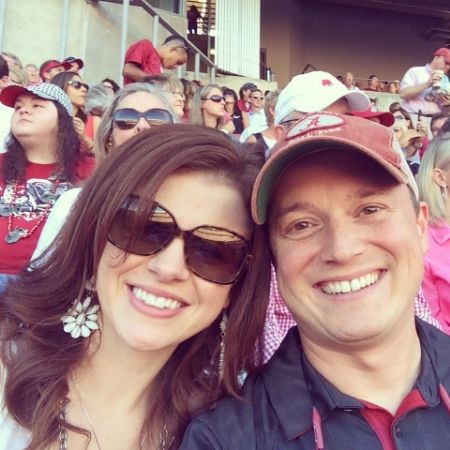 and The Lumineers in concert.. photobombed once again by my brother in law.

Mom and I took Addy to the American Girl Store in Atlanta.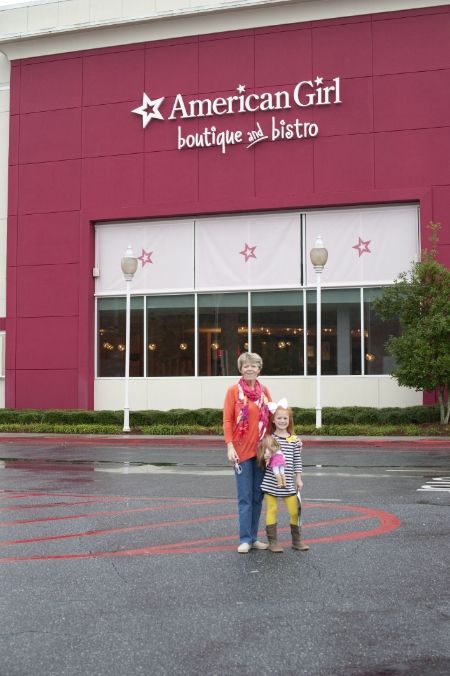 I got out of my comfort zone and ran with groups of unknown people… sometimes seeing these gorgeous sunrises over Birmingham.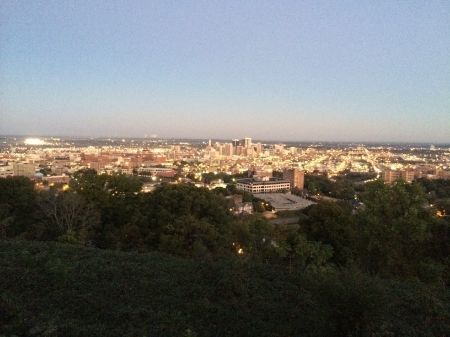 I ran a comeback 10K.. and PR'd it.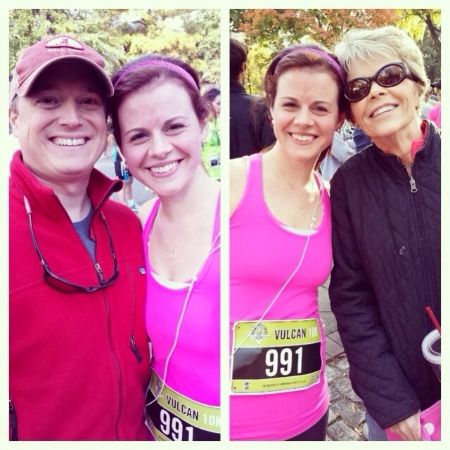 Photobombed once again by the number 1…

And I ran Magic City again.. cursed it until the end and crossed the finish line with C.

All in all.. 2013 was EPIC.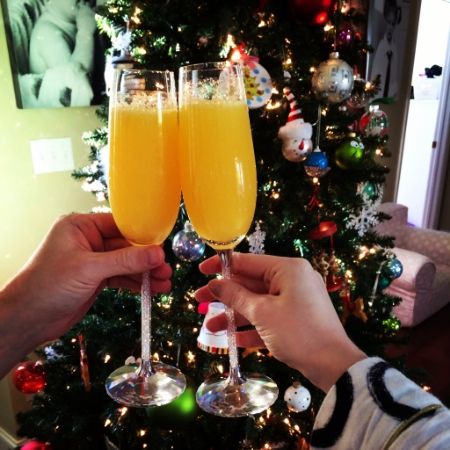 2014 has some big shoes to fill… Hope it can live up the expectations.
Are you sad to see 2013 go??

Hey, remember that time I forgot to blog about the Iron Bowl? Me neither.
Basically, it was super cold and setting up the tailgate required me to wear this…
We were better prepared for the cold this time… bringing numerous blankets and even an electric blanket!
Rebecca's husband Robbie stopped by.. Yes, we allow Auburn fans!
Really.. the love between these two…
We always enjoy some good interaction at our tailgates…
Mark and I were rocking our crimson.
Hubs and I had a wonderful time, albeit, cold at the game. Not much to say about the game. We won 49-0.
My Iron Bowl outfit consisted of a cream sequin top, crimson velvet blazer, houndstooth sparkly scarf and my wedge boots.
Next up… the SEC Championship game!

We headed to Tuscaloosa Friday night, since Alabama was playing Texas A&M.
We ended up going to watch the Tide opener in basketball. While I don't care for basketball, I took one for the team and went so all the boys could go. I spent most of my evening people watching the fans that would go up to Trent Richardson in the stands and get his autograph.
Hubs and I watching some Hoops.
We got up at 5:00 to go set up the tailgate. I normally go run at this point, but decided not to, since I have the sickies. I haven't ran all week and it just ticked me off.
We stopped at Panera where I saw they have poser blue cups.
B Lee has come back into our lives after a hiatus… he enjoyed a Starbucks muffin at the tailgate.
We have priorities…
Yep. Priorities with Kirk Herbstreit.
I was trying to get my vitamin C in to help my sickies.
Hanging with all my friends….
Just kidding. More people actually showed up.
Philly and myself at the game…
One of my favorite parts of the Pre-game is our video sequence.
We did a Veterans Day Half Time performance..
Can I just say that I was against inviting Texas A&M and Missouri into our conference? And obviously with good reason. Going into this weekend, I had no clue who "Johnny Football" was. And I wish I still didn't. That kid is elusive and a Houdini in some situations. He left me completely dumbfounded. We had our chances to win that game and kept making stupid mistakes. At least we still have the SEC Championship to look forward to, as long as we beat Auburn.
I am here to tell you, that breaking down a tailgate AFTER a loss is terrible.
I felt deflated.. like the tent.
B Lee is hanging with the satellite dish
We have the sads.
We ended up driving back Saturday night. I had a photo session with the sweetest family and then worked at the store.
How was your weekend?

My weekend started with an almost 11 mile run. It was 10.84 miles.. It's bothered me all weekend that I didn't just take another run around the block. It was only supposed to be 10. Just call me overachiever.
My hip was pretty mad about it, too. But I just told it to shut it and put some ice on it. I'm trying to remember to step up my icing and stretching game.. but I am forgetful if it's not hurting me at that moment.
We went to Tuscaloosa for Homecoming and finally got to eat at one of my favorites restaurants.. Nick's in the Sticks. Yep. That's the name. It's a hole in the wall and it has about 7 tables, so you need to get there early or be prepared to wait. Luckily, they make these delicious drinks that make you forget your name as well as how long you've been waiting to be seated.
We got up around 5:30 to go set up the tailgate spot.. we love the new spot! I helped J set up, and then I went for a recovery run.. It was cold and windy and my hip hurt. I did about 2 miles around campus.
Apparently, I am a terrible judge of what temperatures actually mean… Everyone kept saying mid 50′s. So, I thought a long sleeve shirt with boots, tights, and a skirt would be sufficient warmth. It was not.
I found myself scrambling for another pair of tights and thankful that Ashley had enough sense to bring extra gloves. And also that my husband has a jacket fetish because he brought an extra.
I've been saving this skirt for Homecoming. It's Judith March.
Houndstooth tights are where it's at!
This is really what I looked like most of the day.
No tailgate is complete without mimosa's courtesy of Marian.
Even my brother in law stopped by on his golf cart…
Kyle was in rare form… and very happy to have his Snuggie.
And Justin came by! He actually lives in Texas these days, working for those Aggies from Texas A&M. Glad he got to see a Homecoming game!
Hubs and I trying to stay warm during the game. We made the decision to leave at the beginning of the 4th quarter to go back and start packing up the tailgate and I am so glad we did!
Of course J befriended a 9 year old boy with a sweet hat…
Priorities, people.

After working Friday, we packed up the tailgate stuff..
We almost forgot the tv.. whoops.
I tried this and it's amazing. It caused me to stay up entirely too late…
We got up around 5:30 to head out and set up the tailgate stuff and I went for a quick 3 mile run..
Gotta love those Denny Chimes
In front of the stadium… excuse the awkward eye balls.
Oh.. we have a tent. We changed locales this year, and we really dig the new spot.
My outfit… with a gorgeous background…
My SIL's brother (did you follow that?) came up from NOLA and I just love me some Taylor.
Ashley made some delicious cupcakes…
Part of the crew, just chillin'
These texts… KILL me.
Oh, and then it started pouring rain.
Dang 8:30 kick offs… makes for a long day.
Alabama won 33-14.
And then we had to break everything down at 1:00 am… fun times. Did I mention it started raining then too? No? Oh. It did.
But good times were had by all, and while our entire Fall Family wasn't there, it was good to see those that were!
Roll Tide!

For Alabama fans, the third Saturday in October is the second biggest rivalry game for us during football season.
There is just something about the Tennessee game that brings out the ugly in some people. Must be all that orange.
Typically, Tennessee fans and Alabama fans just don't get along. It's just one of those things.
This rivalry game is always played on the third Saturday in October. ALWAYS. And the winner always smokes a victory cigar. ALWAYS.
Friday wasn't my day and I ended up forgetting my dress in Cullman and we had to go shopping for me a outfit. Turns out, it was in my favor because it was COLD people.
Molly said I owned more houndstooth than anyone she knows.. it's kind of like heaven.
We decided we needed the break out the red coronas this week. They are always a hit!
As always, the tailgate was a hit, with lots of people stopping by that don't normally.. (Holla!! Lindy!)
I was pretty cold during the game, when I looked around I noticed I was the only one totally bundled up like it was 20 degrees.. I can't handle being cold. Then I realized, it's because my friends that sit in the seat next to me weren't there.
Of course I took a picture of this extremely drunk girl. It was like she didn't even check the weather before she left the house!! I may be in my winter coat, but honey, you at least need a cardigan!
After a rough first half.. (seriously. Let's not relive that.) We dominated the second half and that Rammer Jammer was a sweet one!
For those of you not familiar, we have a song we sing after we beat teams– it's called Rammer Jammer. I shall give you the words so you can be familiar and learn some of traditions (albeit, however "classless" they are.)
Hey Vols!
Hey Vols!
We just beat the hell out of you!
Rammer Jammer, Yellow Hammer,
Give 'em HELL Alabama!
We used to play it before the games, but I think it got banned from being played.
Starting halfway through the 4th quarter, you could smell the celebratory cigar smoke.
Word on the street at that point was that LSU starting their chant "WE WANT BAMA" during the Auburn game. Our student section started chanting "LS-WHO?" That game is going to be INSANE and yes, I am missing it to run Savannah. Don't worry… I plan on finding a nice little bar with a tv to cheer my Tide on and you better believe I will have on a game day outfit!
That's 5 in a row for our streak, yo!!
It's not lit, peeps.

It's another edition of Game Day My Style Monday!
I wore the strapless dress most of the day but the white cardigan when I got cold.
The dress that Hubs got me for our anniversary from "What a girl wants"
Cardigan is from F21
Boots: target
Necklace: Target
Earrings: Etc by Nikki
We got down to Tuscaloosa on Friday, to set up the tailgate.. and *gasp* someone had stolen our spot. Now, we may not own this spot, but it's been our for a while.
So, what did we do? We got as close as we could to the other tents. We are mature like that.
They ended up moving their tents back.
Late night Target shopping brought us upon this..
It's fun.. in da-middle. I am not sure why this was so funny to us.
I spied Big AL… and I had to get my pic with him.. even if he did mess up my hair.
I got some red sparkly nail polish at Sephora.. it's called "What's your Poison?" Get it.. like a poison apple??
I forgot to take pictures from once people actually showed up at the tailgate.. but it was a good time had by all, with lots of laughs that wouldn't be funny to you, since you weren't there. But.. you are invited!!
I took this picture for Becca.. I realize the game was a nobody, but there was no sense in the woman next to me falling asleep. I mean, you could only cat nap with the 2 boys that got up at least 10 times a piece before halftime.
This picture got a little out of order.. whoops.
One of the many reasons I love sitting in the zone.. besides real chairs, a locker, air conditioning, and all the Cherry Coke I can drink.. is the red velvet cupcakes.
Also.. I have a complaint. The student section should NOT be this empty at halftime. It's not cool with me.
Oh yeah… one more reason I love the one.. Cup holders.

There's only one way to celebrate a victory in my book. And it's doing the Cupid Shuffle in your tailgating neighbors tent.
Now.. onto my running lately.
The plan was for me to get up Saturday morning before we left for the tailgate and go run my long run of 6 miles.. I mapped out my run only to be told my way in and out of Jay's weren't the best running ideas that I had. So, I decided to go with my safety over my run. The run went through a bad part of town and a busy section with no sidewalks, on top of the fact I forgot my Garmin.. so I decided to a) not get stabbed b) not get hit by a car and c) not get lost.
I said, "Oh, I'll just do 8 on Sunday instead." So.. I set out to hit the treadmill. Sunday was one of those days where nothing went right. I took my iPad to the gym so I could watch Gossip Girl and found this beauty and thought my luck had turned around!
A PINK treadmill!! I knew my day was sure to pick up! But.. alas, technology hated me and I couldn't figure out how to get the Gossip Girl to play full episodes on the iPad.
Also.. it was brought to my attention that my treadmill running has been so easy since I don't do an incline, therefore my road races kick my booty because the road is harder to run on then the treadmill. So, I decided to start running on a 1 incline.. which, is taking some getting used to and makes me feel like I am the most out of shape person ever. Which really does a number on my mental toughness. I am extremely stressed right now, and I let all of the other things that I needed to be doing come crashing down on top on my run and I started to feel like I was drowning. I did something I have never done before. I quit. Yep. I stopped running and got off the treadmill. The whole time I was disgusted with myself but I knew what was coming. A mental breakdown. I could feel it coming last week. Being gone on vacation, running a business, 5 weekends in row being out of town-2 of which are out of state, gymnastics, school, laundry, cleaning the house, training, Ladies of the Houndstooth, photography assignments and projects, social networking… it's all so much. Because everything needs something from me. Right. NOW. I guess a good description of me right now is overwhelmed. Or over booked. Or not enough hours in a day.. Take your pick.
So, instead of throwing a fit and crying and taking it all out on John, I decided to sit down and write out a list. And I delegated certain tasks for John and am trying to look at what is the most important for my mental health to get finished this week. I feel like a mature adult, acting like that!
I will try to be around the Internets this week.. but I can't make any promises, as I need to drop a ball or two that I am currently juggling.
See you on the Flip Side.

So.. The Iron Bowl was Friday. While, I may not want to talk about the actual game and how we handed Auburn the win, I WILL talk about the awesomeness that was our pre game sideline passes…I could have touched AJ McCarron.. too bad he couldn't pull a win out of his booty.
Why Hello Darius and Ezell!!
Here is Part Uno of my Ode to Mark Ingram… I could have touched him. And his butt.
His calves REALLY are that BIG!
Maze and JJJJUUUULLLLLIIIIOOOO……
John and his brother Jay( He's single ladies… and works for the Crimson Tide Sports Marketing– good job, great sister in law…
Me.. I could have totally rocked a microphone on the sidelines… Lemme at Tracy Wolfson…
She's lucky I didn't attack!!
Why yes, my husband did yell at her and she laughed.. and I took a picture.
It was a crazy awesome experience and I really wish I could bottle up the exhilaration of the 1st half… but, I cannot. But, I still love my Tide. We are NOT fairweather fans.. we love them no matter how they play. Win or Lose… the Tide is our third child.
The End. And Roll Tide.

This was our first weekend to tailgate and honestly, I am not happy with the way it turned out. We love to tailgate. We love the food and friends and the "football family" that we have. I don't love when that family takes advantage of us and I feel that was done this weekend. We invite people here. We cook and order food and provide a tv for people to watch. Some( NOT ALL) of these people, decided to invite other people. Which, is fine. The more the merrier. But these people that we invited, didn't provide a damn thing to the tailgate.
Not one drink.
Not one dip.
Not one dollar towards the cost of the food.
So, they bring strangers to our tailgate. Strangers that were never introduced to us. That sat in my chair.
That ate my food.
That drank my beer.
All without contributing anything to tailgate.
I looked up at one point and I am serving cake to a Penn State fan. Where did he come from? I didn't invite him.
When we got back from the game, there was trash everywhere. In food containers, just a couple of beers and water left in coolers, and no one helped me clean up. Only Joseph and Tracie helped us break down everything. It was after midnight before we were finished.
I don't like the rudeness that was shown to me this weekend. I will no longer be providing food and drink to ANYONE. And if you come? Please, for the love of God, bring your own chair!!!
Enjoy the pictures from this weekend!