Run/swim/bike a combined total of 1500 miles.

Didn't happen. I was right at 1,000 miles.. pretty far off. 

Run 3 half marathons this Spring.

DONE. 

Complete 3 tri's this summer.

Only did 2.. stupid injury. 



Don't die during the Ragnar Relay.

DONE. 

Run a sub 2:15 half marathon.

DONE. 

Cook dinner every night for an entire week.

Totally forgot I set this as a goal..

Grow an herb garden and use it!

Nope. I have a feeling I will never do this.

Balance between my goals, John's goals, and what's good for the girls. Reaching goals take sacrifice for all parties, and it's very easy to become selfish with what you want, and not what's best for the family.

I'd like to think I did this! 

Take the girls on a weekend trip.. somewhere fun but within driving distance.

DONE. The cruise counts, right??

Be able to do the splits.

This is laughable that I set it as a goal..

Continue with cross training and weight training.

DONE… Err… still a work in progress! 

Clean up my eating… being more mindful of what I am putting into my body.

Still a work in progress…

Go to a Pro Football Game.

Another one that's probably not going to happen. 
I haven't set my goals for 2014 yet.. I'm a little disappointed that I missed so many. Oh well! Let's take a look back at how EPIC 2013 was.
We started off the year with C turning 4…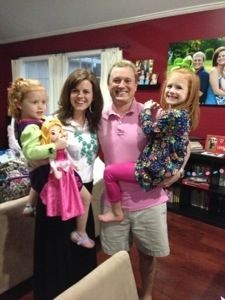 And then I ran Ragnar Relay FLK… I still can't believe I did that.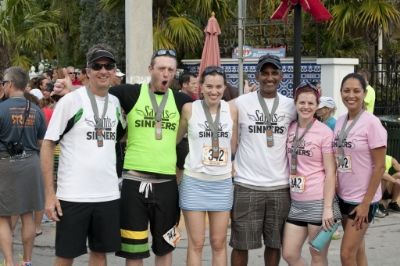 We went to the National Title game… and I was photobombed by my brother in law.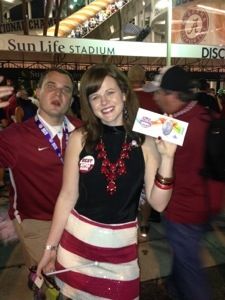 We had a snow day…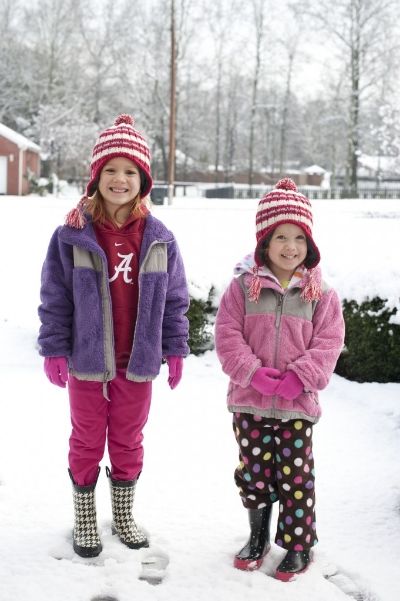 I ran Mercedes.. and officially crushed my sub 2:15 goal.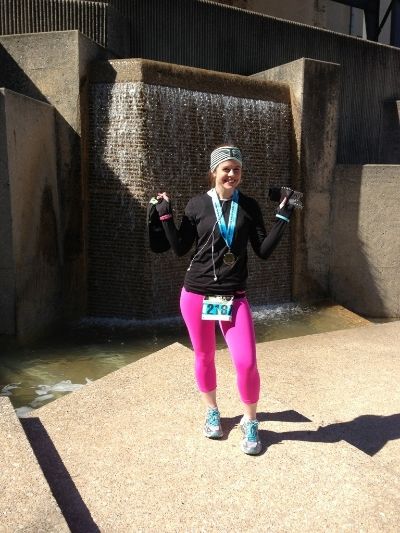 And then 2 weeks later, I ran Tuscaloosa and PR'd again..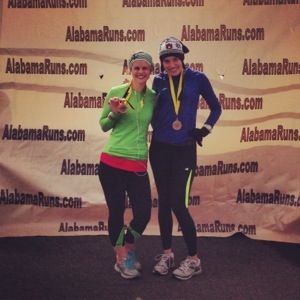 I went to Texas for the final BlissDom…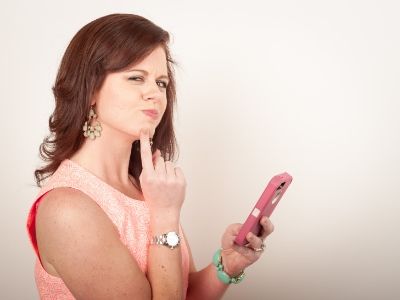 C discovered her love of a knee pop..
I went up to DC and ran Nike Women's with Molly… No PR for me, but still was one of my favorite races.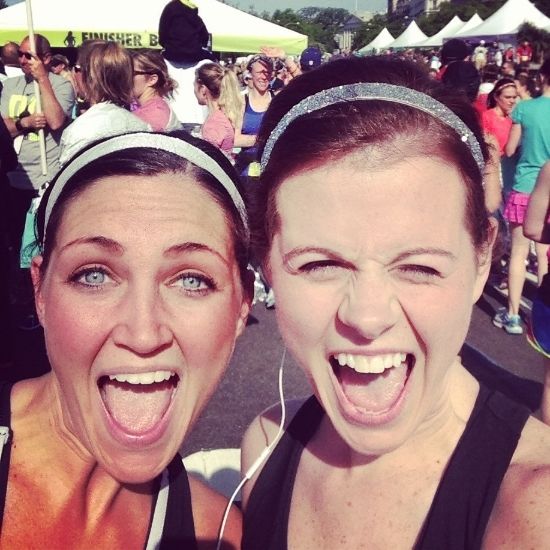 I did another Tri.. this one with J and I placed in my Age Group again.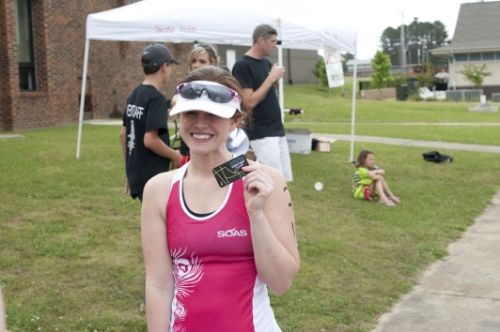 We went on a cruise… and had a fabulous time.
On the cruise, I got this super sweet bruise from an EPIC Dodge Ball game.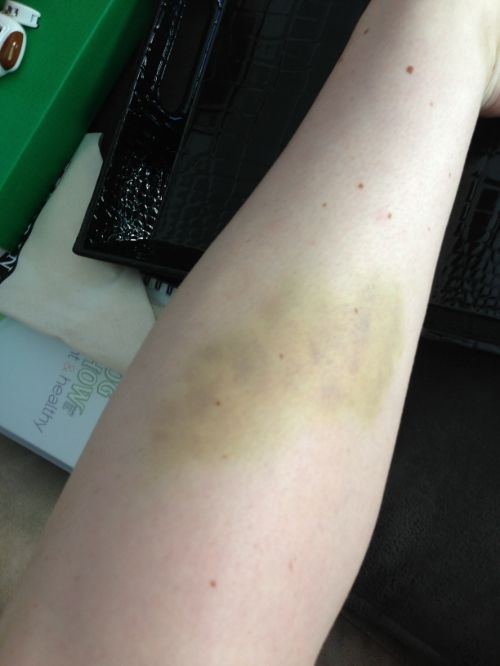 Tried some Energy Bits… loved them so much I became an ambassador. (Use RUNINHIGHHEELS for 15% off!)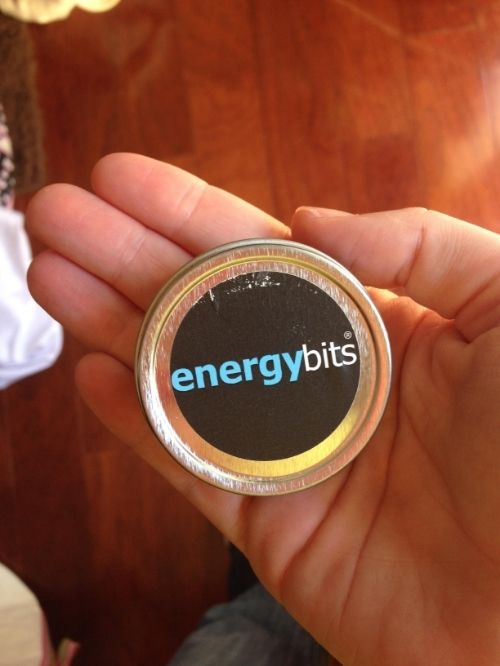 We went to the lake and Addy drove a Sea-Doo…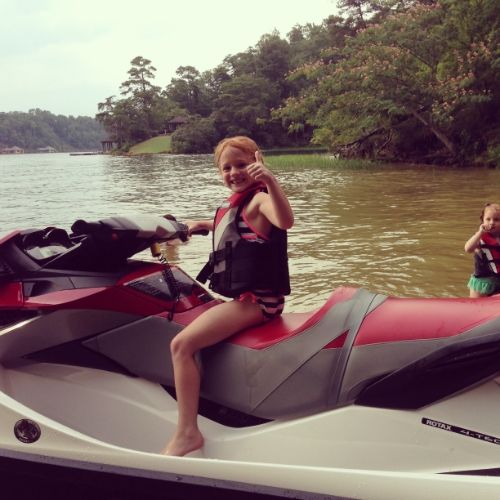 I raced twice in one day.. Triathlon in the morning and a 5K at night.
C found out just how dangerous treadmills can be…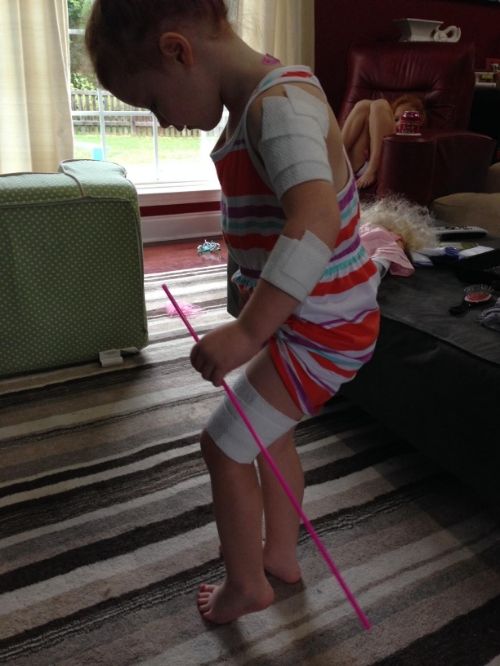 We had our yearly girls trip to the lake…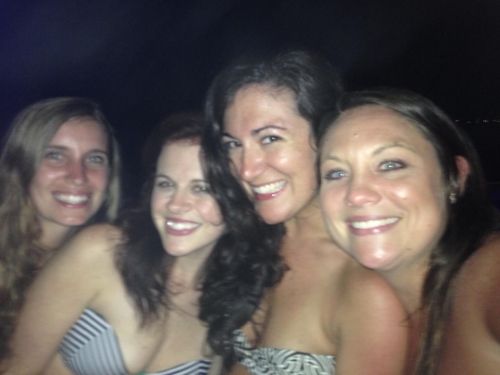 And I got injured… not at the lake. Just injured in general.

We went to the Georgia Dome and hung out with some Hokies… Hubs photobombed pictures with "number 1″.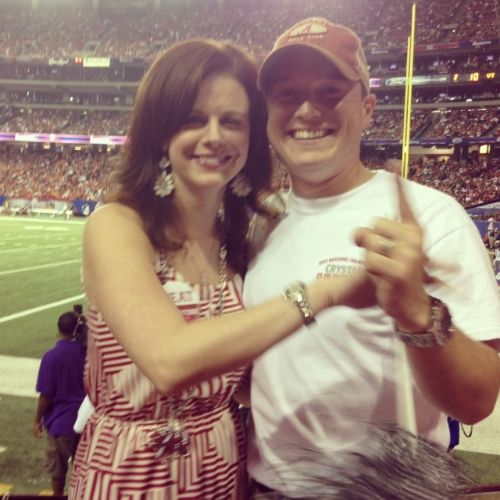 We took the girls on the Carnival Conquest…. and had a fantastic time.

We went to a few more football games….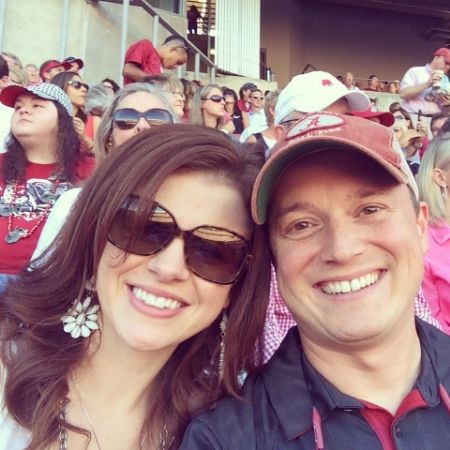 and The Lumineers in concert.. photobombed once again by my brother in law.

Mom and I took Addy to the American Girl Store in Atlanta.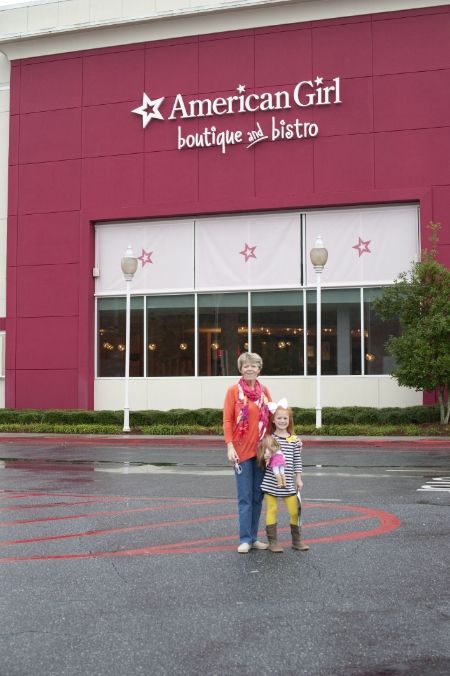 I got out of my comfort zone and ran with groups of unknown people… sometimes seeing these gorgeous sunrises over Birmingham.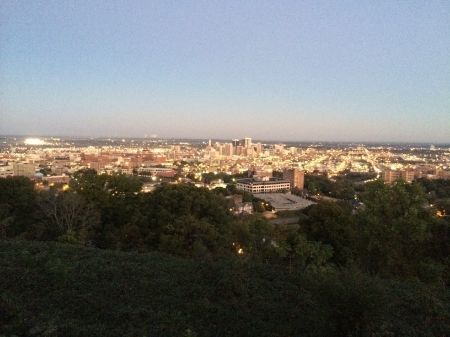 I ran a comeback 10K.. and PR'd it.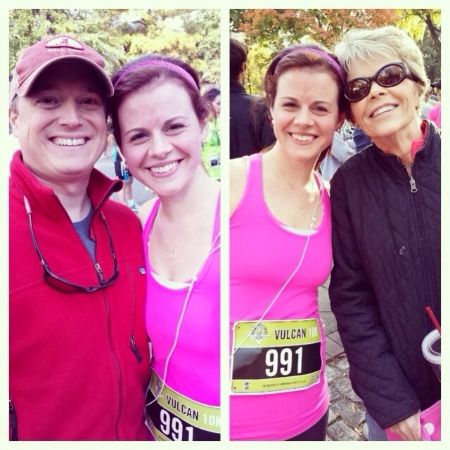 Photobombed once again by the number 1…

And I ran Magic City again.. cursed it until the end and crossed the finish line with C.

All in all.. 2013 was EPIC.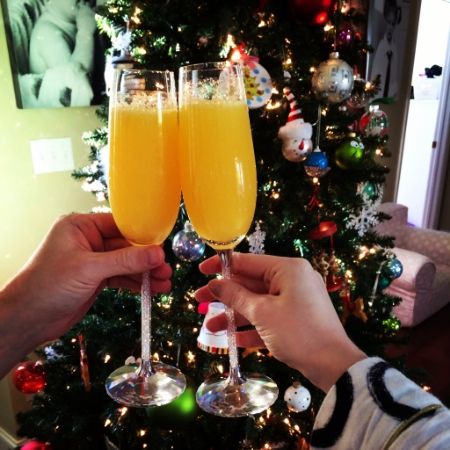 2014 has some big shoes to fill… Hope it can live up the expectations.
Are you sad to see 2013 go??

Yesterday while at work (let's keep in mind that I work retail and it's the week before Christmas), my brother in law calls me (which he never calls, he texts) and asks me "Uhh.. what is Santa bringing the girls?". My mind goes blank. "A bunch of crap." He starts telling me that he called the girls to ask what they wanted from him for Christmas, and A tells him that she was so sneaky, and snuck into my office closet (that's locked) and found "the jackpot". She names two movies that are in there. The thing is.. everything from us is wrapped and under the tree. Everything she found was from Santa. Of course she couldn't keep it a secret from her little sister.
I realize that in the giant scheme of things, this isn't a big deal, but on top of the craptastic week I already had, this was just too much. Combine that with the general attitude and meanness coming from her, I really want to give her a lump of coal and that be it. I think Mom is going to switch one of her presents with what we had here, so they will basically get one present from Santa.
I think part of the reason I am so upset, is that all the grandparents got them the things they really wanted, so I was already feeling inferior with what Santa was bringing. And now that all the Santa has been found, I'm just at a loss. Sure I could run to Target and exchange it all, but part of me thinks A should be taught a lesson for snooping. But maybe the lesson is disappointment with no Christmas surprises? She's stolen the joy from me of watching her open her presents and see what Santa brought her on Christmas morning.
I, myself, have learned a lesson on shipping woes for Christmas, as all of what I've ordered for J isn't here and probably won't be here before Christmas. As well as smaller things for grandparents.
I can fully relate with Clark Griswold this year…

With Christmas just around the corner, we've had a busy week around here with more to come… you should probably expect a few iPhone photo dumps.
We went to A's school Christmas play… I wore this warm little outfit.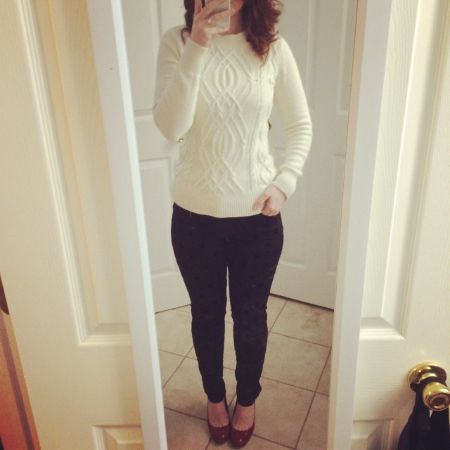 She was adorable.. singing the loudest and of course, had the biggest hair bow.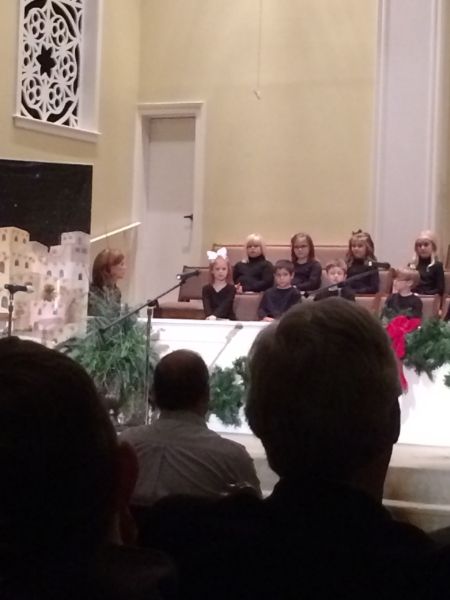 We went to see Santa this weekend… this Santa rocks. Why? Because he's a friend of my in-laws and actually helped throw us a wedding party. He always references J's parents and he wanted to know if Poppy was doing his therapy so he would be back on the golf course this Spring. It was AWESOME!! A's face was priceless! She just chatted him up.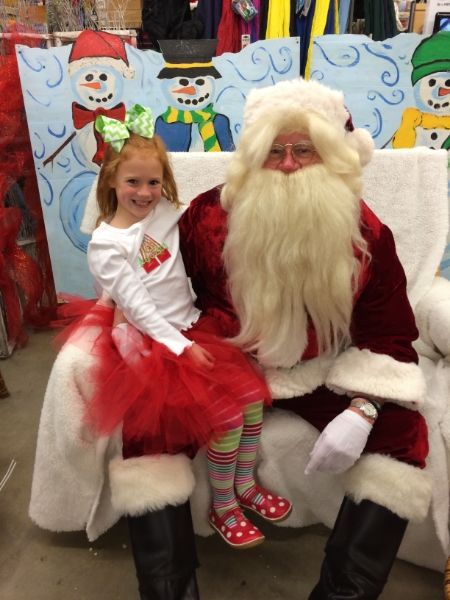 C? Well…. notsomuch. For the 2nd year in a row, she has yet to talk to Santa. I guess it's working for her, since he still brings her presents.

I seriously can't get over this cuteness…. I. DIE. Mom got the shirts last year and the tutu's this year. Of course, the tights, shoes, and hair bows came from my workplace.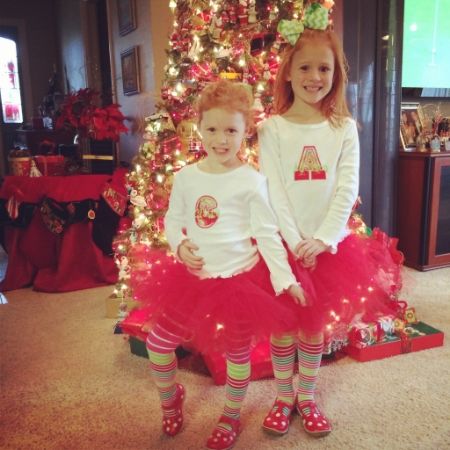 I know y'all love a good knee pop from C.
Has Christmas been busy for y'all??