I suppose I should discuss the fact that I have a half marathon coming up in a few days…Blah. That's exactly how I feel about it at this moment. Which isn't a good racing mindset, let me tell ya. Life is just busy right now, and with it being so cold, it's really hard to stay motivated to get out of a warm and cozy bed at ungodly hours to run. I actually skipped the majority of my runs last week. Oops.
My goal is to break 2 hours… and I'd really love to be around 1:56, honestly. (Am I allowed to say that on the Internets?) But, to be honest, I'm still skeptical about the training and it freaks me out. Probably because my coach says I should be able to, but I just don't see HOW. Which sends my tendency towards being a control freak completely into a downward spiral. Just top that off with some race week neuroses and life craziness and we have ourselves a fine concoction of someone no one wants to be around (Holy run on sentence, y'all).
Another thing is… I need a running playlist. I've spent the majority of this training cycle running naked (No iPod, perverts) and just chatting people's ears off.. or listening to people chat mine off. Either way, I don't think strangers will appreciate me rambling on. The point of that was… send me your best running songs, ASAP.
I realized this week that my ankle brace that I run in is tearing up too.. I really don't want to have to replace that thing, but I feel like I am going to have to. Not. A. Fan. I hoped a little online shopping would help snap me out of my running funk, but nope. Not so far, anyway.
In an effort to not be such a Debbie Downer… I am including a picture from Halloween. Y'all would judge me on the amount of pictures that I take of myself and send to my friends, so lets just not go there. But I am wearing the Mouse Ears I bought at the expo for my first half marathon at Disney.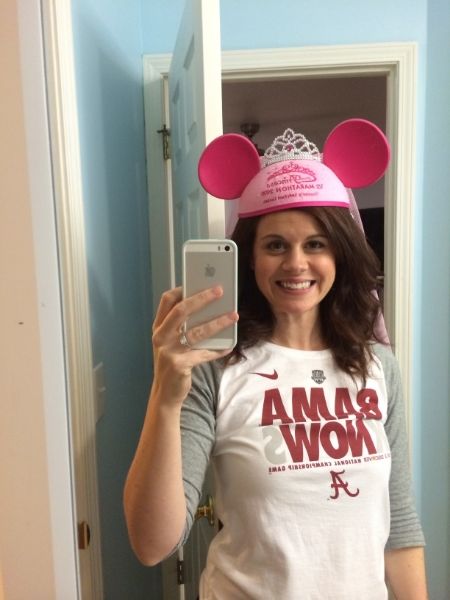 So. I need your favorite running songs and something to snap me out of this funk.

I decided to get up before the chickens and drive to Birmingham Saturday morning to run with the Birmingham Track Club. They have an awesome group that meets on Saturdays and has multiple distances and multiple paces. With it being so flipping cold, The Trak Shak opened and let us hang inside while they went over the routes.. of course, I never listen to turns… Probably a terrible idea. But I did run with my phone, in case I got lost. Because that's been known to happen before.
The gigantic group starts together but they end up breaking off into smaller groups based on pace. I am becoming more comfortable walking into these settings of not knowing anyone and just start talking to people. Sometimes people are more receptive and others aren't, but I've found that this Saturday group is super friendly and will make you feel comfortable.
I met pacers for my upcoming half marathon and past Ms. Alabama's, so it was a good run, I'd say. Of course, the route was a little on the tough side, with some killer hills… one of which was an incline for about 2.5 miles… Super fun with the ankle. But the view atop Red Mountain… was sort of worth it. The group said the sunrise was amazing, but we were a little bit early for sunrise and it was still dark… It looks lighter because of all the lights coming from the buildings downtown.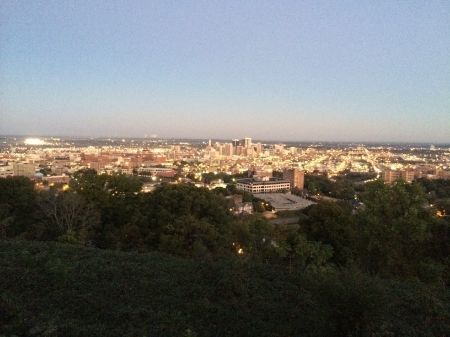 My race season starts on Saturday with my 3rd 10K ever and the first time that I've ever run the Vulcan 10K. I'm hoping it'll be a good run that I finish in under 1:00, but we shall see what the 'ol running coach says. I'd love to see sub-55, but I am not sure that is even possible or smart with a half marathon at the end of November.
The ankle seems to be holding up in the brace. It's a little more sore after those 9 miles, but nothing unmanageable. I should probably avoid big hills though.

So. I sort of did something crazy and definitely out of the norm. I hired a running coach. I know me and how I operate (it's a gift of having known myself for 29 years) and if left to my own devices, I would jump back into running with both feet… which is hard to do since running is typically one foot at a time. My friend Jennifer had sent me a link right around the time I got injured for Resolute Running. They were doing a training group for the Magic City half. After numerous e-mails with Alex about my injury and even discussing running goals when I actually couldn't run, I decided to take the plunge and do it. I figured, if he would watch me like a hawk with my ankle and tell me exactly what to do, I'd be in good shape. That's another thing with me.. I tend to follow directions well.
Coach Alex and I discussed using Magic City as my "come back" run. And the goal would be to just finish. We talked about my PR being 2:02 and how I REALLY wanted to break 2 hours and he said, "Oh. That's pretty much done. Let's look at 1:50." Wait a second. I am barely running, and am not running near 2 hour paces and you want me to set my sights on a 1:50 half? Before the conversation was over, he had mentioned a 1:30 half and me still being "moldable". Afterwards, I was very confused. I thought I was just easing back in and he's talking about major PR's.
Then I got my training plan. And it is a bunch of 10:30 paces and then I was SUPER confused. So, I e-mailed him and asked what was up– Was the goal really just to cross the finish line or was it break 2 hours? He explained to me that he was being very lenient with my paces and I should be able to run a 1:56 half with this. Skepticism, party of 1??
I read Tanya's post on Coach Alex's style and it eased my thoughts, but I'm still a little skeptical on it… but, I will trust the training and do what I am told.
For now, I am back running, with Betty the brace (she's becoming a part of me so she needed a name). I'm not doing any speed work and I am glad to know that I haven't lost too much of my fitness being out a month– I had a long run this weekend of 7 miles and still felt pretty dang good afterwards. Right now, I am running 3 days a week and cross training 2 days with 2 rest days. I have the Vulcan 10K coming up and I would love to break 55 for it, but I am not sure that will happen.

I swear I'm not intentionally holding out on y'all on the foot thing. I just sort of forgot to update the blog on it. Oops. So, I ended up going to physical therapy a couple of weeks ago and she gave me lots of stretches and told me to ice it twice a day and I could run half a mile on a track with the brace and work up from there and eventually back to the road and out of the brace. Do you realize that being told you can only run half a mile after a month off is actually worse than being told NOT to run?
So, I did that for about two weeks with no pain. Then it came time to head to Tuscaloosa for the Ole Miss game and I knew I wasn't missing a crisp Fall morning campus run. So, I said I'd do 2 miles and stop immediately if it hurt.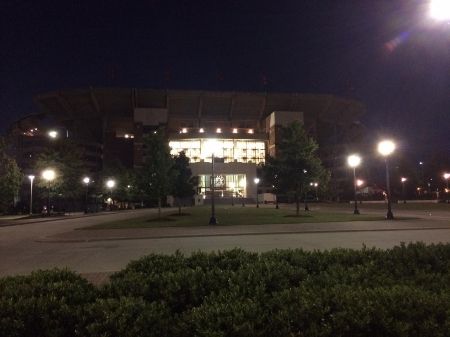 We tailgate across from the Walk of Champions and the stadium, so I just headed down University and Fraternity Row. It's crazy how these new Fraternity houses are. I remember when I was in school (yes. I just said that.) that the KA house was the nicest on campus.
Not bad, right?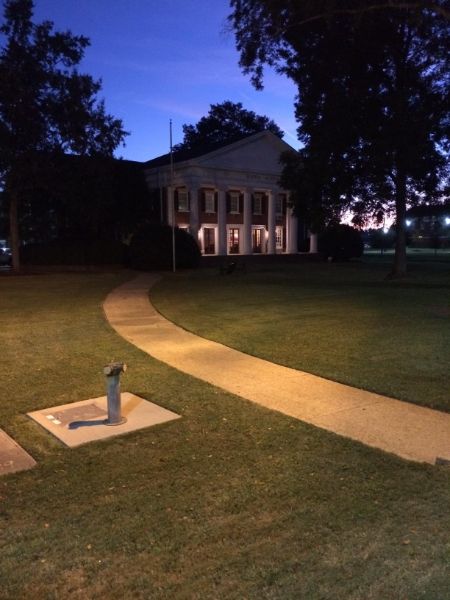 This is just one of MANY new Fraternity houses.. Freaking MASSIVE.
When they expanded the stadium, they tore down several Fraternity houses and they got rebuilt. They also tore down some others to make room for more campus housing.
I ended up cutting down to Bryant and I had to go see the Alpha Gam house. It's just gorgeous. I really love how the new houses still hold the aspects of their original houses.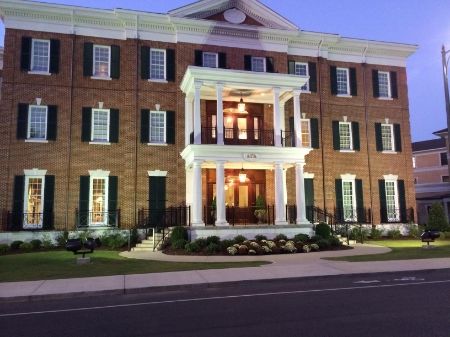 I cut down Sorority Row and down the side of the stadium and said Good Morning to the Nick Saban statue. He seemed to enjoy some Energy Bits. 
I had no pain post run. I ran Monday morning (3 miles) and Tuesday morning (3 miles) and my ankle was a tad sore so I am taking today off and will give it a try again tomorrow. Hubs keeps getting on to me about doing too much, but just like an addict, I can't stay away.

Have you ever done something and continued to do something that you know isn't good for you, but yet are in complete denial about?
For the past 5-6 weeks, I have continued to run on an injury that I know I needed to let rest. My ankle has been sore and hard to walk on for 6 WEEKS. When I see that written out, I get so mad at myself. Why didn't I take some time off weeks ago and let whatever was ailing me heal? 2-3 days doesn't cut it.
Let me back up… lets jump in our time machine and ride back to Saturday. During my long run, I was chatting along and without stepping funny or doing anything out of the ordinary, all of the sudden a sharp pain starts in my ankle and I thought, "Oh shit. I've done something to it. This hurts too bad to continue running." We were meeting a group less than a mile away, and by the time we met up with them, the pain had disappeared. So, I continued on, without stopping. I worked on my feet all day Saturday, with my ankle tender and sore. I decided I needed to see an ortho though. It was time. (You think?!)
I talked with my friend Jana's husband, who is in his residency for Ortho, and he suggested time off and (gulp!) flat supportive shoes (No heels!!) and an ankle brace. He also said that seeing an Ortho wouldn't be a bad idea.
Sunday morning, I woke up and could barely put pressure on it. I went ahead and bought some new running shoes.. ones that are a stability shoe. And let me tell you, they are some of the ugliest shoes I have ever owned. But, they feel good. (sigh.) Not that I can run in them right now.
I called and got an appointment with an Ortho after we get back from our cruise next week.
So, I guess it's time to meet my new best friends…
Ice.
I, in no way, wanted to buy this thing. But can we talk about how GOOD it feels? Oof. So good.

I'm hoping it's just some tendonitis and not a stress fracture. But with the burning that accompanies the pain since Saturday, I'm not sure what's going on. But, just add me to the Injured Reserve list for the next couple of weeks.
You can imagine how mopey I am.

44 miles for the week?! Oof. It was mostly bike though. Monday was my normal swim plus spin at 5:15.. yes. That means I am in the pool by 4:45AM, y'all. That's kind of insane. Wednesday I biked with Donnie and Shannon. Friday I ran. Saturday, another bike ride that was cut short when Shannon had a flat.
I've got the Wet Dog Triathlon on Saturday. I'll be honest… I've got to cut back on my training. It's making me ill and cranky and I am not enjoying a single step of it. It feels like work, but a job where I am constantly failing at consistently juggling.
I'm signed up for Rocketman in Huntsville in August. It's an Olympic distance triathlon and they sent an e-mail out saying since registration is full, if anyone wanted to drop, they would re-imburse the entire registration fee. I'll see how Saturday goes, but I am honestly considering dropping out. The open water upstream swim scares the crap out of me and I heard that the run has a lot of loose gravel. Which means, I will bite the dust and I try to avoid that if at all possible.
I told J last night that I'd rather take that registration money and put towards another Fall half. He expressed some concerns that I wasn't training like I should be for it, and that he was afraid I was going to get injured. Legitimate concerns since he has seen how little that I have been in the pool. I've got big goals for half-marathon season, and I have every intention of hitting them.
How was your training this past week?

I feel the need to Keep It Real, folks. When my training ramps up, it's all I can do to keep the laundry done. So, let's just forget the rest of the house. Now, don't get me wrong, I LOVE a clean house. Everything organized and put away and in it's place. But, after wrangling kids, training, and working all day.. I just don't have it in me to clean up. Below is a photo diary of what my house looks like. Hopefully, it will make you feel better about yourself.
This is what greets you when you come in.. either walk past it, or add to it!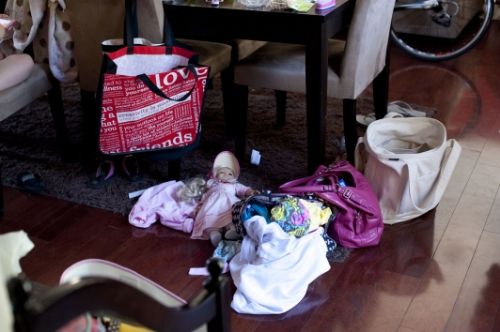 Complete randomness all over. Oh Hiiii iPhone! I see you there!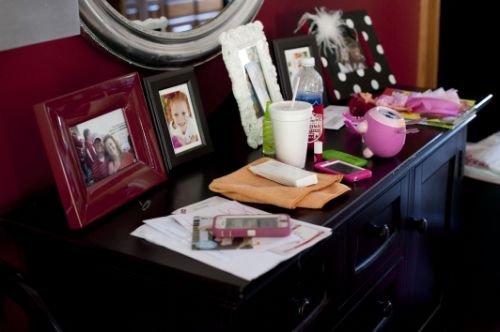 The girls play room… Oy vey.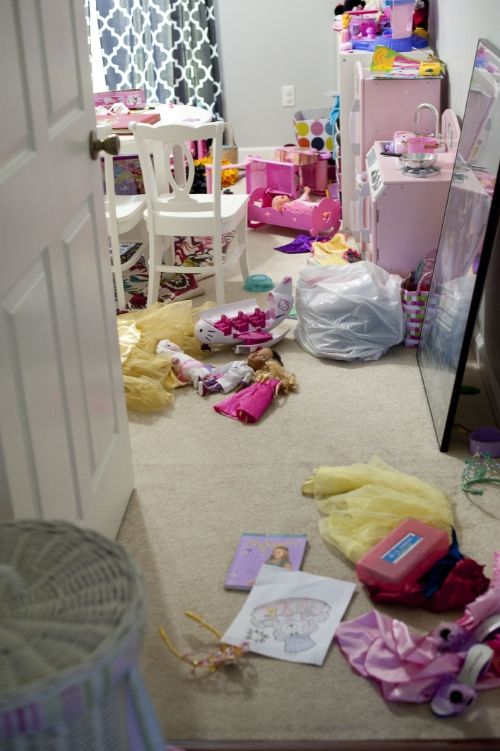 Are the Princesses lining up for battle? Or perhaps getting ready for a Harry Potter like game of chess?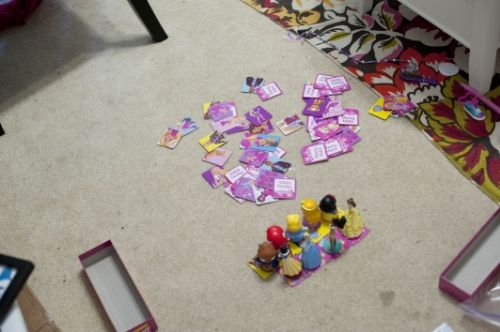 Bearcat pride cannot hide in this house… My old Pom Poms are a must have, apparently.

Last but not least, here is the jungle treachery that you will find on the way to my bedroom… A lone running shoe, a camera bag, tote bag (this was after I had been to see Grandpa), a piece of luggage that has been there since I went to DC, and my vacuum cleaner.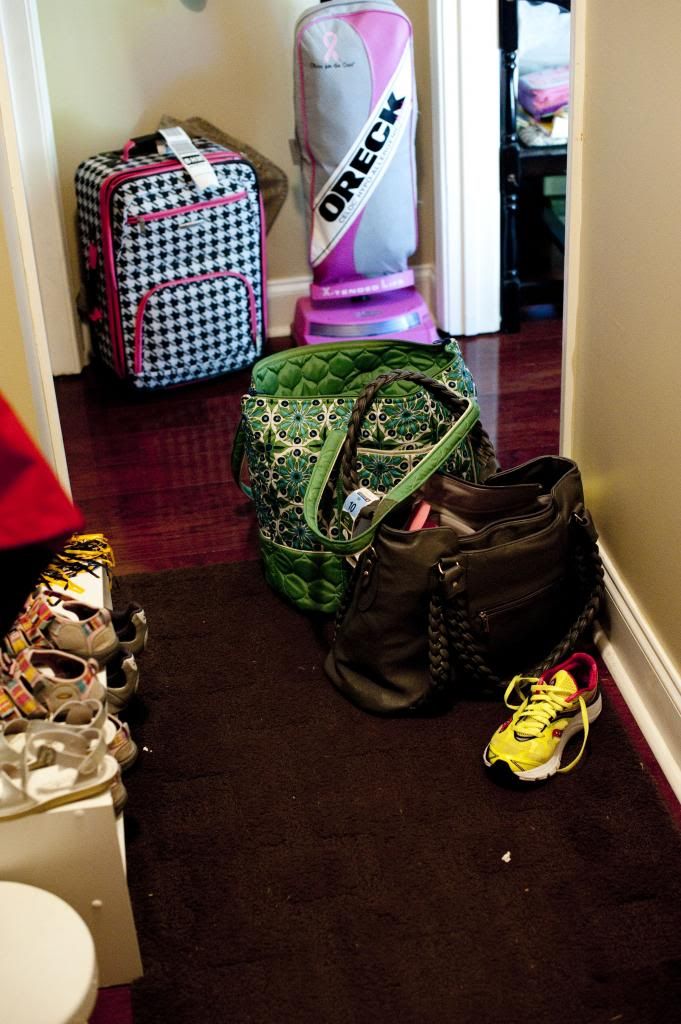 Basically, my house always looks like this. I can't tell you the last meal I cooked and I am pretty sure I haven't been grocery shopping since 2012. If it weren't for my husband, most days I probably wouldn't even remember to eat… he keeps me fed, y'all. He caught on to what a grouch some one who is rungry is!
Please share with the rest of us the sacrifices you and your family make to train… it's always nice to know you're not alone!!

My Training this past week wasn't too hot.. Monday and Tuesday being at the hospital with Grandpa wasn't great for it. I spin class on Wednesday, ran Thursday… should have gotten on the bike on Friday and didn't. Ran Saturday and should've swam and biked on Sunday, but it just didn't work out.. sometimes, being a mom has to come first.
The rain is really cramping my training on the bike. I finally ran in the rain on Saturday morning and it wasn't terrible. I'm not going to lie.. I felt a little hardcore being out there in the rain. But, I wasn't the only runner.. I saw several. I really think we have a closet group of runners… I need to wrangle them into a giant group run. I'm hoping to step up my training this week.. back to my early morning workouts. That habit is crazy hard to get into.
I have a Sprint Tri is two weeks… it's an open water swim, and I'm not too comfortable with that. No time like the present to get comfortable, right?

Man.. I really stepped up my training this week. I probably covered more miles this week than I did the rest of June.
Saturday morning, I got up with the chickens, and drove to Birmingham to run 7 miles with the Birmingham Track Club again… I am super jealous of the group runs! I went by to see my Grandpa who had a small heart attack on Friday. I cleaned up there before heading to work. (Yeah. I'm a crazy person. I can't apologize for it anymore.) I don't do well with heart attacks, my dad had one while I was pregnant with Claire and is one of the main reasons I started running. So, needless to say, I NEEDED to run and Saturday was challenging and awesome and just what I needed.
Sunday, I rode with my crew and we covered 17 miles before the rain started coming in. I fell again… this time it wasn't completely my fault. My group was waving me on to cross the street and there was a car at the same stop sign, who was getting ready to turn right. About the time I started to cross, they decided to turn left and I couldn't unclip and stop fast enough, so down I went. I scraped my leg and my hand pretty bad. That's my first official fall, where my entire body has taken the brunt of it.
I've really got to step up my training if I plan to make my 1500 run/bike goal for the year…. Do you have a goal for the year? What is it?

As you may recall, I was in a bit of a training funk, so I tried to see if getting out of my comfort zone would help.
I ventured to Birmingham, to attend the Birmingham Track Club's social. They have a massive running group, with well over 1,000 members. I may not be a shy person, but I am extremely awkward where I don't know people, so this was a huge step for me. I met some super nice people, and signed up for the Vulcan 10K in November and went ahead and joined the club… I am going to try to run with them a couple of times a month and see if just running with a big group and in a new setting helps keep me excited about training.
They had multiple distances and I was planning on doing the 6 mile, but ended up not grabbing directions and came up on a guy with directions in his hand and stuck with him, anyway, he was nice and ended up being more socially awkward than me, so it was a win. Except for the fact he was doing the 4 mile distance, so that's what I did.
Afterwards, I headed over the Lululemon and treated myself to a new outfit. I was shocked our Lululemon actually had what I was looking for. That never happens.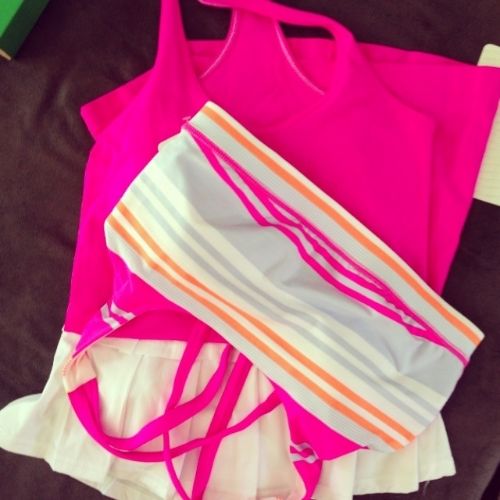 I got the white ruffle skirt, a free to be sports bra, and the cool racer bank tank. I can't wait to run in it!
I also decided that I need to get back in the habit of getting up and getting my workouts in before the rest of the world wakes up. Yesterday, my training called for a swim and a bike, so I thought I'd get in the pool and then hit the 5:15 spin class. The spin instructor was NOT what you needed for an early morning spin class, so I don't know if I will do that, since I was afraid I was going to die of boredom. I'll have to think of something else, I guess.
While, I don't think my funk will completely go away until the weather cools off, I think it's much better. Too bad it'll be another 3 months before cooler weather is upon us!
How are you making it through your summer training?