I keep forgetting I'm racing this weekend. This week has been so busy and just coming off of vacation.. I just haven't had the proper time to freak out about it. Which, is probably a good thing. We all know I'm a neurotic head case that can be a tad obsessive (don't agree with me). I'm also sort of over the half marathon distance.. at least right now. It's been a thorn in my side for the past year and I am ready to break 2 and move on from it… I reserve the right to change my mind on Monday.
Coach Alex is pacing me and a few others to the sub 2 goal on Sunday. I chatted with him last night about being sick recently and missing runs and the fact that I just don't care about this race.. don't get me wrong, I CARE, but I'm not obsessing… I mean, I keep forgetting about it!
My plan for Bridgestreet is this… to run through the water stations, which is not something I generally do since I'm scared to spill water on myself. That's a weird fear, I know.. forget I said anything about it. I want to make sure I concentrate in the beginning half on keeping my shoulders back and my upper body straight because that's where it gets me at the end.. My shoulders start killing me because I have been hunched over for 8 miles. And most importantly, I'm going to let Coach Alex do all the work… I'm just going to follow him and tie a rope to him if I have to. I'm going to treat it like a long run and keep up with the pack. I'm not planning on wearing music.. I never listen during training runs anymore, so why mess myself up during a race with it? All I do is end up getting mad at the words and start skipping songs.
This is it… the last half marathon before I turn 30… and I refuse to turn 30 without a sub 2 half. You'd think I would be a little more fired up about it, but I'm tired of psyching myself out about these things. It's just running and I know how to do that. Why wear myself out mentally before I've even toed the line?

After I picked myself up after Mercedes, I decided I was going to make Tuscaloosa a good race. It should be flat, it looks like weather is going to be pretty dang good, and most of all– a ton of friends are running it and it should be a blast.
I'm really hoping to finally break that 2 barrier, and think I can do it on this course, but I am not going to stress. I'm still not that far from Mercedes, and it may prove difficult to race so soon. I guess, I still regret not taking that sub 2 in Tuscaloosa last year.. but I held back to talk a newly made on the course friend to the finish.. Sometimes, it's good to be a friendly face on the course to someone.
I did my last long run solo this weekend… I think that was a wise choice since the mental battle has been such a struggle for me. I needed to be able to talk myself into keeping pace and I pretty much nailed it.
It was just me and the Colonel Johann G. Cullmann on Sunday morning!

I feel confident I can do this, but will not stress about it. I can't let myself overthink and stress about paces and what not.. I will just run my race to the best of my ability.
I've found a new love in compression socks over the past few weeks. I've been wearing them during long runs and and afterwards and it's helped the soreness in my ankle so much. I actually ran my long run without my brace!
They get their love of brightly colored clothes honest, y'all.
I'm pretty much in love with this video that aired on Fallon last night.. I'm adding Let It Go to my race playlist immediately!
Anyway.. who is racing this weekend??

We woke up Thursday morning to a Winter Wonderland. Except, I like Summer and am over this extremely cold weather. This was, of course, after already being trapped in the house for 2 days… err… I mean, being at home with my sweet redheaded children who love to fight in a fort and bake in the Easy Bake Oven.
Proof I went a tad insane. Lululemon, fuzzy house slippers, and a Key West coffee mug.
As I sat watching the snowfall Wednesday evening, it was so peaceful, and all I could think was "I HAVE to run in this!". Someone should have had me committed at that moment, because that's the exact opposite of me 2 years ago. Heck, even 2 months ago. I don't do the extreme cold. But I was itching to get out in it.
I decided to run out my front door. Something I very rarely (okay. Never.) do. Simply because it's not very safe. People drive crazy on country roads and I don't want to be road kill.
It's one of the best decisions I've ever made in my life… it was gorgeous.
I learned that you run on the powdered stuff and don't try to attempt to run in someone's tire tracks, because it's frozen and the powder is soft. I stopped and took pictures when I wanted (which was a lot!). I even had some animals look at me like I was crazy.
It tried to eat my shoes, but I wouldn't let it!
It was so fun running like this. Having to be careful where I stepped, but just running for fun with no time goals or stress and some beautiful surroundings. It was wonderful to help relieve some of the stress of my upcoming race and really just have fun running in the snow.

Not bad.

Here's to a sub 2 at Mercedes!

This past weekend, my Twitter turned in real life friend, Jen came into town on her way to rocking New Orleans and I just had to drive down and have dinner with her and several of the Resolute Runners. It was great to meet some new people and see some "old" faces.
Jennifer is one of the first local runners I ever met on social media and she has introduced me into a whole new world of crazy with Resolute Running.. but it feels good to know they are other runner crazies out there and most even more hard core than me.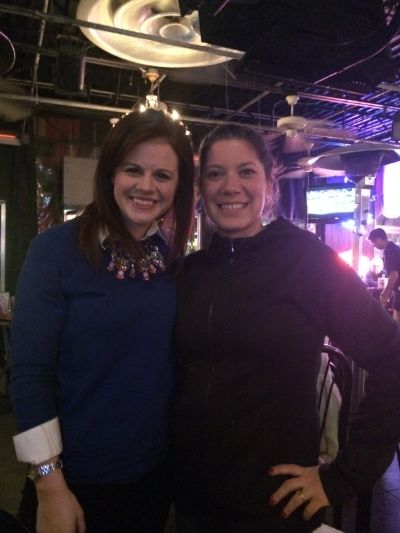 The man, the myth, the legend… Coach Alex.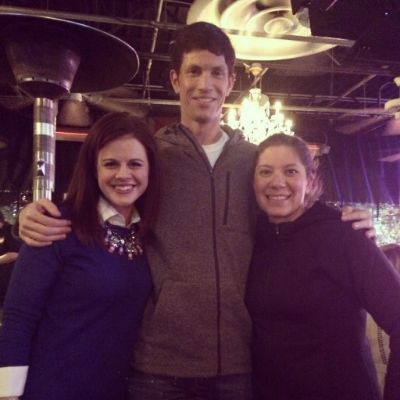 After loading myself up on pizza, I met my Saturday morning crew at a ridiculous time of 5 am to get in 12 miles. With it being my last double digit run before Mercedes, I really wanted things to go well. Let's just say… it didn't. I felt tired, lethargic, mentally not into it. We looped back to pick up some more runners around mile 7, and were waiting on them to stretch and I think we cooled off and I just could not rally. The next two miles were miserable and I just headed back to the car. I couldn't force myself to run another 3 miles. So I finished out with 9. I think I hadn't had enough water and I think my Chick-fil-a addiction is catching up with me.. So, I'm vowing to give up Chick-fil-a for the rest of the month and also make sure I'm drinking enough water. This is going to be hard, y'all. Hopefully, I will see a difference in how I feel.
I will honest, y'all. I am tired of running in this cold. When 32 degrees is "warmed up", you know it's a problem. I'm tired of fleece lined tights, and Michelin man layers, and gloves, and ear warmers. I hate using up all the hot water trying to thaw out after long runs too. There. I said it. I'm not cut out for the cold. Give me heat, humidity and mosquitoes any day. Someone needs to remind me that I said that come August.
The start of February brings the start of my 5th month with the RR team. Mercedes will be the first race on a full training cycle with my coach. I feel stronger coming back and am really hoping for a sub 2 at Mercedes. I'm still running in the brace, but starting to come out of it. There is still the normal soreness in the ankle, but it's always there and probably won't go away for a while.
I'm trying not to get nervous and psyche myself out for this race, but I want to break 2, so bad. I've been so close in the past, so I know it's there. I've put in some serious training in brutal conditions. Between wind, rain, wind, cold, wind, more cold… I'm just hoping for decent weather with no wind, please! I want to sign up for Tuscaloosa as a safety net race, but I'm not sure of my March work schedule yet, and if I thought January was busy… March ain't got nuttin' on it. It's insane.
I'm ready to race in this shirt!
I hope you guys will stick around for the upcoming racing nerves… they are sure to be good ones! I'm hoping to knock out some projects with all that nervous energy!
I need to start thinking about my playlist… I hardly run with music anymore, so tell me what you're listening to!

I suppose I should discuss the fact that I have a half marathon coming up in a few days…Blah. That's exactly how I feel about it at this moment. Which isn't a good racing mindset, let me tell ya. Life is just busy right now, and with it being so cold, it's really hard to stay motivated to get out of a warm and cozy bed at ungodly hours to run. I actually skipped the majority of my runs last week. Oops.
My goal is to break 2 hours… and I'd really love to be around 1:56, honestly. (Am I allowed to say that on the Internets?) But, to be honest, I'm still skeptical about the training and it freaks me out. Probably because my coach says I should be able to, but I just don't see HOW. Which sends my tendency towards being a control freak completely into a downward spiral. Just top that off with some race week neuroses and life craziness and we have ourselves a fine concoction of someone no one wants to be around (Holy run on sentence, y'all).
Another thing is… I need a running playlist. I've spent the majority of this training cycle running naked (No iPod, perverts) and just chatting people's ears off.. or listening to people chat mine off. Either way, I don't think strangers will appreciate me rambling on. The point of that was… send me your best running songs, ASAP.
I realized this week that my ankle brace that I run in is tearing up too.. I really don't want to have to replace that thing, but I feel like I am going to have to. Not. A. Fan. I hoped a little online shopping would help snap me out of my running funk, but nope. Not so far, anyway.
In an effort to not be such a Debbie Downer… I am including a picture from Halloween. Y'all would judge me on the amount of pictures that I take of myself and send to my friends, so lets just not go there. But I am wearing the Mouse Ears I bought at the expo for my first half marathon at Disney.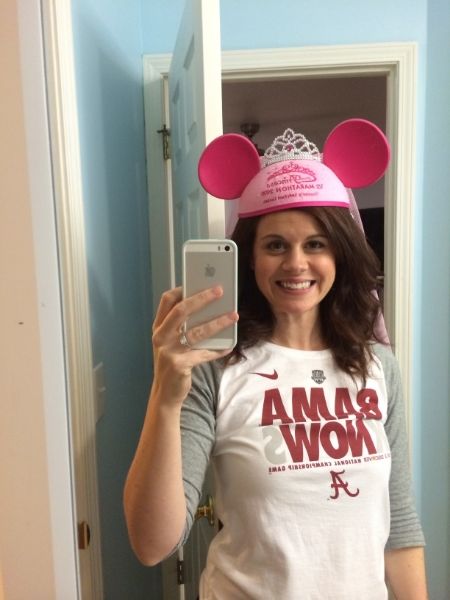 So. I need your favorite running songs and something to snap me out of this funk.

I decided to get up before the chickens and drive to Birmingham Saturday morning to run with the Birmingham Track Club. They have an awesome group that meets on Saturdays and has multiple distances and multiple paces. With it being so flipping cold, The Trak Shak opened and let us hang inside while they went over the routes.. of course, I never listen to turns… Probably a terrible idea. But I did run with my phone, in case I got lost. Because that's been known to happen before.
The gigantic group starts together but they end up breaking off into smaller groups based on pace. I am becoming more comfortable walking into these settings of not knowing anyone and just start talking to people. Sometimes people are more receptive and others aren't, but I've found that this Saturday group is super friendly and will make you feel comfortable.
I met pacers for my upcoming half marathon and past Ms. Alabama's, so it was a good run, I'd say. Of course, the route was a little on the tough side, with some killer hills… one of which was an incline for about 2.5 miles… Super fun with the ankle. But the view atop Red Mountain… was sort of worth it. The group said the sunrise was amazing, but we were a little bit early for sunrise and it was still dark… It looks lighter because of all the lights coming from the buildings downtown.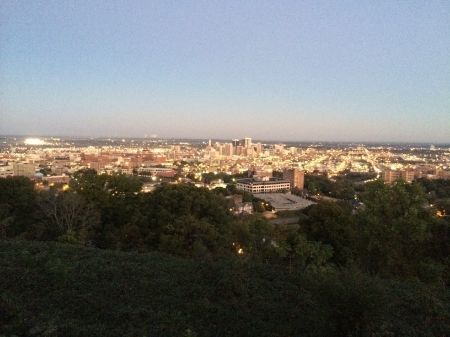 My race season starts on Saturday with my 3rd 10K ever and the first time that I've ever run the Vulcan 10K. I'm hoping it'll be a good run that I finish in under 1:00, but we shall see what the 'ol running coach says. I'd love to see sub-55, but I am not sure that is even possible or smart with a half marathon at the end of November.
The ankle seems to be holding up in the brace. It's a little more sore after those 9 miles, but nothing unmanageable. I should probably avoid big hills though.

So. I sort of did something crazy and definitely out of the norm. I hired a running coach. I know me and how I operate (it's a gift of having known myself for 29 years) and if left to my own devices, I would jump back into running with both feet… which is hard to do since running is typically one foot at a time. My friend Jennifer had sent me a link right around the time I got injured for Resolute Running. They were doing a training group for the Magic City half. After numerous e-mails with Alex about my injury and even discussing running goals when I actually couldn't run, I decided to take the plunge and do it. I figured, if he would watch me like a hawk with my ankle and tell me exactly what to do, I'd be in good shape. That's another thing with me.. I tend to follow directions well.
Coach Alex and I discussed using Magic City as my "come back" run. And the goal would be to just finish. We talked about my PR being 2:02 and how I REALLY wanted to break 2 hours and he said, "Oh. That's pretty much done. Let's look at 1:50." Wait a second. I am barely running, and am not running near 2 hour paces and you want me to set my sights on a 1:50 half? Before the conversation was over, he had mentioned a 1:30 half and me still being "moldable". Afterwards, I was very confused. I thought I was just easing back in and he's talking about major PR's.
Then I got my training plan. And it is a bunch of 10:30 paces and then I was SUPER confused. So, I e-mailed him and asked what was up– Was the goal really just to cross the finish line or was it break 2 hours? He explained to me that he was being very lenient with my paces and I should be able to run a 1:56 half with this. Skepticism, party of 1??
I read Tanya's post on Coach Alex's style and it eased my thoughts, but I'm still a little skeptical on it… but, I will trust the training and do what I am told.
For now, I am back running, with Betty the brace (she's becoming a part of me so she needed a name). I'm not doing any speed work and I am glad to know that I haven't lost too much of my fitness being out a month– I had a long run this weekend of 7 miles and still felt pretty dang good afterwards. Right now, I am running 3 days a week and cross training 2 days with 2 rest days. I have the Vulcan 10K coming up and I would love to break 55 for it, but I am not sure that will happen.

I swear I'm not intentionally holding out on y'all on the foot thing. I just sort of forgot to update the blog on it. Oops. So, I ended up going to physical therapy a couple of weeks ago and she gave me lots of stretches and told me to ice it twice a day and I could run half a mile on a track with the brace and work up from there and eventually back to the road and out of the brace. Do you realize that being told you can only run half a mile after a month off is actually worse than being told NOT to run?
So, I did that for about two weeks with no pain. Then it came time to head to Tuscaloosa for the Ole Miss game and I knew I wasn't missing a crisp Fall morning campus run. So, I said I'd do 2 miles and stop immediately if it hurt.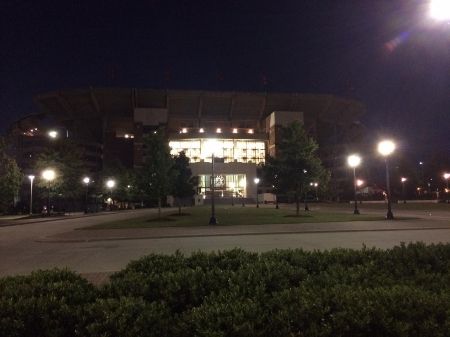 We tailgate across from the Walk of Champions and the stadium, so I just headed down University and Fraternity Row. It's crazy how these new Fraternity houses are. I remember when I was in school (yes. I just said that.) that the KA house was the nicest on campus.
Not bad, right?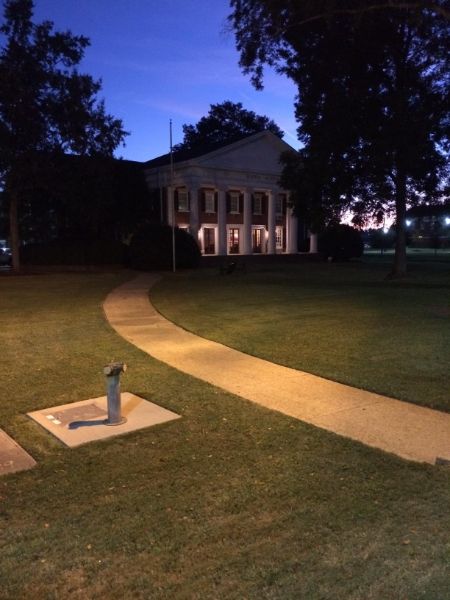 This is just one of MANY new Fraternity houses.. Freaking MASSIVE.
When they expanded the stadium, they tore down several Fraternity houses and they got rebuilt. They also tore down some others to make room for more campus housing.
I ended up cutting down to Bryant and I had to go see the Alpha Gam house. It's just gorgeous. I really love how the new houses still hold the aspects of their original houses.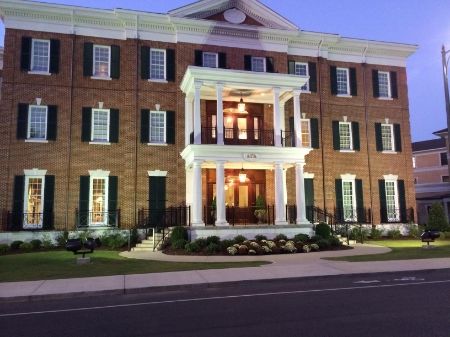 I cut down Sorority Row and down the side of the stadium and said Good Morning to the Nick Saban statue. He seemed to enjoy some Energy Bits. 
I had no pain post run. I ran Monday morning (3 miles) and Tuesday morning (3 miles) and my ankle was a tad sore so I am taking today off and will give it a try again tomorrow. Hubs keeps getting on to me about doing too much, but just like an addict, I can't stay away.

Have you ever done something and continued to do something that you know isn't good for you, but yet are in complete denial about?
For the past 5-6 weeks, I have continued to run on an injury that I know I needed to let rest. My ankle has been sore and hard to walk on for 6 WEEKS. When I see that written out, I get so mad at myself. Why didn't I take some time off weeks ago and let whatever was ailing me heal? 2-3 days doesn't cut it.
Let me back up… lets jump in our time machine and ride back to Saturday. During my long run, I was chatting along and without stepping funny or doing anything out of the ordinary, all of the sudden a sharp pain starts in my ankle and I thought, "Oh shit. I've done something to it. This hurts too bad to continue running." We were meeting a group less than a mile away, and by the time we met up with them, the pain had disappeared. So, I continued on, without stopping. I worked on my feet all day Saturday, with my ankle tender and sore. I decided I needed to see an ortho though. It was time. (You think?!)
I talked with my friend Jana's husband, who is in his residency for Ortho, and he suggested time off and (gulp!) flat supportive shoes (No heels!!) and an ankle brace. He also said that seeing an Ortho wouldn't be a bad idea.
Sunday morning, I woke up and could barely put pressure on it. I went ahead and bought some new running shoes.. ones that are a stability shoe. And let me tell you, they are some of the ugliest shoes I have ever owned. But, they feel good. (sigh.) Not that I can run in them right now.
I called and got an appointment with an Ortho after we get back from our cruise next week.
So, I guess it's time to meet my new best friends…
Ice.
I, in no way, wanted to buy this thing. But can we talk about how GOOD it feels? Oof. So good.

I'm hoping it's just some tendonitis and not a stress fracture. But with the burning that accompanies the pain since Saturday, I'm not sure what's going on. But, just add me to the Injured Reserve list for the next couple of weeks.
You can imagine how mopey I am.

44 miles for the week?! Oof. It was mostly bike though. Monday was my normal swim plus spin at 5:15.. yes. That means I am in the pool by 4:45AM, y'all. That's kind of insane. Wednesday I biked with Donnie and Shannon. Friday I ran. Saturday, another bike ride that was cut short when Shannon had a flat.
I've got the Wet Dog Triathlon on Saturday. I'll be honest… I've got to cut back on my training. It's making me ill and cranky and I am not enjoying a single step of it. It feels like work, but a job where I am constantly failing at consistently juggling.
I'm signed up for Rocketman in Huntsville in August. It's an Olympic distance triathlon and they sent an e-mail out saying since registration is full, if anyone wanted to drop, they would re-imburse the entire registration fee. I'll see how Saturday goes, but I am honestly considering dropping out. The open water upstream swim scares the crap out of me and I heard that the run has a lot of loose gravel. Which means, I will bite the dust and I try to avoid that if at all possible.
I told J last night that I'd rather take that registration money and put towards another Fall half. He expressed some concerns that I wasn't training like I should be for it, and that he was afraid I was going to get injured. Legitimate concerns since he has seen how little that I have been in the pool. I've got big goals for half-marathon season, and I have every intention of hitting them.
How was your training this past week?