I feel the need to Keep It Real, folks. When my training ramps up, it's all I can do to keep the laundry done. So, let's just forget the rest of the house. Now, don't get me wrong, I LOVE a clean house. Everything organized and put away and in it's place. But, after wrangling kids, training, and working all day.. I just don't have it in me to clean up. Below is a photo diary of what my house looks like. Hopefully, it will make you feel better about yourself.
This is what greets you when you come in.. either walk past it, or add to it!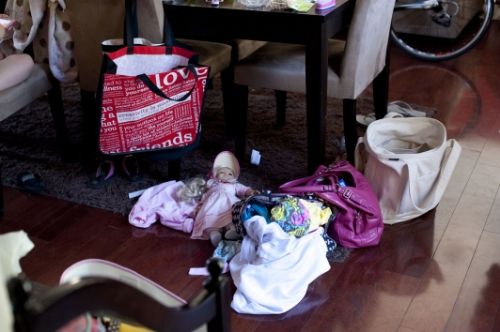 Complete randomness all over. Oh Hiiii iPhone! I see you there!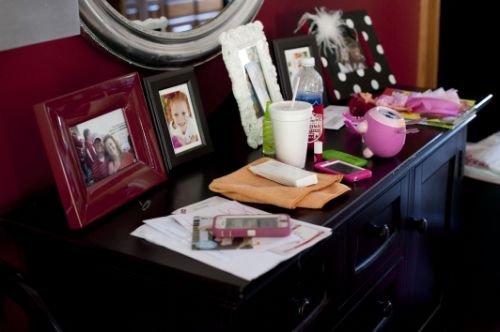 The girls play room… Oy vey.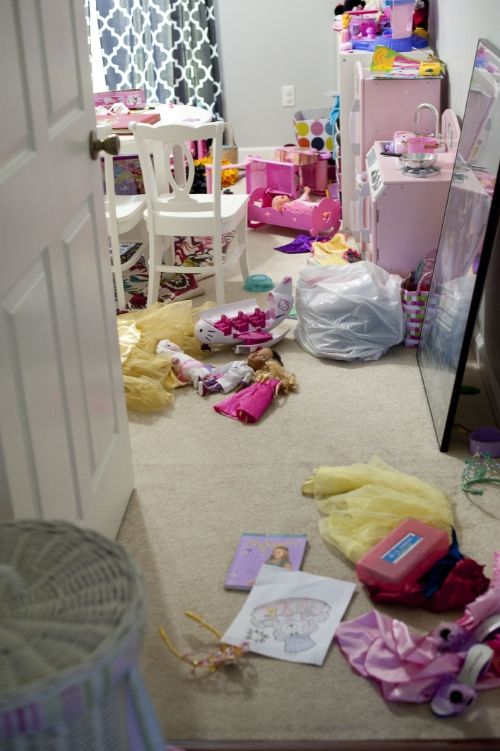 Are the Princesses lining up for battle? Or perhaps getting ready for a Harry Potter like game of chess?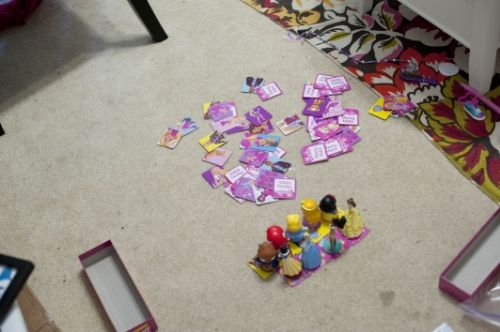 Bearcat pride cannot hide in this house… My old Pom Poms are a must have, apparently.

Last but not least, here is the jungle treachery that you will find on the way to my bedroom… A lone running shoe, a camera bag, tote bag (this was after I had been to see Grandpa), a piece of luggage that has been there since I went to DC, and my vacuum cleaner.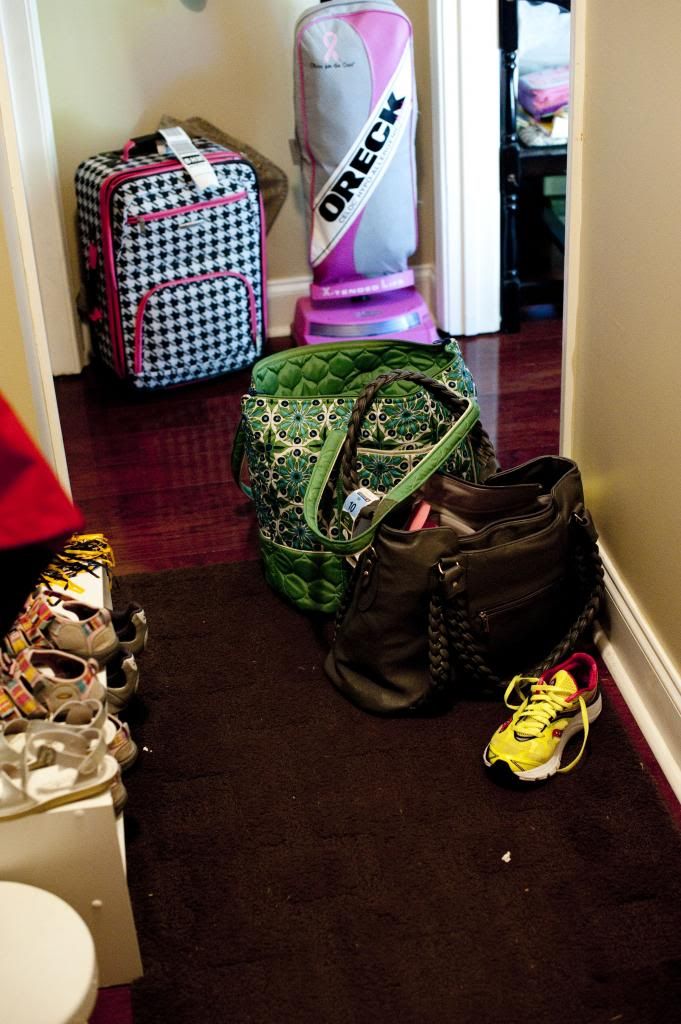 Basically, my house always looks like this. I can't tell you the last meal I cooked and I am pretty sure I haven't been grocery shopping since 2012. If it weren't for my husband, most days I probably wouldn't even remember to eat… he keeps me fed, y'all. He caught on to what a grouch some one who is rungry is!
Please share with the rest of us the sacrifices you and your family make to train… it's always nice to know you're not alone!!

My Training this past week wasn't too hot.. Monday and Tuesday being at the hospital with Grandpa wasn't great for it. I spin class on Wednesday, ran Thursday… should have gotten on the bike on Friday and didn't. Ran Saturday and should've swam and biked on Sunday, but it just didn't work out.. sometimes, being a mom has to come first.
The rain is really cramping my training on the bike. I finally ran in the rain on Saturday morning and it wasn't terrible. I'm not going to lie.. I felt a little hardcore being out there in the rain. But, I wasn't the only runner.. I saw several. I really think we have a closet group of runners… I need to wrangle them into a giant group run. I'm hoping to step up my training this week.. back to my early morning workouts. That habit is crazy hard to get into.
I have a Sprint Tri is two weeks… it's an open water swim, and I'm not too comfortable with that. No time like the present to get comfortable, right?

Man.. I really stepped up my training this week. I probably covered more miles this week than I did the rest of June.
Saturday morning, I got up with the chickens, and drove to Birmingham to run 7 miles with the Birmingham Track Club again… I am super jealous of the group runs! I went by to see my Grandpa who had a small heart attack on Friday. I cleaned up there before heading to work. (Yeah. I'm a crazy person. I can't apologize for it anymore.) I don't do well with heart attacks, my dad had one while I was pregnant with Claire and is one of the main reasons I started running. So, needless to say, I NEEDED to run and Saturday was challenging and awesome and just what I needed.
Sunday, I rode with my crew and we covered 17 miles before the rain started coming in. I fell again… this time it wasn't completely my fault. My group was waving me on to cross the street and there was a car at the same stop sign, who was getting ready to turn right. About the time I started to cross, they decided to turn left and I couldn't unclip and stop fast enough, so down I went. I scraped my leg and my hand pretty bad. That's my first official fall, where my entire body has taken the brunt of it.
I've really got to step up my training if I plan to make my 1500 run/bike goal for the year…. Do you have a goal for the year? What is it?

As you may recall, I was in a bit of a training funk, so I tried to see if getting out of my comfort zone would help.
I ventured to Birmingham, to attend the Birmingham Track Club's social. They have a massive running group, with well over 1,000 members. I may not be a shy person, but I am extremely awkward where I don't know people, so this was a huge step for me. I met some super nice people, and signed up for the Vulcan 10K in November and went ahead and joined the club… I am going to try to run with them a couple of times a month and see if just running with a big group and in a new setting helps keep me excited about training.
They had multiple distances and I was planning on doing the 6 mile, but ended up not grabbing directions and came up on a guy with directions in his hand and stuck with him, anyway, he was nice and ended up being more socially awkward than me, so it was a win. Except for the fact he was doing the 4 mile distance, so that's what I did.
Afterwards, I headed over the Lululemon and treated myself to a new outfit. I was shocked our Lululemon actually had what I was looking for. That never happens.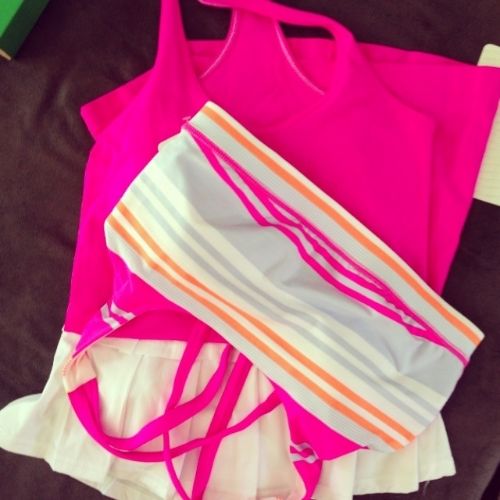 I got the white ruffle skirt, a free to be sports bra, and the cool racer bank tank. I can't wait to run in it!
I also decided that I need to get back in the habit of getting up and getting my workouts in before the rest of the world wakes up. Yesterday, my training called for a swim and a bike, so I thought I'd get in the pool and then hit the 5:15 spin class. The spin instructor was NOT what you needed for an early morning spin class, so I don't know if I will do that, since I was afraid I was going to die of boredom. I'll have to think of something else, I guess.
While, I don't think my funk will completely go away until the weather cools off, I think it's much better. Too bad it'll be another 3 months before cooler weather is upon us!
How are you making it through your summer training?

It's official. I am in a training funk. I've been trying to keep on keepin' on and push through and hope that helps. It hasn't. I've continued to race and sign up for races and hope I get excited about it. I haven't. I've allowed myself to make excuses to skip runs. Sure, my runs mostly stink now because it's so dang hot and humid outside. But guess what? Today is the first official day of Summer, so I have a lot more heat in my future.
I signed up for two more triathlons this week. One in July and another in August… the one in August being an Olympic distance. And then I wrote out my training plan for them and saw the work for the Olympic distance, and well, I am scared. It's a LOT of training. A LOT of Two-A-Day's. It has me wanting to crawl in my bed and curl up the The Game of Thrones.
Are you watching that? Holy cow. We are on season 2 and it is amazing. PLEASE NO SPOILER ALERTS!
Anyway.. I got sidetracked. Basically, I am in a funk and don't know what to do to get out. I feel like I've lost my training and distance and speed. I know that training in the heat will make your endurance better, but geez. It REALLY sucks.
And just maybe coming off of the big trip has me in a state of depression. The lack of buffet like qualities and multiple desserts in my house is enough to make anyone have the sads.
I know I'm not drinking enough water, so that could be a factor. Or maybe it's my crap eating habits that are catching up with me. Because I eat like a toddler and not near enough.
Basically, I'm having a pity party. If you have any suggestions for how to snap out of this, I am all ears.
Am I the only one that gets in these funks? How do you get out of them?

I have been inadvertently keeping a secret. Not to be mean or to be withholding. But simply because, life has just been straight up crazy lately.
Here goes… I've been training for a triathlon. It's Saturday. It's a sprint tri and one I did last year, which was it's inaugural event.
I think it's a great first tri, with it being a pool swim. It's a 200 yard pool swim, 8 mile bike, and a 2 mile run. I did it last year in 1:00:46, coming in 3rd in my age group.
The trouble with triathlon training, is you are juggling 3 events, making sure you are putting time and effort into all 3 somewhat equally. After Nike, I took some time off of running to try to concentrate on building up my biking and swimming.
I entered an estimated swim time of 3:30 and I'm about 40 seconds off of that. I am about 45 seconds off my goal pace on the run. I am hoping to make up some time on the bike, but who knows.
I also fell last week on my bike, successfully knocking the chain off and bending my derailer  hanger and the guy can't even look at it until Tuesday, so I am hoping to get to ride one last time on Wednesday, but who knows.
In the interest of full disclosure, I also have two more triathlons lined up and am thinking of signing up for a half Ironman for next year. And we can't forget half marathon season!

Here it is.. Nike Women's is upon us and there is no turning back. I think we all know that I am a little nervous as to what to expect. My last month of training hasn't been stellar, but I'll be honest, mentally, I am ready to give it my all. I know that I can run a sub 2, but it may not be this week. I am determined to go down trying, though.
With the sickness, I missed my last long run, but I refuse to dwell. My training since December has transformed my running and I have learned so much about myself.
I hope to enjoy every step of Nike, because this race is huge for me. It's half marathon number 10 for me. I was chosen from the lottery for it and I get to run it with one of the raddest ladies on the planet, in our nation's capitol.
I've pretty much come to the conclusion that breaking the 2 hour ceiling isn't going to feel good, but I really want this for #10. Running has given me so much over the past 3 years, and this is something that I never thought I would be able to do.
For my "taper" week, I decided to get out my bike and ride with a group that meets near my work in the evenings. Completely out of my comfort zone, I am so awkward in group settings when I don't know anyone. Which, I knew NO ONE. I thought it was going to be an easy 10-12 miles… it ended up being 20. OOPS. I didn't mean to do that AT ALL. Especially the week of a race. They were super nice and were always giving me a heads up on uneven terrain or if a driver was on their cell phone. I also had my first official fall. We were stopping to get some water, and I always unclip on the left. I was turning to the right and slowing down and I guess leaning into the turn, and just went down like a ton of bricks. There is literally nothing you can do when you are clipped in and start to fall. Just hang on for the ride. Luckily, I fell into a patch of grass, so it was all good. Minus the chain marks and the bruise on my leg, I am good.
I ran Wednesday for my last run before Nike and my legs were feeling a little tired. My chest was a little heavy due to the sickness, but otherwise, I feel good.
Nike released this little gem this week…
A Tiffany blue Free. I want it so bad. I'm still debating on if I should purchase them… I would never run a distance race in them, so it seems a little ridiculous to drop $150 on a pair of shoes. But.. they are so pretty!!!
I need to start working on my race playlist, so tell me what you favorite song is right now to run to!
Any last words on encouragement? Should I get the shoes?!

Once a upon a time, in a land far far away, I set a goal for my running. That goal was 2:15. I thought, if I could run that, I'd never complain about running. I'd be happy with that time for ever. After 3 years time, I've realized that's not true for runners. We strive for greatness from ourselves. In November, when I had a 12 minute PR on a half marathon with a time of 2:20, while I was proud of the PR and how far I had come, I was ticked I didn't break 2:20. I was on the cusp of that 2:15 time goal, that was my elusive white rabbit. I swore then, that I would break 2:15, come hell or high water, but I also realized, that while breaking 2:15 was all well and dandy, it wasn't good enough anymore. I wanted a 2:10 now.
So, I set my mind to it, and got my training all laid out. I started running outside instead of the treadmill. I forced myself to run on the hillier side of town to prepare for Mercedes. And in the beginning, I felt like I was getting slower. That I was just beating up my body. One evening, I was running with my little group after a couple of weeks of solo runs, and I found myself able to keep up with Shannon, who typically runs off and leaves me. I found myself not slowing down with Donnie, but pushing myself. I found my breathing to come easier and my legs able to take the hills.
I may still hate that hilly Oktoberfest course, but I've forced myself to run it. One night last week, I ran it in 27 minutes. 2 minutes faster than I have ever raced a 5K. Those hills don't hurt like that used to. Don't get my wrong, they don't feel good. But I've somehow, flipped the switch over to  "just keep going". It may hurt, but just keep going. My training runs are right on par with a 2:10 half for Sunday. But I know and am trying to prepare myself mentally that I still may not do it. But I could also smoke it out of the water.
It's been so long since I trained so hard for something, and I really want that number on the clock to reflect the blood, sweat, and tears poured into this training. I know that I am not defined by the number on the clock, but I really want it to read 2:10.
I feel sorry for my coworker… she is getting the majority of my race week neuroses. My piriformis muscle is flaring up and I've got a soreness in the arch of my foot. So, naturally, I think I've torn a ligament or pulled a muscle.
I'm planning on running tonight.. nice and easy. Swimming tomorrow and be done until Sunday. I'm also going to be doing some of the stretching videos this week from FitnessGlo.
I guess now it's time to just trust the training…

*Let's take a moment to remember those who lost their lives 11 years ago today. We should all say a special prayer for those families.*
Well, I'm not really training for anything at the moment, but since training never really stops…
I want to continue my swimming and biking and running, but marathon season is upon us, once again.
I will most likely be racing the Mercedes Half Marathon in February, so I need to get my mileage back up before my training plan is set to start.
I am serious about the sub 2:15 half… we are making it happen is 2013.
I did want to share that J went to the pool with me before my Tri and I had him watch my stroke and tell me what I can improve on. Hopefully it will help one or some of you…
Trust me, if I can swim like this, then anyone can.
I was swimming 50 yards in about 53 seconds and J gave me the goal of 45 seconds… this is me making it happen in 43 seconds. Too bad he stopped the video before I shrieked in the pool over the time.
I have a decision to make. Since my Garmin 405 crapped out, I can pay $70 to get it fixed or the new Garmin Forerunner 10 for about $140.
I have a hard time working the 405. I don't use it to it's abilities and the bezel and I don't get along very well.
The downside to the 10 is that it will only show total distance and time on one screen and you have to click over to see average pace– which is a runner's best friend.
The plus side is.. it comes in pink. 
Help me decide what to do!!
What are you training for?
Do you have any upcoming races?

Wow. It's been a while since I last blogged.
A lot has happened. But more on that at a another time…
This week is it. My first Triathlon is Saturday. I feel like I have put my training in, but it doesn't feel like enough. With running, I know where I stand. I know what my times mean. With swimming and biking, no clue. I'm just out there. I have no idea how far I can push my body for each event. I know what it can take with running. It's a very scary thought for me.
With all of this said, I am absolutely petrified that the open water swim is going to cause me to panic and DNF right out of the shoot. Swimming isn't my strong suit, although, I have come a long way with this training, and feel, given a few more months, it could very well be something I'm pretty decent at.
I went this weekend and bought some sunglasses for the event. Are they as fashionable as my Coach sunnies? Nope. But they are pink and pretty awesome. The nice man at Cahaba Cycles showed me a very pretty bike and I will take donations to be able to pay for it. Geez- what an expensive sport!
I've spent the majority of my cycle time in spin class. I am not sure if this will hinder me or not. But I had a ton of fun doing it. We have been up to ride the course and it's pretty flat, but in doing so, I found out that the run is a trail run– which, I hate trail runs. So, this should be interesting.
I am hoping to finish with a time around 1:30 (Can I put that out there? Because I honestly have no clue how long it could take me.) I am also hoping to not look like a sausage casing in my Tri outfit, because those things are TIGHT. I rocked my tri shorts to spin last night, and let me tell you the LOOKS I got. It was about the same as whenever I wear running skirts up there.
I also decided to wear my hair in a bun, I think. With a visor for the run, which I am not a fan of doing but I'm not going to have much choice. I would expect a ton of pictures, since my step-dad is going and we all know he is a mini-papparazzi.
Oh, and let's not forget that I have been diagnosed with an upper respiratory infection. So, that's fun. Two shots in the butt, an oral steroid, z-pack, and a cough syrup and hopefully I'll be better before Saturday. I don't think I have ever run a big race and not been sick. I guess my body's response to nerves is for my immune system to stop fighting germs.
So, wish me luck! Any last minute thoughts or words of wisdom?