Friday night brought me the obligatory pre race outfit pic… please notice the GU, because I'm totally going to forget that come actual race time. 
I got up at early-thirty to meet some peeps in Birmingham to drive to Tuscaloosa, where we met my brother in law, Jay who had our bibs and then continue on to the start.. parking was a breeze and we found even more people at the start.
Becca, Me, LB, and Coach Ann– who was 31 weeks pregnant!!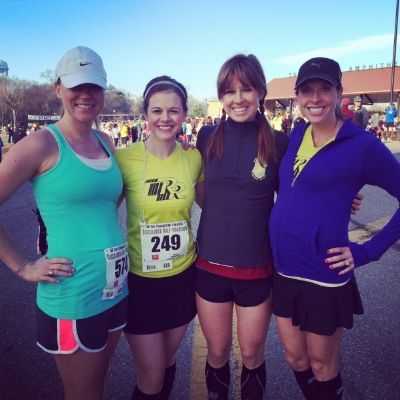 We found some of the C'town representing in T'town…

We were all just standing around chit chatting and then all of the sudden all of the people started moving and the race had started.. Way to be prepared! We started out and were chatting and feeling good and just taking in the sights of everything and enjoying the gorgeous weather (Holy run on sentence!). Becca pulled ahead pretty early, but I could still see her and easily catch her so I wasn't worried. The course weaved through some historic homes and I honestly hate courses that weave. Ann had a baby bouncing on her bladder and she had to make a pit stop around 4.5, and at the mile 6 water stop, I realized that I was probably in the long haul solo since I looked ahead and couldn't see Becca any longer.
I just tried to enjoy the scenery for the next couple of miles and listen to my tunes…not a terrible view!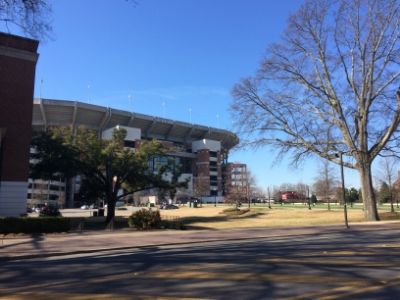 I started fading around mile 8, and probably should have taken a GU, but it was tucked safely in the car at that point and wasn't doing me any good there. It was warming up and I wanted so bad to be able to rally, and I tried, but hills popped up out of nowhere and I could not make it. At the mile 9 hill, which was boring, long, and never ending, I had a Resolute Running teammate pop up and be all "Hey! What's up?" and then he took off and completely made the hill his bitch.
Going into the race, I wasn't looking forward to the Jack Warner Parkway and the River Walk portion, but once I turned the corner onto Jack Warner, it was a downhill and a nice breeze picked up and I start picking up the pace a little bit, making good use out of the downhill. I hit mile 11, right where we get on the River Walk and saw Hannah and was so happy to see a friendly face, but I already knew the sub 2 was far gone and so was a PR.
Becca came back and found me for the last quarter mile or so, and my brother in law was waiting at the finish line… I finished in 2:04:47.. not too shabby, but far off from my goal.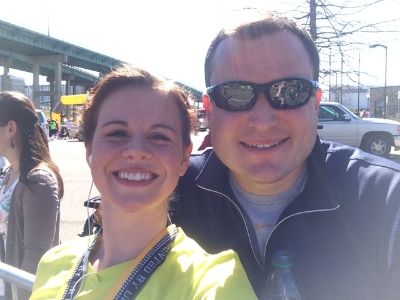 This race was a learning experience for me… sort of. I basically learned that I am a follower (not a HUGE newsflash, but always a nice reminder!). If someone sets a pace, I can run with them and chase them, but I cannot hold an uncomfortable pace on my own. I have lost the mental battle on the past 4 half marathons in the end… the 4 half marathons that I have tried to break 2. Physically, I felt fine, but mentally, I couldn't force my legs to pick up the pace. I just reached a point where I was okay with what I was giving in the race, instead of pushing outside of my comfort zone. Somehow, I've to figure out how to push past that, because it's getting really frustrating.  I'm feeling extremely discouraged and ready to toss in the towel on this distance for a while, but not without breaking 2… the goal I have been chasing for almost a year.
I've got to give a blog reader a shout out– Kim came up to me after the race and introduced herself and told me what an inspiration I was and that she started running because of me and she actually ran her first half marathon in Tuscaloosa– a 2:43!! It was so awesome to meet you, Kim! I really appreciate your kind words and you are a ROCK STAR!! Please let me know how you are doing!!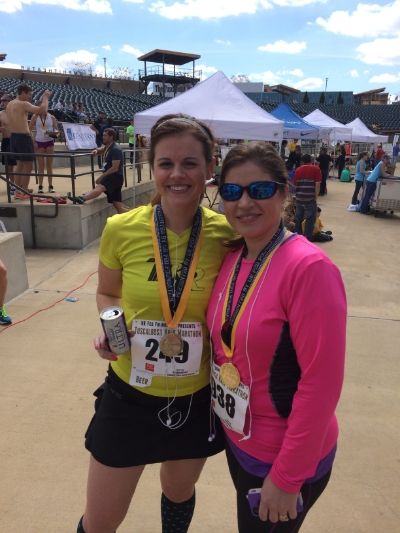 Such a beautiful old bridge….
My Juan Pablo "eeeet's okay!" I didn't PR picture… also? Not really sure what's going on with my leg. It seems to be channeling Elvis or something.
I have one more race before I turn 30 in April, and I am bound and determined to break 2 hours… so if you have some tips on breaking the mental barrier, I am ALL ears.