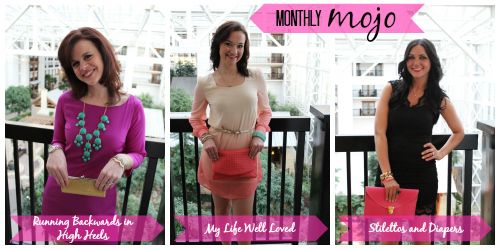 It's that time again… Time for Monthly Mojo again with two of my favorite ladies… Heather and Molly!!
I've found a new love of compression socks… they have really been helping with recovery. I want them all!!

Group texting… More importantly.. group texting with Molly and Rebecca. Doesn't everyone send selfies and discuss outfits with their friends?!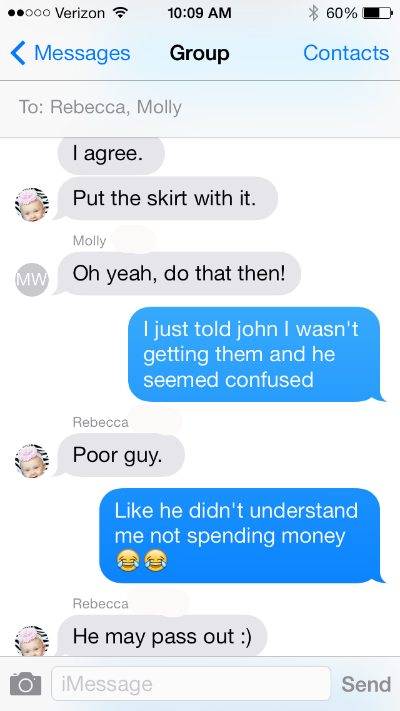 I love my Breville blender… It was sort of a Valentine's present. I've been making smoothies almost every day! (I see you eyeing my Hello Kitty toaster.. back off. It's mine!)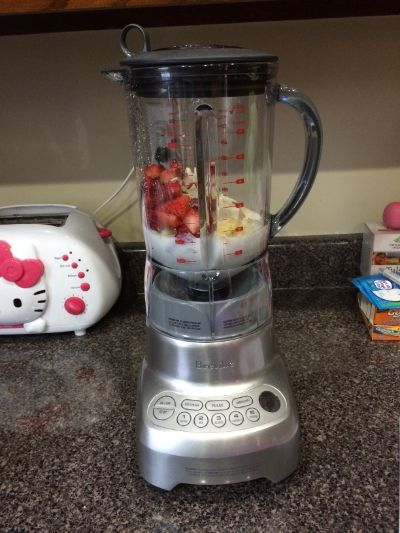 Since it's starting to warm up, Nuun is becoming super important for staying hydrated. P.S. They have a new kind out with caffeine!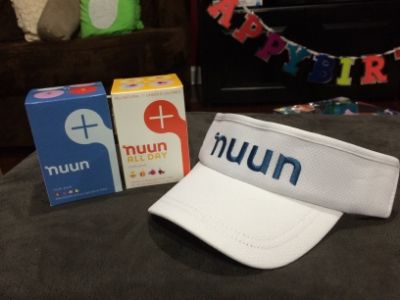 I can't stop watching Gossip Girl again… I'm once again obsessed with my favorite Upper East Siders.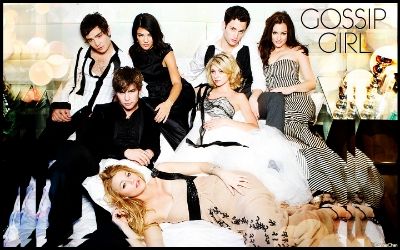 What are some of your favorite things right now??

*The following post is sponsored by FitFluential LLC on behalf of PUMA*

We woke up Thursday morning to a Winter Wonderland. Except, I like Summer and am over this extremely cold weather. This was, of course, after already being trapped in the house for 2 days… err… I mean, being at home with my sweet redheaded children who love to fight in a fort and bake in the Easy Bake Oven.
Proof I went a tad insane. Lululemon, fuzzy house slippers, and a Key West coffee mug.
As I sat watching the snowfall Wednesday evening, it was so peaceful, and all I could think was "I HAVE to run in this!". Someone should have had me committed at that moment, because that's the exact opposite of me 2 years ago. Heck, even 2 months ago. I don't do the extreme cold. But I was itching to get out in it.
I decided to run out my front door. Something I very rarely (okay. Never.) do. Simply because it's not very safe. People drive crazy on country roads and I don't want to be road kill.
It's one of the best decisions I've ever made in my life… it was gorgeous.
I learned that you run on the powdered stuff and don't try to attempt to run in someone's tire tracks, because it's frozen and the powder is soft. I stopped and took pictures when I wanted (which was a lot!). I even had some animals look at me like I was crazy.
It tried to eat my shoes, but I wouldn't let it!
It was so fun running like this. Having to be careful where I stepped, but just running for fun with no time goals or stress and some beautiful surroundings. It was wonderful to help relieve some of the stress of my upcoming race and really just have fun running in the snow.

Not bad.

Here's to a sub 2 at Mercedes!

Heather, Molly, and I decided to start a monthly feature of Our Monthly Mojo… Basically it's our 5 favorite things at that moment. It's going to be on the first Friday of every month. I'm super excited about it!
First things first… I'm loving my Frye boot. Mom got them for me for Christmas, and I will be sad to see boot season leave me and my BFF Melissa (that's the boot's name).
Melissa can be found Here or Here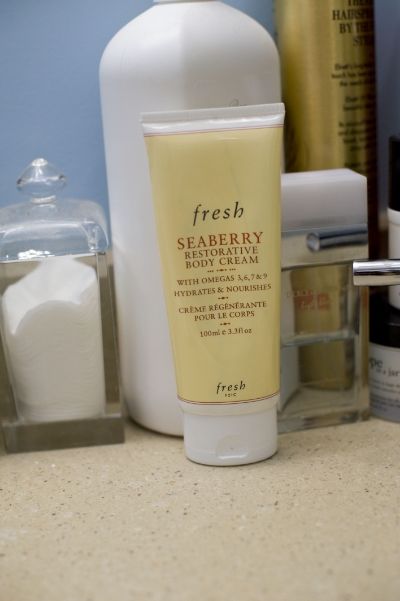 I am also loving this Fresh Seaberry Lotion… it smells fantastic and helps my dry skin. It can be found Here.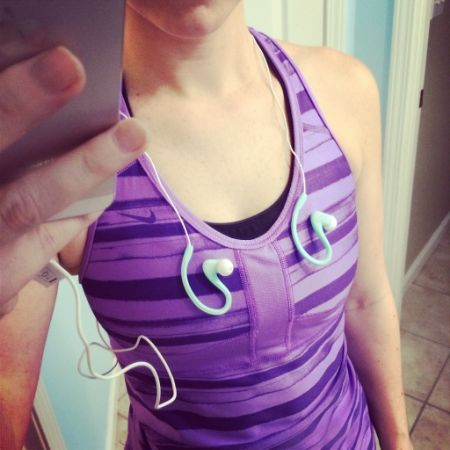 I've been running a lot with my Koss headphones.. I love them. The music sounds fantastic and they fit my ears perfectly!
I've gotten on a craft beer kick lately, since wine wasn't so friendly over Thanksgiving. First it was Good People. Now it's Back Forty's Truck Stop Honey. Yummy. It's made in Gadsden. I haven't tried any of the other kinds, but I've heard this is the best one.
Lastly, My disgusting runner's feet love this stuff. It's thick and will leave foot prints all over my hardwood floors, but it's heaven for my animal hyde runners feet. I like to lather it on and put on some thick socks before bed.

This past weekend, my Twitter turned in real life friend, Jen came into town on her way to rocking New Orleans and I just had to drive down and have dinner with her and several of the Resolute Runners. It was great to meet some new people and see some "old" faces.
Jennifer is one of the first local runners I ever met on social media and she has introduced me into a whole new world of crazy with Resolute Running.. but it feels good to know they are other runner crazies out there and most even more hard core than me.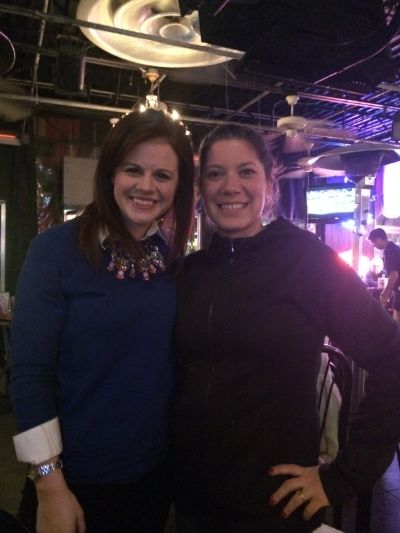 The man, the myth, the legend… Coach Alex.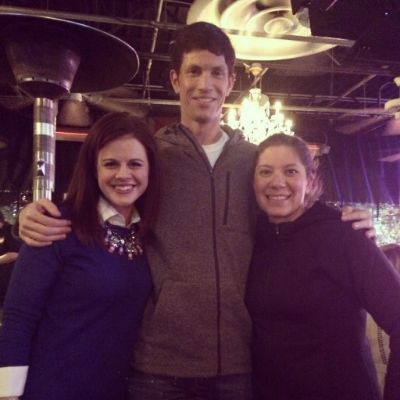 After loading myself up on pizza, I met my Saturday morning crew at a ridiculous time of 5 am to get in 12 miles. With it being my last double digit run before Mercedes, I really wanted things to go well. Let's just say… it didn't. I felt tired, lethargic, mentally not into it. We looped back to pick up some more runners around mile 7, and were waiting on them to stretch and I think we cooled off and I just could not rally. The next two miles were miserable and I just headed back to the car. I couldn't force myself to run another 3 miles. So I finished out with 9. I think I hadn't had enough water and I think my Chick-fil-a addiction is catching up with me.. So, I'm vowing to give up Chick-fil-a for the rest of the month and also make sure I'm drinking enough water. This is going to be hard, y'all. Hopefully, I will see a difference in how I feel.
I will honest, y'all. I am tired of running in this cold. When 32 degrees is "warmed up", you know it's a problem. I'm tired of fleece lined tights, and Michelin man layers, and gloves, and ear warmers. I hate using up all the hot water trying to thaw out after long runs too. There. I said it. I'm not cut out for the cold. Give me heat, humidity and mosquitoes any day. Someone needs to remind me that I said that come August.
The start of February brings the start of my 5th month with the RR team. Mercedes will be the first race on a full training cycle with my coach. I feel stronger coming back and am really hoping for a sub 2 at Mercedes. I'm still running in the brace, but starting to come out of it. There is still the normal soreness in the ankle, but it's always there and probably won't go away for a while.
I'm trying not to get nervous and psyche myself out for this race, but I want to break 2, so bad. I've been so close in the past, so I know it's there. I've put in some serious training in brutal conditions. Between wind, rain, wind, cold, wind, more cold… I'm just hoping for decent weather with no wind, please! I want to sign up for Tuscaloosa as a safety net race, but I'm not sure of my March work schedule yet, and if I thought January was busy… March ain't got nuttin' on it. It's insane.
I'm ready to race in this shirt!
I hope you guys will stick around for the upcoming racing nerves… they are sure to be good ones! I'm hoping to knock out some projects with all that nervous energy!
I need to start thinking about my playlist… I hardly run with music anymore, so tell me what you're listening to!

Life has been and will continue to be ridiculously busy for me… I don't know how I let this happen, honestly. Between gymnastics, work, running.. the time just slips away from me and the next thing I know, I won't have a free weekend until the end of April.
Anywho, this past weekend, we drove to Tuscaloosa for A's meet that was Sunday morning. It was the Pink Meet weekend, so Denny Chimes was lit up in pink.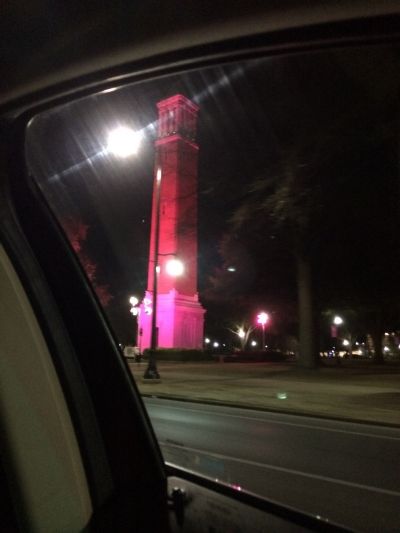 A found an interesting water bottle at Uncle Jay's house. We told her that maybe she shouldn't pack it for her meet.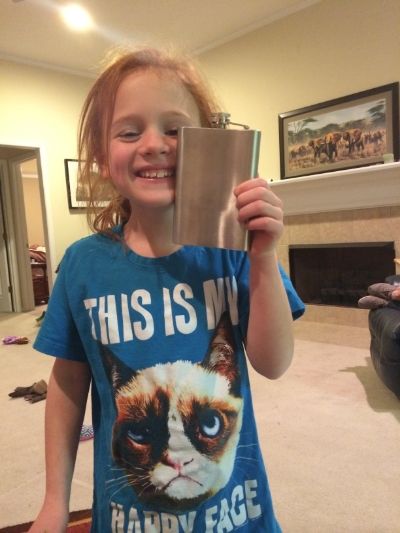 Speaking of Uncle Jay… his birthday was that Sunday and I know how he wanted to spend it was waking up for an 8am gymnastics meet. But at least The Reds drew him a picture!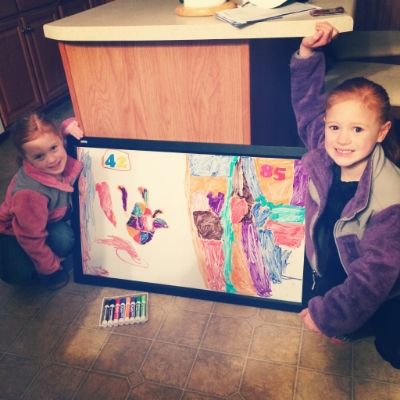 A got 5th overall, 5th on floor, 2nd on bars… I think. I can't keep up. With so many meets back to back it's hard to keep up. All I know is, we have a butt ton of medals all over the house.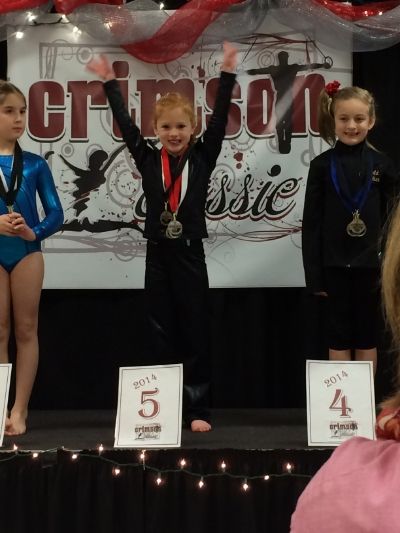 Their team got 3rd overall and I love this pic of her peeping over the top of the banner.

We love the Crimson Classic!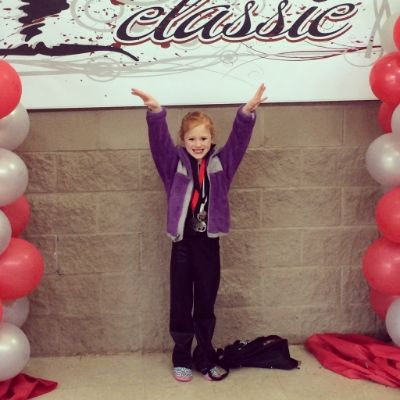 Afterwards, we ate at T'Town Cafe and it was delicious! And you can tell that C gets her looks from the M side of the family. She loves her Uncle Jay!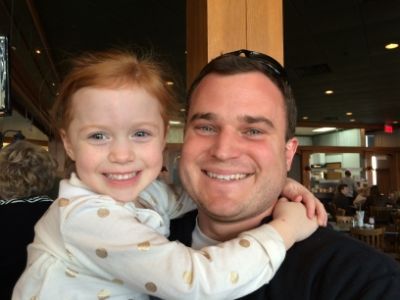 After lunch, we headed back home and I had to head out for my long run..Solo. It wasn't terrible but I would've liked some company. I ended up taking my phone and group texting with Becca and Molly the whole time. Even if I couldn't respond, it was nice to know they were there!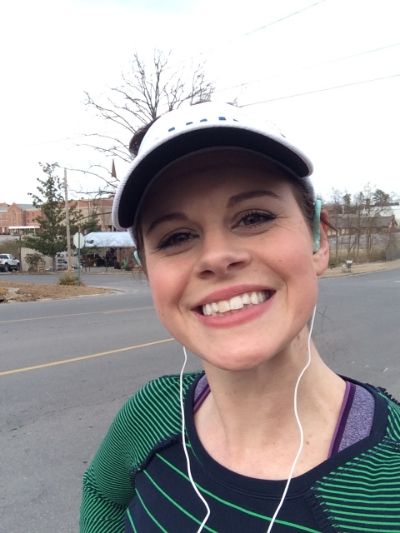 I had texted my sister and told her that I was heading out for a run and if I knocked on the door, to let me in to pee or give me some water. I was about a block from her house, but not planning on stopping, when I felt something cold and wet hit the back of my leg. I completely panicked, thinking, "This is why you don't wear skirts or shorts! Things touch you!" I turned around and saw my nephew's dog wanting to play. HOLY CRAP. That dog scared the crap out of me. So, I ran the dog home, only to not be let into my sisters house. No one would answer the door! After a several minutes, I just looked at the dog and said "Stay!" and went on my merry way.
I've got one more long run before Mercedes in a couple of weeks.. my thoughts on that will be coming up soon.
Happy Friday, y'all!