…is pretty much everything.
But seriously.. besides the normal running items like Nuun, Huma gel, etc. etc, it's hard to come up with gifts for adults. Most things I want, I buy.
Sometimes, I'm totally impractical and can't stop looking at these Hunter rain boots… Why must you be so pretty??
Hunter rain boots…. HERE
I do need a gym bag.. this VS Sport Hobo comes in a pink and I think I'd like it!
Victoria's Secret Hobo Gym bag found HERE
I love Thorlo Experia socks… can't ever have enough of those bad boys!
Found HERE
Athleta released a Shimmer series, y'all. This hoodie calls my name… so do the sparkly leg warmers and the shimmer tank… 
Athleta Shimmer Hoodie… HERE
I love this robe from Target too… Found HERE
I need some new throw pillows for the bedroom, but I haven't even looked at anything to know what I want. Everything I want is running related.. I feel like people get tired of buying that for me. I wish I could ask for race entries for Christmas.
Help me out, y'all! What do you want for Christmas??

Saturday morning started with a really crappy run.. like. WHOA, crappy. I went to get the girls from my moms because they spent the night with her Friday night and then I needed to go get ready to go to work. It was Christmas Open House and was sure to be busy. I got the girls loaded up, only to find my car wouldn't start. A phone call to Hubs and he said it had to be my battery and I needed to jump it off. I am not sure how I passed Drivers Ed, because I couldn't even pop my hood much less be able to jump off a battery. Thank God for FaceTime… and a roomful of hecklers to make fun of me for not knowing how to pop my hood.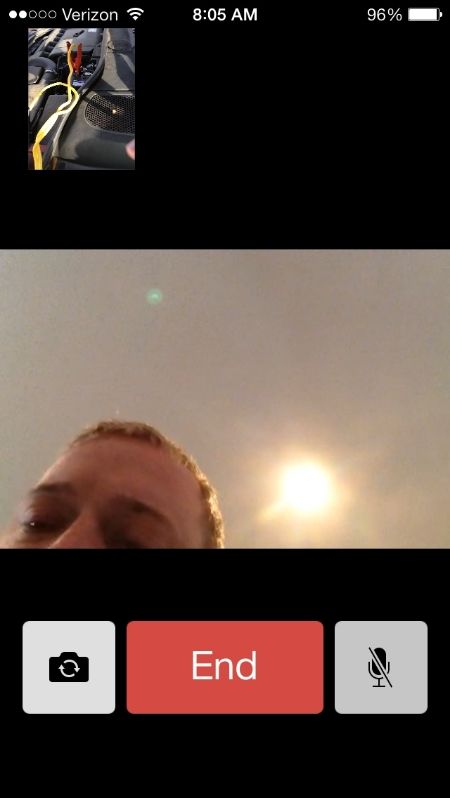 Jumping it off didn't work and Hubs wanted me to call Roadside Assistance. Having an automated call asking me to press 1 if I needed 911 emergency help, combined with my Granny coming out and telling me I needed to move my car sent me over the edge and I lost all coping skills and broke down into hysterics. Thank God for Moms because she handed me her keys and said for me to take her car and go get ready for work and she would get my car fixed. I headed home only to realize that I had no way to get into my house. I was locked out. Hubs was going to have his mom meet me there with a spare key only for her to be working out. So a trip to my in laws was in order. My father in law handed me all of his keys and said, "I don't know which one it is. But I know it's on one of those key rings."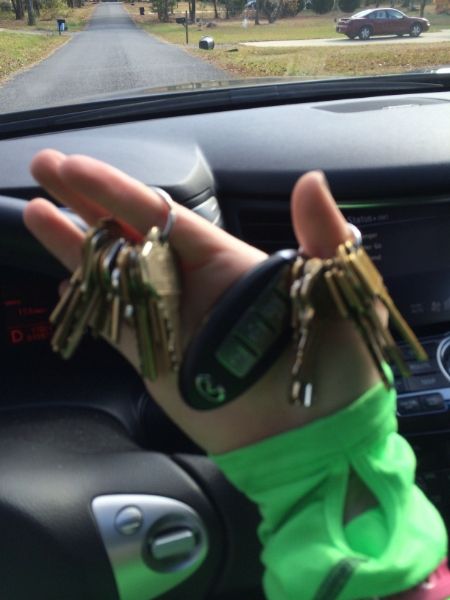 I got in the house at 9:15 and was supposed to meet my step mom to get the girls at 9:30 and be at work by 9:45…. yeah. Karen came to the house and packed the girls while I got ready and I got to work at 10:30. Not bad. My co workers are awesome and were understanding about my morning. They also let me leave early so I could get down to Tuscaloosa for the game. I was coming in so late that traffic wasn't bad and we have a parking pass, so it was smooth sailing… Although, I kept waiting for a tire to blow on Mom's car just based on the morning I had.
When I stepped out of the car, I could feel the energy. LSU has become a big rivalry with us over the past few years. The sun had just gone down and I made it to the tailgate about 2 hours before kick off. Since I wasn't here 2 years ago because I was running in Savannah, I've been told it was my fault we lost then.
We don't see this guy much, but we always love when Brandon comes to visit! It's been a long standing joke that he is my boyfriend, and we always pick up where we left off.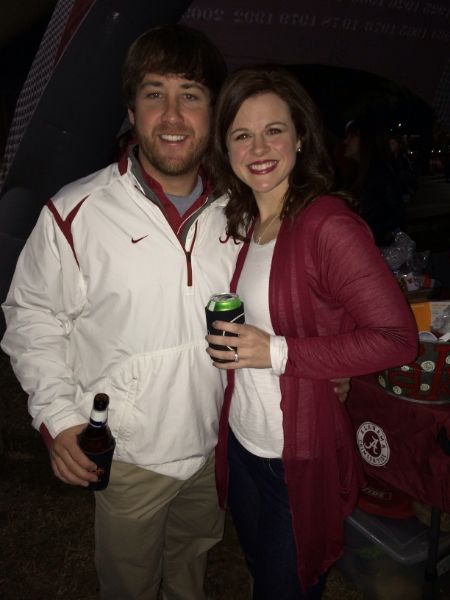 These two… no words.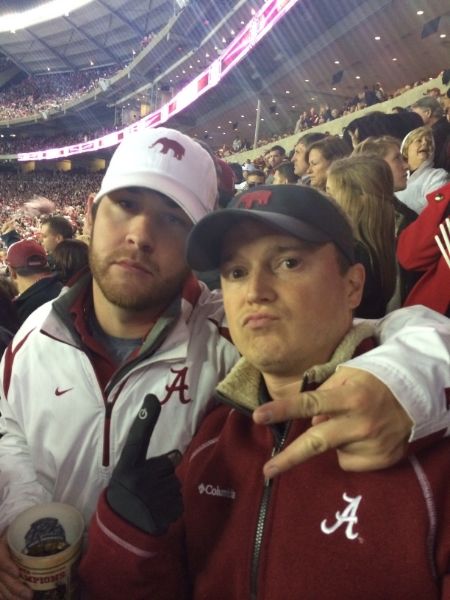 For the first time ever, J and his brothers sat together for an Alabama game. It was hard to believe that they hadn't sat together before, and it was a blast. See? Doesn't Jay look like he's having a ball?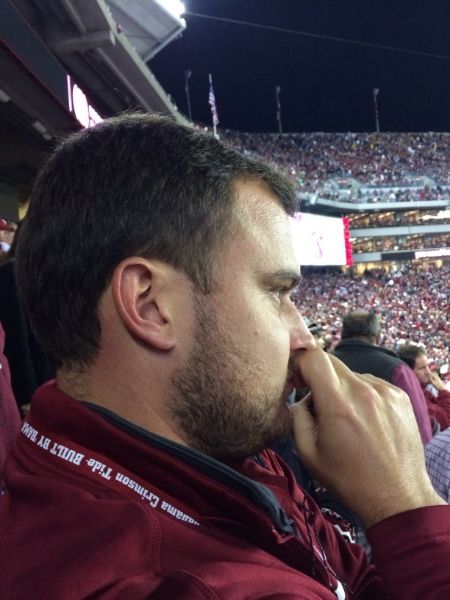 I may or may not have partaken in one too many adult beverages and I now have about 500 pictures of the game on my phone.
4 fingers in the air for the 4th quarter is a tradition that I don't understand, and the guys behind us photobombed… He was so proud.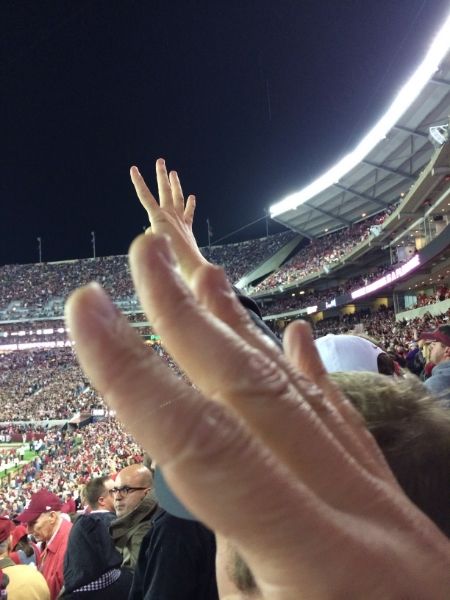 It was also drizzling… Scarves are multi purpose.

In case you haven't noticed, Hubs holding up a number 1 finger is an epidemic around here.

Hubs and his brothers… aren't they cute??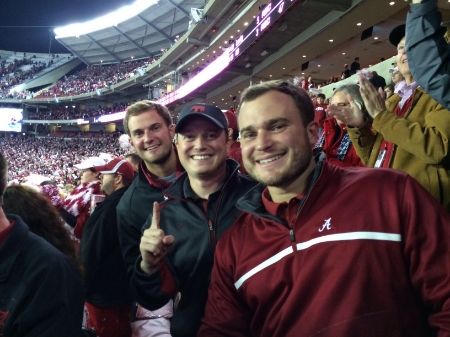 Post tailgate was insane and fun…Tricia was in town and I love seeing her!

Katie.. the official Yellowhammer maker for the tailgate.

Saturday was a roller coaster of emotions and I was up for about 21 hours… I was worried for how it started out, but it only could go up from that point!!
Roll Tide, y'all.
P.S. Don't forget to tell Molly Happy Birthday!!!
P.P.S. In case you didn't hear, Meghan became a Half Ironman yesterday… I am super proud of her!!

Last week, we ventured to a farm/Pumpkin Patch for the girls school field trip… I think it's safe to say I belong in the city limits. I am not cut out for pig races or feeding baby goats. Or farm smells. Yeah, definitely not cut out for farm smells.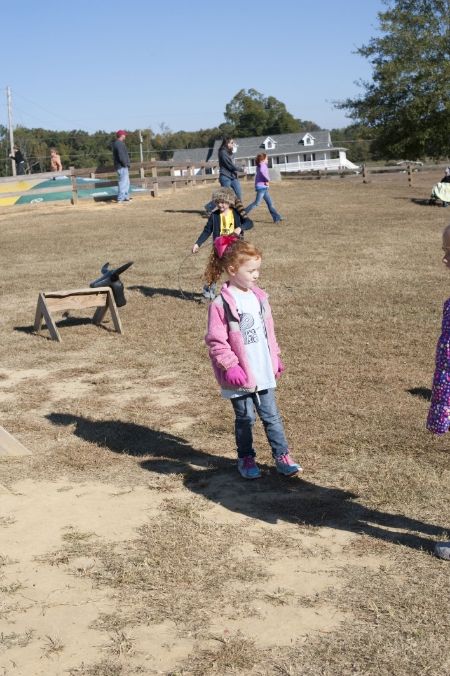 The kids seemed to enjoy themselves… Especially when Big Sis tries to rope an unsuspecting little sister…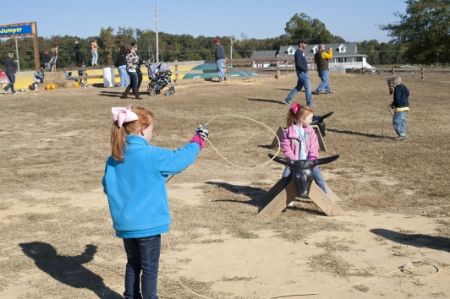 I must stop right here and brag on A-A. She opted to leave her class and go with little sister's class so the three of us could all be together. It was such a proud Mom moment…I was so proud, that later that afternoon I took them to Starbucks for a special treat of hot chocolate and a pumpkin cookie.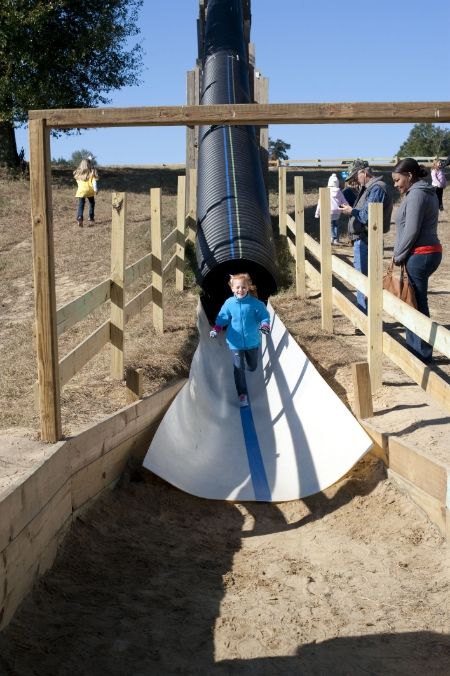 This was the point of the field trip where someone's kid got lost… no worries, after 10 minutes of searching (which feels like an eternity in panic mode) they found her in the corn maze. Those kid leashes don't sound like such a bad idea now!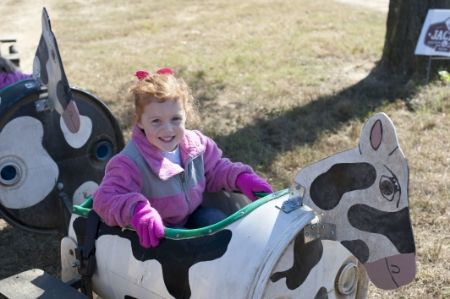 The girls picked their own pumpkins and they are honestly super cute. I was glad to have such a special day with my girls. I remember growing up that I loved when my mom would go on our field trips. Of course.. mine pitched a fit because they wanted to ride the school bus back. How many parents have to drag their kids kicking and screaming with them out of a school activity? I thought that was weird.
Have y'all gone to a pumpkin patch? Or perhaps had a child pitch a fit NOT to go with with you somewhere?

I decided to get up before the chickens and drive to Birmingham Saturday morning to run with the Birmingham Track Club. They have an awesome group that meets on Saturdays and has multiple distances and multiple paces. With it being so flipping cold, The Trak Shak opened and let us hang inside while they went over the routes.. of course, I never listen to turns… Probably a terrible idea. But I did run with my phone, in case I got lost. Because that's been known to happen before.
The gigantic group starts together but they end up breaking off into smaller groups based on pace. I am becoming more comfortable walking into these settings of not knowing anyone and just start talking to people. Sometimes people are more receptive and others aren't, but I've found that this Saturday group is super friendly and will make you feel comfortable.
I met pacers for my upcoming half marathon and past Ms. Alabama's, so it was a good run, I'd say. Of course, the route was a little on the tough side, with some killer hills… one of which was an incline for about 2.5 miles… Super fun with the ankle. But the view atop Red Mountain… was sort of worth it. The group said the sunrise was amazing, but we were a little bit early for sunrise and it was still dark… It looks lighter because of all the lights coming from the buildings downtown.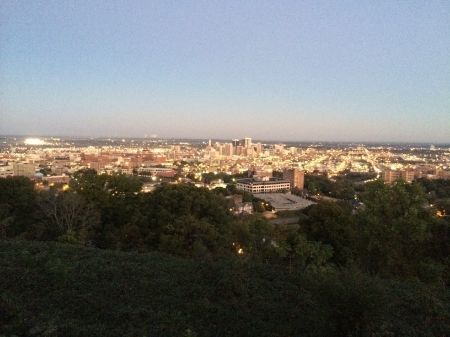 My race season starts on Saturday with my 3rd 10K ever and the first time that I've ever run the Vulcan 10K. I'm hoping it'll be a good run that I finish in under 1:00, but we shall see what the 'ol running coach says. I'd love to see sub-55, but I am not sure that is even possible or smart with a half marathon at the end of November.
The ankle seems to be holding up in the brace. It's a little more sore after those 9 miles, but nothing unmanageable. I should probably avoid big hills though.

I was so excited when Molly tagged me in this Sunshine Award. When I started blogging, I loved these things!!! I was glad she brought it back old school and that she tagged me in it. Makes me feel loved.
Molly is my first bloggy friend turning real life friend and not a day goes by where I don't talk to her and I am so happy that the interest exists so I get to call this amazing person one of my best friends. (Mushy enough? Okay. Sorry. Moving on…)
The Sunshine award rules are as follows:
1. Include the sunshine award icon in your post (above)
2. Link to the person who nominated you
3. Answer 10 questions about yourself
4. Nominate 10 bloggers to receive the award
5. Link your nominees and let them know they've been nominated
1. What is your favorite thing about your significant other? Probably his ability to make me laugh. He is seriously hilarious.
2. When you were younger, what did you want to be when you grow up? I wanted to be a nurse like my Mom.
3. It's 5 o'clock somewhere. What's your cocktail of choice? Wine!!! Although, lately it's been beer and not just regular beer.. snobby beer.
4. What is your proudest moment in life?  Besides getting married and producing two adorable redheads? Probably crossing the finish line of half marathons number 4 and number 7 with holding both of my daughters hands.
5. Have you had your first "I am my Mother" moment? If so, what was it? I have more "I am my Father" moments… Namely, when I load a dishwasher because there is only way to do it.. my way. Do you remember that episode of FRIENDS where Rachel yells at Joey and she says "Oh my goodness. I am my father. I've been trying so hard not to turn into my mother, I did not see this coming!" That's me.
7. If you won $1,000,000, what is the first thing you'd do with it? College funds for the kids!
8. If you could live anywhere in the world, where would it be? Is this before or after I won $1,000,000?? I really enjoy Boulder, CO, but I can't stay out of the South that long, y'all.
9. What is the worst and best gift you've ever gotten? Best gift? My granny's diamond ring that she gave me when I turned 16.. unfortunately I lost it. Worst gift? I must have blocked it out, because I honestly can't remember. Could have been that Snuggie for Christmas, though.
10. What is your favorite current fashion trend? I'm kind of in love with this whole camo think… and the striped blazers.
1. What's your favorite childhood memory?
2. If you could travel to anywhere in the world, where would it be?
3. Are you a quality or quantity gal when it comes to shopping?
4. What's your next big goal for yourself?
5. If you were on The Real Housewives series, what would your tagline be?
6. What's your stance on white after Labor Day?
7. Let's brag, Ladies… what's your favorite thing about yourself?
8. Who would be your Sexiest Man Alive?
9. Do you like sweet or salty snacks?
10. What is your favorite indulgence? No judging here…
I nominate:
…and anyone else that wants to participate!!