Saturday started off early with a trip to Decatur and a triathlon start time of 7 am.. which meant that I went to bed at 9pm..
Triathlons involve a lot of crap.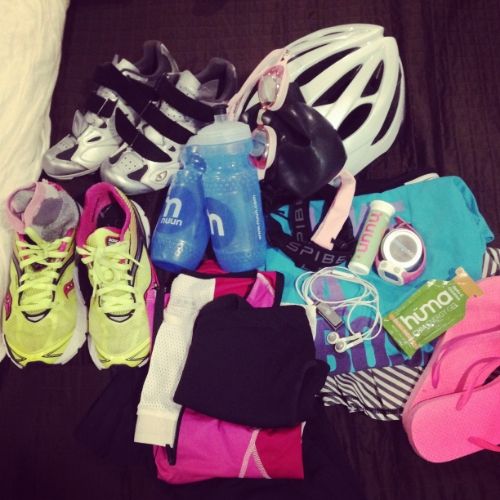 My transition area… On a rack with 2 Cervelos, a Specialized, and two other super nice bikes that I had never heard of.
Let's be real for a second.. I hate race day packet pick ups. I would much rather not have to worry about that with all the other crap going on. But this packet pick up? Was absolutely terrible. It was inside a pavilion and there were 4 (FOUR!!) different check points to get your stuff. And none of them clearly marked. One was to check in and find out your race number. Another was to pick up your two bibs (one for your bike and one for your body). Another one was to pick up your chip timer. And last, but not least, body marking. Ridiculous.
It makes me feel weird and like a poser to go from being one of the last people to get in the water last year, to being in the top 1/3 of people to line up. I keep waiting on people to realize I'm just a regular person and don't deserve these awesome race corrals and fast bib times.
Moving on.. I went to the beach area and familiarize myself with the water temp and stick my face in the murky water as a reminder on how I won't be able to see. We lined up, in a semi number order and it wasn't long before I was in the water.. I started out too fast and was sort of panicking and reminded myself to slow my roll and just get to the finish. Once I rounded the buoy, I ran into some technical difficulties with a fellow swimmer.. She was all over the place.. zig zagging, swimming into people, and I just wanted around her. I ended up with a sinus full of lake water from one of her righteous kicks and I don't want to relive that again.
I realized when I got into Transition that I had forgotten the gel I meant to take, but I didn't stress. It wasn't really necessary, I just wanted it for mental purposes. I got passed a LOT on the bike. Mostly by dudes.. and fast dudes. I didn't let it get me down.. I was averaging mostly in the 16-17 mph range, which is faster than I normally cycle, so I was pretty pumped about it.
Going into this race, I wasn't really feeling it. It's been a rough couple of weeks and I just wanted to be done with it.
When I got back into transition, I couldn't remember which rack was mine… so I just had to search. Whoops. As I headed out of transition, my family was there waiting and cheering and I stopped and gave both girls kisses since I didn't get to see them before the race start. This picture is me going in for the kiss… I promise I'm not about to hurl on them or anything.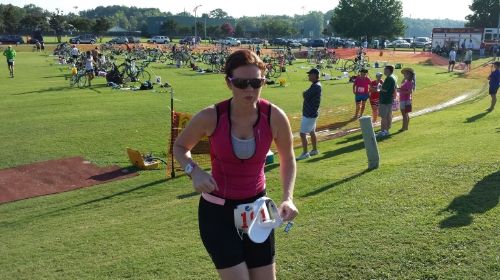 The run portion was a gravel trail.. and I hate it. It feels longer than a 5K the way it weaves. I was struggling and all over the place with my pace.. I really hate summer heat too. With about a half a mile left, I felt someone smack my butt and yell, "Get it in gear!!" I whipped around, because.. well.. someone smacked my behind! It was Shannon and she was just the push I needed to over take the girl in front of me that had a 29 written on her right leg… AKA  in my age group. I kept up with her until the her final kick, and  I could feel that chick on my heels, so I kicked it up a notch myself for a finish. 
Overall, I was very pleased with my results from this years Wet Dog Triathlon. It was a 22 minute PR off of last year and I feel like I am getting a little bit more confident in these things. My time was 1:17:50, putting me 9th in my Age Group. Not too shabby for my 4th Tri.
As we were packing up our gear, Donnie and Shannon said, "C'mon! Let's go to Homewood and do the Retro Run tonight! It'll be fun!" Hubs and I needed to find a sitter first and we did. We met them following the wedding, and headed down. People had some awesome costumes for this run and it's sort of like a giant block party. We saw several Cullmanites and they all exclaimed, "Uh, Didn't you do a TRI THIS MORNING?!" Yep. I did. I'm a crazy person. But not really.. just always up for a fun race. On the way down, Donnie just kept talking about how he had never ran this race and it not rain… As we lined up at the start line, it started to pour. I was not a happy camper because, well, I hate to run in the rain and most importantly, I had my phone in my hand prepared to take pictures of the costumes.
The gun went off and I was with Shannon for about the first half-mile and I was quickly trying to chase her and keep her in my sights, but little did I know that she was chasing a fellow C-towner who is wicked fast… needless to say, the first mile was done in 8:13 and I was TOASTED. That plus the rain? Just stick a fork in this girl. The course wasn't easy either, reminding me how hilly Homewood is. I wasn't planning on racing this, just running and hoping for something around 30-31 minutes and was surprised to see my watch say 28 when I rounded the final stretch. I honestly think I finished in the 28′s, but the timing was done with a gun start and I forgot to stop my garmin when I crossed the finish line. My official time was 29:38, and that put me 10th in my Age Group.. what?!
Beer me. Times 5.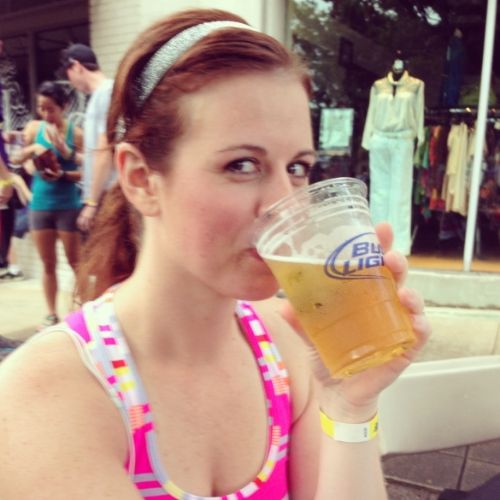 Hubs met me at the finish line and exclaimed that I needed to lengthen my stride… umm.. okay. They had post race Jim N Nick's BBQ and Bud Light… I had mine and J's share and by the end of the night.. well.. I was singing very loudly to "Rock the Casbah" and dancing on the sidewalk. I wasn't alone though, Shannon was right there with me. Whew.
I'm not going to lie.. running two races in one day makes me feel sort of Bad Ass and probably the deciding factor in me doing it, because I promise it wasn't the $35 race fee plus having to buy my husband a plate of Jim N Nicks BBQ.
Have you ever raced twice in one day? What have you done that makes you feel like a total Bad Ass?