Saturday started off early with a trip to Decatur and a triathlon start time of 7 am.. which meant that I went to bed at 9pm..
Triathlons involve a lot of crap.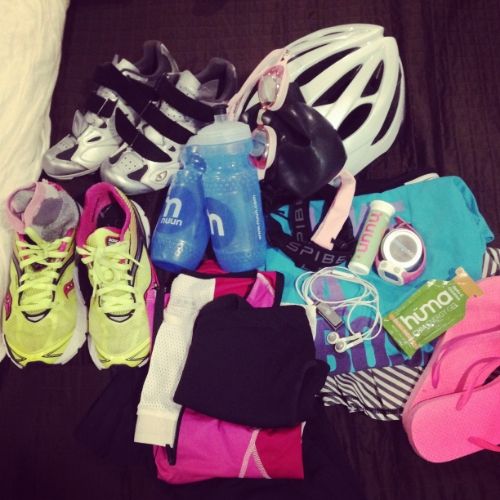 My transition area… On a rack with 2 Cervelos, a Specialized, and two other super nice bikes that I had never heard of.
Let's be real for a second.. I hate race day packet pick ups. I would much rather not have to worry about that with all the other crap going on. But this packet pick up? Was absolutely terrible. It was inside a pavilion and there were 4 (FOUR!!) different check points to get your stuff. And none of them clearly marked. One was to check in and find out your race number. Another was to pick up your two bibs (one for your bike and one for your body). Another one was to pick up your chip timer. And last, but not least, body marking. Ridiculous.
It makes me feel weird and like a poser to go from being one of the last people to get in the water last year, to being in the top 1/3 of people to line up. I keep waiting on people to realize I'm just a regular person and don't deserve these awesome race corrals and fast bib times.
Moving on.. I went to the beach area and familiarize myself with the water temp and stick my face in the murky water as a reminder on how I won't be able to see. We lined up, in a semi number order and it wasn't long before I was in the water.. I started out too fast and was sort of panicking and reminded myself to slow my roll and just get to the finish. Once I rounded the buoy, I ran into some technical difficulties with a fellow swimmer.. She was all over the place.. zig zagging, swimming into people, and I just wanted around her. I ended up with a sinus full of lake water from one of her righteous kicks and I don't want to relive that again.
I realized when I got into Transition that I had forgotten the gel I meant to take, but I didn't stress. It wasn't really necessary, I just wanted it for mental purposes. I got passed a LOT on the bike. Mostly by dudes.. and fast dudes. I didn't let it get me down.. I was averaging mostly in the 16-17 mph range, which is faster than I normally cycle, so I was pretty pumped about it.
Going into this race, I wasn't really feeling it. It's been a rough couple of weeks and I just wanted to be done with it.
When I got back into transition, I couldn't remember which rack was mine… so I just had to search. Whoops. As I headed out of transition, my family was there waiting and cheering and I stopped and gave both girls kisses since I didn't get to see them before the race start. This picture is me going in for the kiss… I promise I'm not about to hurl on them or anything.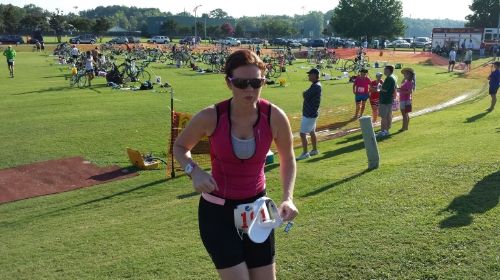 The run portion was a gravel trail.. and I hate it. It feels longer than a 5K the way it weaves. I was struggling and all over the place with my pace.. I really hate summer heat too. With about a half a mile left, I felt someone smack my butt and yell, "Get it in gear!!" I whipped around, because.. well.. someone smacked my behind! It was Shannon and she was just the push I needed to over take the girl in front of me that had a 29 written on her right leg… AKA  in my age group. I kept up with her until the her final kick, and  I could feel that chick on my heels, so I kicked it up a notch myself for a finish. 
Overall, I was very pleased with my results from this years Wet Dog Triathlon. It was a 22 minute PR off of last year and I feel like I am getting a little bit more confident in these things. My time was 1:17:50, putting me 9th in my Age Group. Not too shabby for my 4th Tri.
As we were packing up our gear, Donnie and Shannon said, "C'mon! Let's go to Homewood and do the Retro Run tonight! It'll be fun!" Hubs and I needed to find a sitter first and we did. We met them following the wedding, and headed down. People had some awesome costumes for this run and it's sort of like a giant block party. We saw several Cullmanites and they all exclaimed, "Uh, Didn't you do a TRI THIS MORNING?!" Yep. I did. I'm a crazy person. But not really.. just always up for a fun race. On the way down, Donnie just kept talking about how he had never ran this race and it not rain… As we lined up at the start line, it started to pour. I was not a happy camper because, well, I hate to run in the rain and most importantly, I had my phone in my hand prepared to take pictures of the costumes.
The gun went off and I was with Shannon for about the first half-mile and I was quickly trying to chase her and keep her in my sights, but little did I know that she was chasing a fellow C-towner who is wicked fast… needless to say, the first mile was done in 8:13 and I was TOASTED. That plus the rain? Just stick a fork in this girl. The course wasn't easy either, reminding me how hilly Homewood is. I wasn't planning on racing this, just running and hoping for something around 30-31 minutes and was surprised to see my watch say 28 when I rounded the final stretch. I honestly think I finished in the 28′s, but the timing was done with a gun start and I forgot to stop my garmin when I crossed the finish line. My official time was 29:38, and that put me 10th in my Age Group.. what?!
Beer me. Times 5.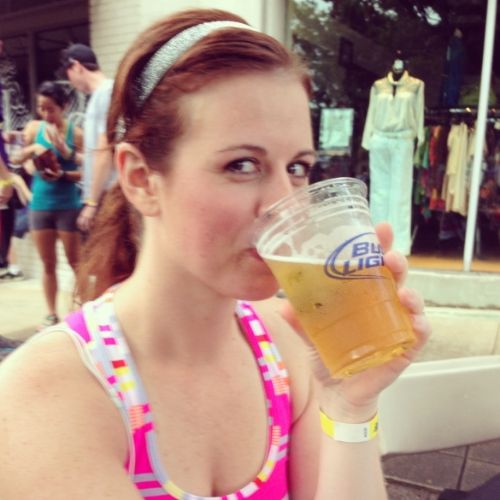 Hubs met me at the finish line and exclaimed that I needed to lengthen my stride… umm.. okay. They had post race Jim N Nick's BBQ and Bud Light… I had mine and J's share and by the end of the night.. well.. I was singing very loudly to "Rock the Casbah" and dancing on the sidewalk. I wasn't alone though, Shannon was right there with me. Whew.
I'm not going to lie.. running two races in one day makes me feel sort of Bad Ass and probably the deciding factor in me doing it, because I promise it wasn't the $35 race fee plus having to buy my husband a plate of Jim N Nicks BBQ.
Have you ever raced twice in one day? What have you done that makes you feel like a total Bad Ass?

Once a upon a time, in a land far far away, I set a goal for my running. That goal was 2:15. I thought, if I could run that, I'd never complain about running. I'd be happy with that time for ever. After 3 years time, I've realized that's not true for runners. We strive for greatness from ourselves. In November, when I had a 12 minute PR on a half marathon with a time of 2:20, while I was proud of the PR and how far I had come, I was ticked I didn't break 2:20. I was on the cusp of that 2:15 time goal, that was my elusive white rabbit. I swore then, that I would break 2:15, come hell or high water, but I also realized, that while breaking 2:15 was all well and dandy, it wasn't good enough anymore. I wanted a 2:10 now.
So, I set my mind to it, and got my training all laid out. I started running outside instead of the treadmill. I forced myself to run on the hillier side of town to prepare for Mercedes. And in the beginning, I felt like I was getting slower. That I was just beating up my body. One evening, I was running with my little group after a couple of weeks of solo runs, and I found myself able to keep up with Shannon, who typically runs off and leaves me. I found myself not slowing down with Donnie, but pushing myself. I found my breathing to come easier and my legs able to take the hills.
I may still hate that hilly Oktoberfest course, but I've forced myself to run it. One night last week, I ran it in 27 minutes. 2 minutes faster than I have ever raced a 5K. Those hills don't hurt like that used to. Don't get my wrong, they don't feel good. But I've somehow, flipped the switch over to  "just keep going". It may hurt, but just keep going. My training runs are right on par with a 2:10 half for Sunday. But I know and am trying to prepare myself mentally that I still may not do it. But I could also smoke it out of the water.
It's been so long since I trained so hard for something, and I really want that number on the clock to reflect the blood, sweat, and tears poured into this training. I know that I am not defined by the number on the clock, but I really want it to read 2:10.
I feel sorry for my coworker… she is getting the majority of my race week neuroses. My piriformis muscle is flaring up and I've got a soreness in the arch of my foot. So, naturally, I think I've torn a ligament or pulled a muscle.
I'm planning on running tonight.. nice and easy. Swimming tomorrow and be done until Sunday. I'm also going to be doing some of the stretching videos this week from FitnessGlo.
I guess now it's time to just trust the training…

I think setting my goals for 2012 seriously helped me stay focused, so I decided to do it again for 2013. I also want to do a monthly re-cap of how I am doing with these goals, just to keep me in check! Here are my goals for 2013:
Run/swim/bike a combined total of 1500 miles.
Run 3 half marathons this Spring.
Complete 3 tri's this summer.
Don't die during the Ragnar Relay.
Run a sub 2:15 half marathon.
Cook dinner every night for an entire week.
Grow an herb garden and use it!
Balance between my goals, John's goals, and what's good for the girls. Reaching goals take sacrifice for all parties, and it's very easy to become selfish with what you want, and not what's best for the family.
Take the girls on a weekend trip.. somewhere fun but within driving distance.
Be able to do the splits.
Continue with cross training and weight training.
Clean up my eating… being more mindful of what I am putting into my body.
Go to a Pro Football Game.
What are your goals for 2013? Should I add anything to my list?
Happy New Year, Y'all!!

Two years ago, I made the decision to alter what I eat. I started on Weight Watchers. Was I fat? Nope. But I wasn't happy when I looked into the mirror, and no matter what anyone would tell me, I decided to do it for me. What flipped the switch for me was the next two pictures.
This was in Jamaica in June of 2010. I'm a little disgusted with the fact that I thought I looked good enough to post pictures of myself in a bathing suit on Facebook. 
This was taken at the beginning of football season in 2010. The rolls. Please keep in mind that I am showing you some of the worst pictures I could find, that I could bear to be on the Internet. 
I started Weight Watchers in the Fall and lost about 10 lbs before the holidays. I switched to My Fitness Pal app in early 2011, and that is what helped me lose the final weight.
This is around when I hit my original goal weight of 135.

I am one of those people who have a realistic goal and an unrealistic goal.
My original weight loss goal was 135, but I also had that unrealistic goal of 130.
My current weight stays around 128.
With losing the weight, I have a gained confidence in myself. Not based on how I look, but how I feel. I don't avoid mirrors or the camera. I know that I can do anything that I set my mind to.
Do I look into the mirror and see perfection? No way. I see every flaw and everything that I want to tone or tighten. But I know that I am a work in progress.
Total, I lost about 25-30 lbs.
Does the running help? Of course. But I think making better food decisions and portion control was a game changer for me.

Since 2011 was such a rockstar year, I've decided to go big or go home with 2012.
Here are my goals for 2012.
Run a sub 2:15 half marathon.
get ripped. Meaning.. workout with weights.
be able to hold a handstand for 30 seconds.. possibly do a handstand push up.
Run 1,000 for the year. Yep. I said it! Roughly about 21 miles a week.
make J tiramisu
grow an herb garden and possibly a small garden for veggies.
become a superstar at time management!
I have several photography projects– a project 365 in Instagram, continuing on my Project 52, and a 10 on 10 project.
Pay off our remaining credit card bill– it'll be tough, but it's nice to have goals, right?
I want us to live on a serious budget for two months.. that'll be a hard one too!
I also want to either run a Sprint Tri or a Warrior Dash/Muddy Buddy type event. It'll be gross, for sure!
To push myself.. I tend to be lazy and quit when the going gets tough. I need to learn to push through the pain… Right Jana??
We need to learn to do things JUST for the girls. Not when it's convenient for us.
What are your goals for 2012? Anything I should add to mine??

Hey y'all! I am still alive! This past week kind of took over my life and I am not very good with balance, apparently. With my family out of the country, I am taking care of tons of things for them, plus blogging for my sister on her adoption blog. I guess I've put all of my blogging efforts into hers. Moving on…
No one emailed me to claim their prize in the giveaway, so I picked another winner. 
Michelle, if you would e-mail me at runningbackwardsinhighheels[at]gmail.com Please and Thank you!
Since I have major problems with balancing all the aspects of my life, if you have any tips they are greatly appreciated. How can I balanace running, mom, wife, photographer, small business owner, blogger, social media addict?? I dropped runner and blogger this week in lieu of cleaning my house. It felt wonderful. Plus… decorating my tree became the most stressful event ever. I blame Pinterest to fuel my perfectionist self to decorate the perfect tree. And then Hobby Lobby decided to be out of everything I fell in love with. Why, Hobby Lobby, WHY?!
Anyway, our Elf on the Shelf, Buddy showed up this week.. What's he been up to?!
On top of normal craziness, Addy had a practice gymnastics meet this past weekend (pictures and video to come) and her first real meet is this weekend. Which means, they added an extra gymnastics practice to each week. As if, two days of 2 hours practices wasn't enough.
Awesome news ALERT.
I have been chosen to be a FitFluential Ambassador. I am super pumped. Complete with my very own page on their site.  You might see some other familiar faces in there. The company just started in April and is growing leaps and bounds. I cannot tell you how excited I am for what is coming in 2012!
If you are interested, you can apply to be a FitFluential Ambassador HERE. Be sure to tell them who sent you! Even if you don't blog, you can apply to be a FitFluential Enthusiast.
I also remembered I used to like to run this week and decided to hop back on that treadmill. It was nice. And it hurt. I have also starting planking every day and trying to do some push-ups… my lack of upper body strength is scary.
What have YOU been up to??

  I think I will split my weekend up into the actual race and the rest of the weekend, because it honestly deserves it's own special post! We arrived in Savannah on Friday and made our way to the Expo, which had terrible logistics. The only way in or out was a bridge or a ferry, since it was on it's on island. We honestly sat on that bridge for an hour trying to get to the Expo– it was a nightmare. But once we got inside, it went smoothly. I picked up our parking pass for the next morning and of course, had to stop by and purchase a new Running Skirt and some Nuun. I have started buying coffee mugs from places I go, so I wanted to get one for this race, but I didn't see any, so I ended up buying a new Running Skirt as my race prize.
Dad and Karen gave me some money to buy something at the Expo and then I received my very first check for blogging (holla!) and so those two things helped make the purchase of the skirt.
Thanks Dad and Karen!!
Anyway, after dinner (More on THAT later!) we headed back to the hotel to get ready for the race. We set the alarms for 4:30. I think I was the only one who slept. My nerves never really kicked in, plus I was super tired from getting up at 4 am that morning to drive down. We got dressed- in 30 minutes! (FOUR women!) and headed to the convention center to park and catch the ferry to the start line.
Kelsie and myself on the ferry
Sonja and Lindsey
 We had access to the VIP area(more on THAT later too!) and enjoyed a yummy breakfast and a potty break before heading to the start line. I made a last minute decision to check my throw away t-shirt.. I'm still not sure how I feel about that one because it was COLD.
It wasn't so much the cold that hurt it was the WIND. Straight in your face, cut you like a knife, wind.
Lindsey, Kelsie and I were all in corral 18 and Sonja was in corral 22. I ended up seeing my friend Crystal in our corral and she huddled with us. I was super jealous of her jacket and thought about trying to gank it, but she had about 4 inches on me, so I decided to not. 
The first corral started at 7:30 and we started close to 8– I thought the corrals went pretty quickly- compared to the way Disney does it.
We were running into the wind and it was COLD. SO cold, that my Garmin was a tad bit loose on my wrist and when it slid up and down, it hurt so bad I felt certain it would bruise me. We made our way on an overpass bridge and I have never understood how people say the miles few by, but they honestly did. We ran in pairs, Kelsie and Lindsey together and myself and Crystal. Before we knew it, we were making a turn (away from the wind) and it was the 5K mark! We knew we wouldn't be able to run the entire time, but we told each other that if we felt like we could pull away from the group, DO IT. It worked out that we ran around the first 4 miles without stopping. We started doing 1.5 miles of running with a minute or so of walking and it worked out that we were basically walking through the water stations. We did run through some rougher parts of Savannah, but theses people came out to SUPPORT. Cheers and high gives and "Good Mornings!!" all over the place! Crystal split from us around the 5K mark and we started feelings our aches around mile 6. I just kept telling myself "If it feels good, you ain't doing it right" and "If it were easy, everyone would do it" and it seemed to help me. We were encouraging each other every step of the way and Lindsey was on it saying "we've got 1/2 mile until we walk!"
Two Marine Corps passed us- one with an American Flag and the other with a Marine Corp flag. And the girl in front of us, her shirt said "Faster. Mustache." with a pic of a mustache on it. Get it?? Mustache? Must. Dash?
No matter how we were hurting, this race was flying by! As we rounded the corner to mile 7 we started seeing more crowd support and some extremely funny signs like "Go Stranger GO!" and "She farted. Run FASTER!"
As we rounded into mile 8, I could feel myself fading, but we turned a corner and WOW. Crowds everywhere!! I started high fiving and giving the Alabama (And LSU) peeps ROLL TIDE's! We were supposed to walk around mile 8, but we just kept on because the crowd was so energizing. I could see Lindsey struggling and I instructed her to get over and get some high five's immediately! She did as she was told.
We saw even more awesome signs and just remembering them makes me smile.
"Longer. Harder. Faster. It hurts but you get it over with quicker. (That's what she said.)"
"Your feet hurt from kicking so much ass!"
"May the Course be with you."
We hit mile 10 and well what do you know? You've only got a 5K left at that point! We were hurting but we were so close to making our goal of a sub 2:30 and John kept texting me at my splits saying "You've got this! You're going to make it!!" And it was so awesome to have that support. (Side note. Yes I ran with my phone in my hand. Yes I responded to texts and tweets as best I could while running. It's a talent, really.) We were running through a gorgeous part of Savannah with historic homes and Spanish Moss hanging off the trees. And then? A wind kicked up like nothing I've ever seen and blew dust everyone including into my eyeballs. That didn't feel good. It's here where we split from the marathon group and I expected it to thin out. It did not. I spotted a guy in a scream mask staring at me with a sign reading "I told you to run faster." Yes sir.
We hit mile 12 and it was going to be close to make that sub 2:30 goal, so we decided to empty what we had in our tanks and run with our hearts. We split with each other here. I could still see Kelsie but I lost Lindsey. It really bottled necked through here. It was strange, I knew I was so close to the end, my body wasn't about to die, my breathing was fine, but it was almost like the nerves of crossing the finish line got to me, and I had to stop and walk. As we came through the shoot, I was in a complete zone. I wouldn't have noticed if the crowd was naked. We were passing people on the sides and I pretty much hurdled a photographer to cross the finish line- I'm sure they got a lovely shot right up my skirt.
I crossed the finish line and it was AMAZING. Y'all. BEST RACE EVER. I felt so good and strong the entire way. I am not ashamed of my time and am extremely proud of it. I trusted in the training from T at Racing with Babes and she did not lead me astray. 2:31:09 Finish Time. I cannot believe it.
Splits were this–
5K–34:17
10K–1:10:37
10mile– 1:55:45- right on track with my training
Post Race Mimosa is a MUST.
Here are some of the least terrible of the race pictures.. seriously. I have never seen worse race pictures. I look terrible in every one of them. Oh well.
P.S. We had TONS of compliments and comments on our shirts. You don't know me… But you will.

I have hit mild freak out mode.
I am running my 3rd half marathon on Saturday.
Sometimes it freaks me that I am a runner. If you knew me 10 years ago, you would have laughed at the fact that I run now. It still amazes me that I do this. It has taught me so much about dedication and working for something that you want in life. I think that's why I love it so much. It teaches me and humbles me everyday.
I tend to think a LOT when the pre-race nerves hit me. I also do a lot of running around like a chicken with it's head cut off, but whatevs. I think and analyze my training.
I should have done more speed work.
I should have cross trained more.
I haven't stretched enough.
I didn't do.. fill in the blank. 
But with training for these things… it's like nothing else. You train. For weeks. It consumes your life. Much like a pregnancy. It's all you can talk about. In the beginning, the first trimester of training- if you will, you've just signed up. Your high on the thrill of what's to come. Your life is about to change and be consumed with this. You take baby steps– working your way up to running long runs- Running 2 to 3 miles a day, working up to your long run of 5 miles. It's enjoyable. During your pregnancy first trimester- it, too, is all you can talk about. You have to tell people you are pregnant. You feel different. Maybe you have morning sickness, but most importantly, you know your life is changing.
During the second trimester of your pregnancy, you have energy. You feel better. You are starting to show and people are asking you about it. Is it a boy or a girl? You start planning and dreaming of the nursery. During the second trimester of training, you runs are becoming more challenging, but they are still pretty easy. They pump you up and make you feel good about your training. You visualize crossing that finish line and all the glory that comes with it. You start to find more people that are signed up for the race- much like being pregnant with your friends. Maybe you become better friends with someone is pregnant at the same time as you, or that is training for the same race, simply because you have someone who is reaching for that same goal.
If you have been pregnant before, then you know. That last trimester is pure misery. Those last few weeks?? You want to abolish them from your memory. Nothing is comfortable. You are never comfortable. Sitting on the couch.. sleeping… sitting in a chair. None of it. You are just ready for it to be over with. Time to move onto the next chapter.
That last trimester of training? It hurts. The runs are longer. They tax not only your body, but your mental state. You question why you signed up for this in the first place. Wasn't life much easier before this became a priority? You have to schedule runs around your social life. Stretching, icing, hydrating. It's a constant cycle in your life. The week of, you are a wreck. Running around like an insane person. What should I wear? Pack for the trip? Am I drinking enough water? No alcohol or excessive amounts of sweets. It's just clean eating. You have to take care of your body after all. It's preparing for something big.
Now it's time for the delivery. You are nervous with what to expect. Is everything going to go as planned? Fingers crossed..
Before you know it, you are toeing the start line. This. Is. It. No turning back. You are going to leave everything you have out on that course.
The beginning part is easy- the contractions don't hurt too bad. People are coming to see you and wish you good luck. It's exciting.
First half of the race is a piece of cake– you are feeling strong.
Second half of delivery? You are begging for the pain meds. Is it too late to turn back? Yes it is.
Second half of the race? Your body hurts. Joints ache. But somehow you push through. You see those last few mile markers, and you know you are so close to the finish line. Maybe you can even see that finisher's shoot. You push through. One last surge of energy. Then? You cross the finish line. The wave of emotions is so strong. You did it. You finished. You got your medal. Congratulations are everywhere. Maybe you even tear up, because not a lot of people have what it takes to do what you just did.
 The glory. The accomplishment. The runners high. It's all there. And it's amazing and worth every sore muscle. You overcame that little voice inside your head that said, "You can't do this."
That's what keeps you coming back.

You know those days where your running doesn't make sense to the training you've been doing? Even running 4 miles is a struggle when you did 10 with little problem? Well.. those training runs turned into a training week. After a few of those terrible runs, you get discouraged. It starts to wear on your mentality. You start to doubt yourself. And I don't like doubting myself.
Then I reminded myself that Nick Saban harps on having "mental toughness" which he defines as:
"I think mental toughness is a perseverance that you have when you can make yourself do something that you really don't feel like doing. In other words, you don't really feel like getting up, but you get up. You don't feel like practicing today, but you practice. You don't feel like focusing today, but you focus. And, even in difficult circumstances and difficult surrounds, you can stay focused on what you need to stay focused on. "
Nick always knows what to say.
I also turn to Pinterest to help motivate me to go out and take my groove back.
I think you have to have those kind of training runs. The ones that hurt. That make you doubt what you are doing and why you are doing it. They may not make you physically stronger, but they make you mentally stronger.
To me, mental strength is just as important as physical strength. Your mind will give out before your body will. You need the mental toughness to shut that voice down that says "you can't do this."
So, I knew I had to pump myself up before my last double digit run for my Savannah training.
For some reason, this series always pumps me up.
Anyway, it helped. It got me out of my mental funk. Although, isn't it always 2 weeks before a race that you start to realize other things you should have been doing? Like cross training? Ouchies for my hip. I swear I'm going to start strength training for those.. if I could just figure out what will strengthen them.
Random. I just found out that there is a half marathon in Birmingham 15 days after Savannah.. thoughts on should I run that or not?

Hello All!
I am trying to get back into the swing of being a better blogger…
One of the things that has helped that, is I have decided to stop "blogging by the rules".
I have got to get back to blogging for myself and writing what I want to blog about.
As a Mac nerd.. I was so super sad to hear of the passing of Steve Jobs. In a way, he was like a long lost grandfather to me. He didn't know me, but he impacted my life on an everyday basis. J-weezy counted every Apple product we own, and that number came up at 18. 18 Apple products that we purchase and use on a daily basis. I, myself, own 4 iPods. Which, is more than nuts. 2 iPads, a macbook air, an iMac, 2 iPhones, the wireless routers.. etc. He was a true innovator and everything he came up with, changed the lives of everyone, whether you knew who he was or not. I could go on and on about what all he has done for people, whether they realize it or not. Just have a moment of silence for our generations Thomas Edison the next time you watch a movie on your computer or iPad or listen to a rocking' playlist on your iPod in your car.
Onto my next form of business…I have a dilemma. I blogged about it earlier and then accidentally deleted it. Blissdom, Disney Princess Half Marathon, and one of Addy's gymnastics meets are all on the same weekend. I am torn on what to do. I thought I could do Blissdom( it's a blogging conference in Nashville) and Addy's gymnastics meet (In Gatlinburg) in the same weekend, but it's not possible. I would totally go to Disney but I refuse to go by myself down there. I know people going, but I honestly can't justify the cost of a hotel room for me, myself and I. All of my internet friends are going to Nashville. I am planning on running RnR DC in March, so I should just be happy with that and go to Nashville. P.S. Before I start getting the comments on how could I not go to Addy's meet- it's one of several and people? I put in the hours every week watching her. I think I am allowed to take one or two weekends out of the year to do something for me.
Speaking of Addison.. she has been saying some of the funniest stuff lately. So, I am going to share her cuteness. The other day we came in from gymnastics and she was complaining about her leg cramping. I asked her why it was cramping. Her response? "I don't know. It must be from all that dominating."
She was asking questions about Steve Jobs' passing and I was telling her how he created Pixar too. She looked at me and said, "You mean, he made computers, iPads, iPhones, AND TOY STORY??!?"
And last, but certainly not least, we are less than one month away from Rock N Roll Savannah.. how can it be?? Is it time already?? My training has been going swimmingly. I have missed a few runs and I won't be getting up to 13 miles before the race like my training called for- I will most likely stay at 10 miles for the rest of my long runs. I am feeling great- very little soreness. My right hip gets tight and my last half, it gave me some problems, so anything I can do to strengthen it or stretches for it would be greatly appreciated.
Here's the thing about running… it's addicting. You start for one reason or another, maybe it's a goal or to lose weight, but it ends up grabbing you. It's always there. Those runs are always ready for you. Every bad run or hard run would have discouraged me in the past. It would have made me think, "What are you doing? You are a crazy person." But now? I think, "You can get through this and it's going to make you a stronger and better runner in the end." I would have never thought in a million years, that I would be conditioned enough to wait until the day before a race to sign up. Those kind of people used to freak me out. But guess what? I am one now. I decided Thursday night, to run a 10K on Saturday. It's crazy to me that I can be a conditioned enough runner, to be prepared to run one. Sure, I am in training. But even once training is over, I just can't see me going back to measly 3 mile runs on an everyday basis. I know I can run 5-6 miles at least 3-4 times a week.
So.. I guess I need to start planning my race schedule for 2012.. I am thinking the Mercedes Half in Birmingham and then onto DC for Rock N Roll in March. Who's with me??