Last week, we ventured to a farm/Pumpkin Patch for the girls school field trip… I think it's safe to say I belong in the city limits. I am not cut out for pig races or feeding baby goats. Or farm smells. Yeah, definitely not cut out for farm smells.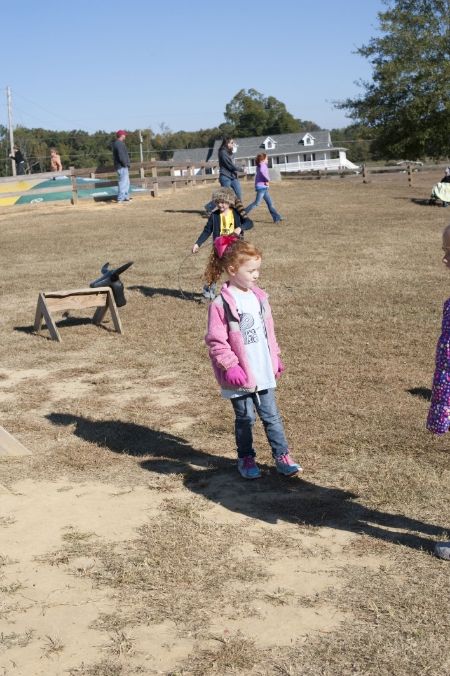 The kids seemed to enjoy themselves… Especially when Big Sis tries to rope an unsuspecting little sister…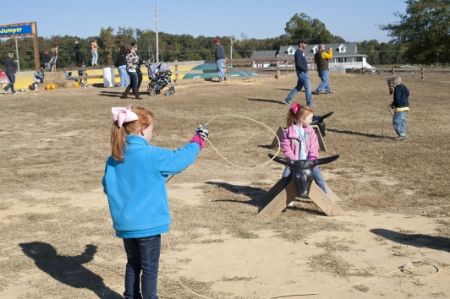 I must stop right here and brag on A-A. She opted to leave her class and go with little sister's class so the three of us could all be together. It was such a proud Mom moment…I was so proud, that later that afternoon I took them to Starbucks for a special treat of hot chocolate and a pumpkin cookie.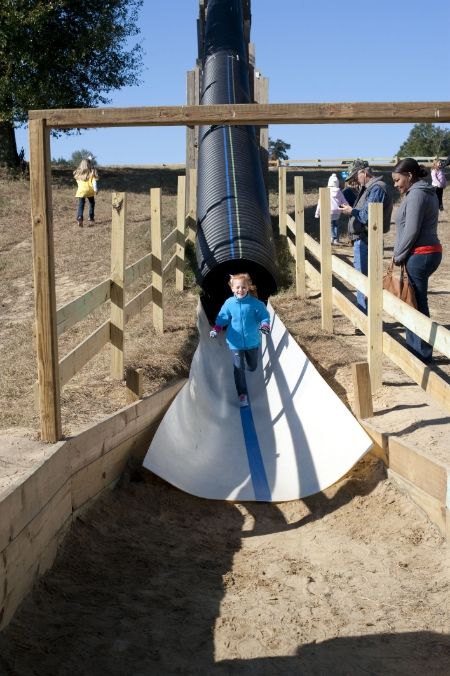 This was the point of the field trip where someone's kid got lost… no worries, after 10 minutes of searching (which feels like an eternity in panic mode) they found her in the corn maze. Those kid leashes don't sound like such a bad idea now!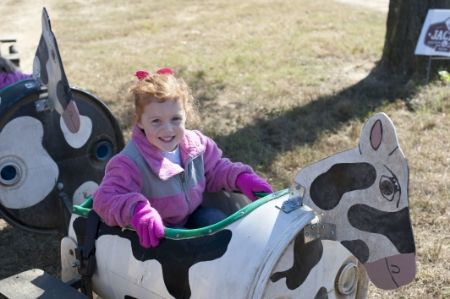 The girls picked their own pumpkins and they are honestly super cute. I was glad to have such a special day with my girls. I remember growing up that I loved when my mom would go on our field trips. Of course.. mine pitched a fit because they wanted to ride the school bus back. How many parents have to drag their kids kicking and screaming with them out of a school activity? I thought that was weird.
Have y'all gone to a pumpkin patch? Or perhaps had a child pitch a fit NOT to go with with you somewhere?

I decided to get up before the chickens and drive to Birmingham Saturday morning to run with the Birmingham Track Club. They have an awesome group that meets on Saturdays and has multiple distances and multiple paces. With it being so flipping cold, The Trak Shak opened and let us hang inside while they went over the routes.. of course, I never listen to turns… Probably a terrible idea. But I did run with my phone, in case I got lost. Because that's been known to happen before.
The gigantic group starts together but they end up breaking off into smaller groups based on pace. I am becoming more comfortable walking into these settings of not knowing anyone and just start talking to people. Sometimes people are more receptive and others aren't, but I've found that this Saturday group is super friendly and will make you feel comfortable.
I met pacers for my upcoming half marathon and past Ms. Alabama's, so it was a good run, I'd say. Of course, the route was a little on the tough side, with some killer hills… one of which was an incline for about 2.5 miles… Super fun with the ankle. But the view atop Red Mountain… was sort of worth it. The group said the sunrise was amazing, but we were a little bit early for sunrise and it was still dark… It looks lighter because of all the lights coming from the buildings downtown.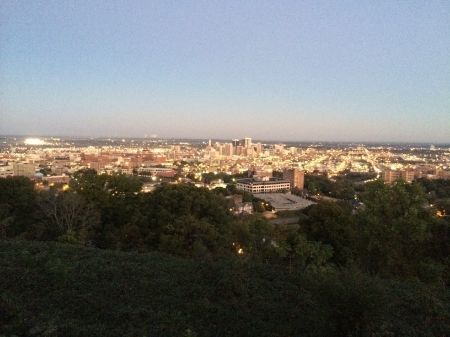 My race season starts on Saturday with my 3rd 10K ever and the first time that I've ever run the Vulcan 10K. I'm hoping it'll be a good run that I finish in under 1:00, but we shall see what the 'ol running coach says. I'd love to see sub-55, but I am not sure that is even possible or smart with a half marathon at the end of November.
The ankle seems to be holding up in the brace. It's a little more sore after those 9 miles, but nothing unmanageable. I should probably avoid big hills though.

When I was in nursing school (It was many moons ago. Long before the reds!), it became apparent to me I had a problem being able to focus and stay on task. I went to the dr to discuss this issue and after being asked several questions, I was diagnosed with ADD. Now, I don't have the hyperactive, can't stay in my seat ADD that many of us have grown up hearing about. What I have is an inability to focus and stay on task. I get distracted easily and often lose my train of thought. I am extremely organized and have awesome big picture ideas, that I have a hard time implementing because I can't stay focused on tedious tasks. It's super annoying. I've tried multiple ADD medications, but for the most part they either leave you jittery and/or not hungry. Which has been a MAJOR problem with my endurance sports. I often forget to eat meals, simply because I am not hungry. Or my blood sugar drops and then I'm really worthless.
This summer, I started taking EnergyBits as a way to refuel and recover from workouts. I felt better and could still feel that "runner's high" for hours after a run. It gave me as much pep, if not more, than a cup of coffee. Fast forward to my injury early this Fall… the good people at EneryBits encouraged me to take them to help with the inflammation and recovery of the tendonitis. So, I did. Every morning. And after about a week, I started to feel so good about how my mornings were progressing with being able to get things done and stay on task, that I stopped taking my ADD medication. For a month, I did without it. I felt better. Was eating better. Was doing a good job at staying on task and not feeling like I had a million thoughts running through my head at one time. So, that was nice. Oh. And you know, my ankle was feeling better. The kicker for me, was when I had blood work done last month. I am always borderline anemic and they always stress the importance iron in diet and yada yada yada… not this time. She praised me for how great all of my blood work looked. So.. BOOYAH. Sold. I am a believer in the Bits.
What are the Bits? They are Spirulina Algae. They have the highest form of protein found naturally. Which means, they are able to provide the brain with amino acids that would otherwise be missing. Algae is also considered an "adaptogen", which means it's has the ability to automatically determine what nutrients your body is low on and providing that and then passing out what it doesn't need. EnergyBits don't just help ADD. They help a multitude of mood disorders. If you are taking any prescription medication for depression, anxiety, etc. I urge you to try them for a week and see how you feel. 
With October being Breast Cancer Awareness month, EnergyBits wants to get the word out about how much it helps with fighting cancer. It's pretty awesome.
Are you interested in giving EnergyBits a try? Use the code RUNINHIGHHEELS for a discount when ordering.

Wednesday night, Mom, Addy, and I ventured over to Atlanta to spend the night and go to the American Girl store for her birthday. We got there very late with the time change and therefore, coffee was necessary all around… Hers was decaf.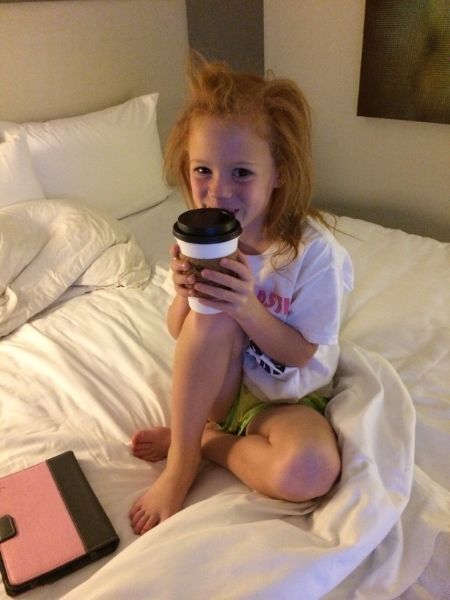 My friend Mary hooked up us with a fantastic room at the Hyatt Midtown… I sort of loved the keys. Mom was glad that I am tech savvy.. she said she wouldn't have been able to figure it out otherwise.
The lobby was gorgeous..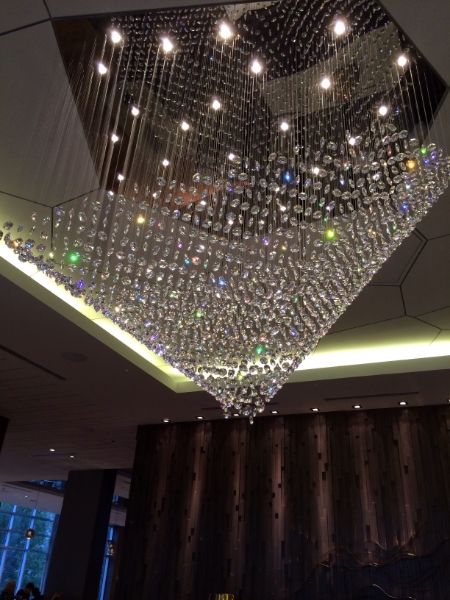 Addy and McKenna..
Mom and Addy in front of the store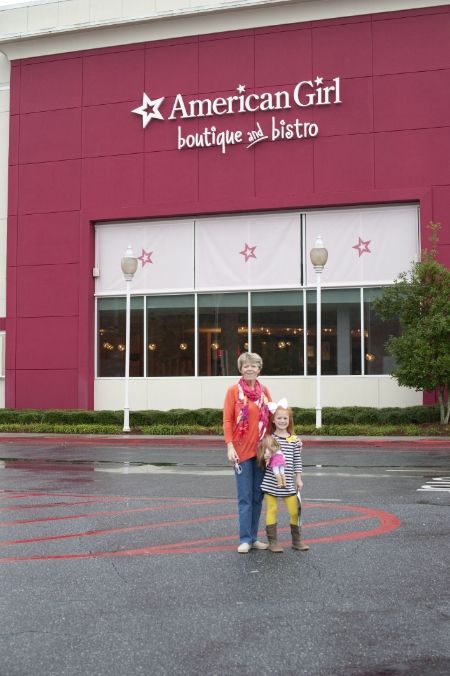 We headed straight for the doll hair salon for McKenna to get a new hairdo…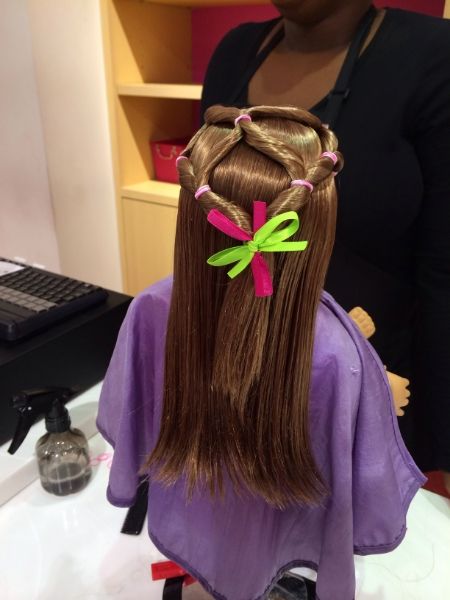 After McKenna's time at the spa, we ate at the Bistro, which has to be the most expensive macaroni and cheese that I have ever eaten.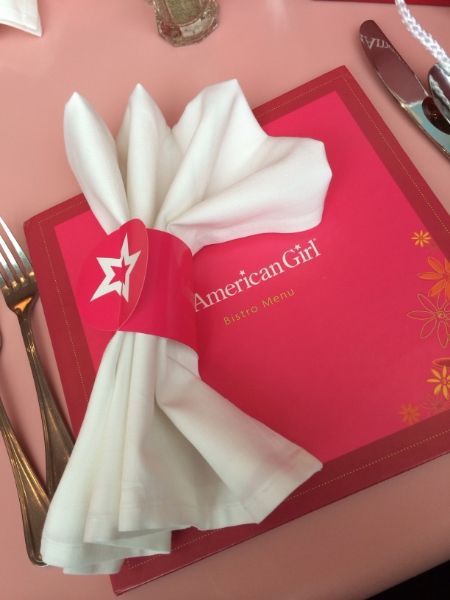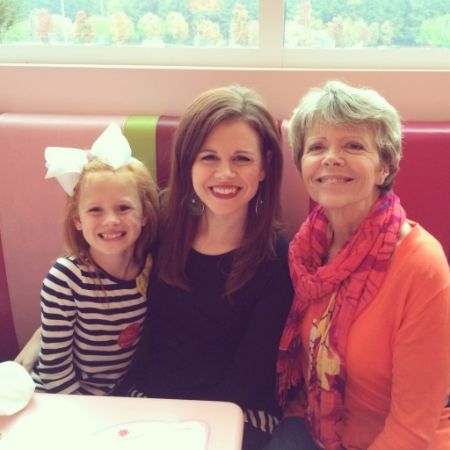 Addy enjoyed her milkshake.. thankfully, it didn't bring all the boys to the yard.

I think it's safe to say, we did some damage at the store.

We had a fantastic time with just us girls. Addy scored some major American Girl stuff and I realized just how out of my element that I am with these AG dolls.

Dear Addy,
I can't believe that I am writing you this letter. How are you 7?? It doesn't seem right. You no longer a baby and are a young lady. Being able to watch you grow up is an absolute privilege. You are so full of life and smiles and laughter and bring so much joy where you go, that it doesn't seem possible that God gave you to me.
Watching you, I realize how much you are just like me. You completely light up a room when you walk in and people are naturally drawn to you, but your stubbornness leaves me feeling sorry for your grandparents and how they had to deal with me.
You have always been and continue to be a Daddy's Girl. And that is a relationship that I cherish for you. You and your daddy have a special bond that I would never try to break. You understand each other in a way that you and I will never be able to, but that's okay.
You are competitive. And athletic. I'm not sure that those are a good combination, but I secretly love it. You are independent but still love to snuggle with Mommy.
You are spunk and sass and hard headed, but also helpful and smart and loving.
A lot of times I feel like I am too hard on you and that I expect too much. I just love you and want you to the best A-A that you can be.
I love you more than a hog loves slop and if you can only remember one thing baby girl, just remember that Mommy loves you.

So. I sort of did something crazy and definitely out of the norm. I hired a running coach. I know me and how I operate (it's a gift of having known myself for 29 years) and if left to my own devices, I would jump back into running with both feet… which is hard to do since running is typically one foot at a time. My friend Jennifer had sent me a link right around the time I got injured for Resolute Running. They were doing a training group for the Magic City half. After numerous e-mails with Alex about my injury and even discussing running goals when I actually couldn't run, I decided to take the plunge and do it. I figured, if he would watch me like a hawk with my ankle and tell me exactly what to do, I'd be in good shape. That's another thing with me.. I tend to follow directions well.
Coach Alex and I discussed using Magic City as my "come back" run. And the goal would be to just finish. We talked about my PR being 2:02 and how I REALLY wanted to break 2 hours and he said, "Oh. That's pretty much done. Let's look at 1:50." Wait a second. I am barely running, and am not running near 2 hour paces and you want me to set my sights on a 1:50 half? Before the conversation was over, he had mentioned a 1:30 half and me still being "moldable". Afterwards, I was very confused. I thought I was just easing back in and he's talking about major PR's.
Then I got my training plan. And it is a bunch of 10:30 paces and then I was SUPER confused. So, I e-mailed him and asked what was up– Was the goal really just to cross the finish line or was it break 2 hours? He explained to me that he was being very lenient with my paces and I should be able to run a 1:56 half with this. Skepticism, party of 1??
I read Tanya's post on Coach Alex's style and it eased my thoughts, but I'm still a little skeptical on it… but, I will trust the training and do what I am told.
For now, I am back running, with Betty the brace (she's becoming a part of me so she needed a name). I'm not doing any speed work and I am glad to know that I haven't lost too much of my fitness being out a month– I had a long run this weekend of 7 miles and still felt pretty dang good afterwards. Right now, I am running 3 days a week and cross training 2 days with 2 rest days. I have the Vulcan 10K coming up and I would love to break 55 for it, but I am not sure that will happen.

**DISCLAIMER:  PICTURE OVERLOAD**
My eldest ginger flipper turns 7 this week and we had her party this past weekend. She requested a Sprinkles party and to be honest, I had no clue what to do with that. So, I just covered everything in sprinkles. I'll be honest, I didn't buy the first thing for this party until Thursday. Oops. Really dropped the ball on that one. But I think it turned out nicely!!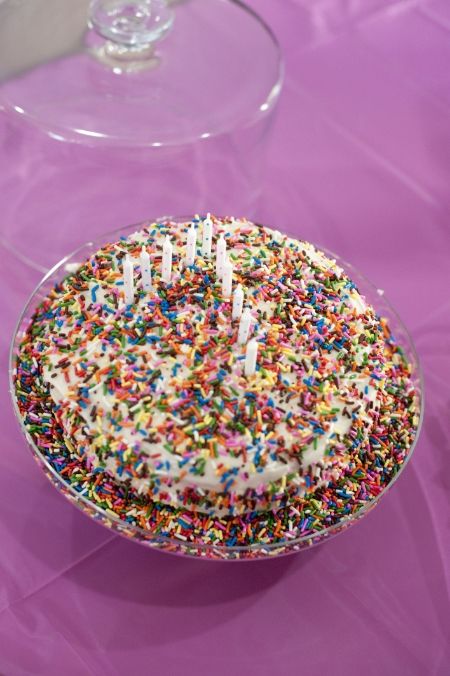 I was such a slacker about it that I couldn't even get someone to make the cake, and I had to make it myself.
We didn't do a huge party, just family. Part of her present is to go to the American Girl store in Atlanta this week.
C, Tay, A, and Avery.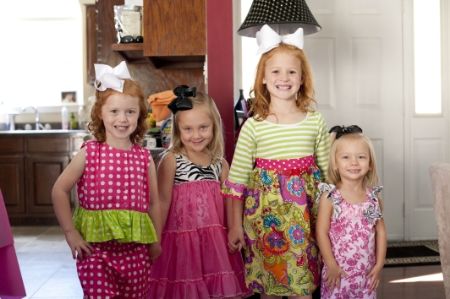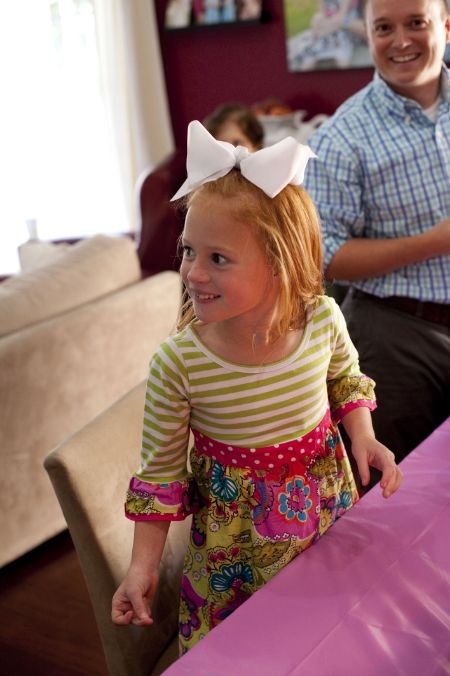 I love this picture.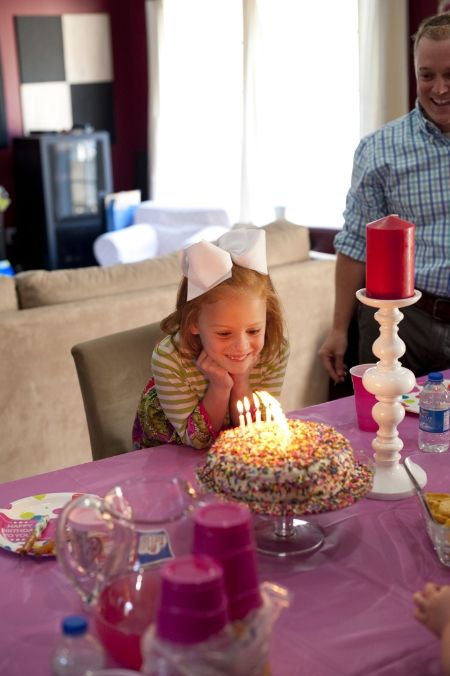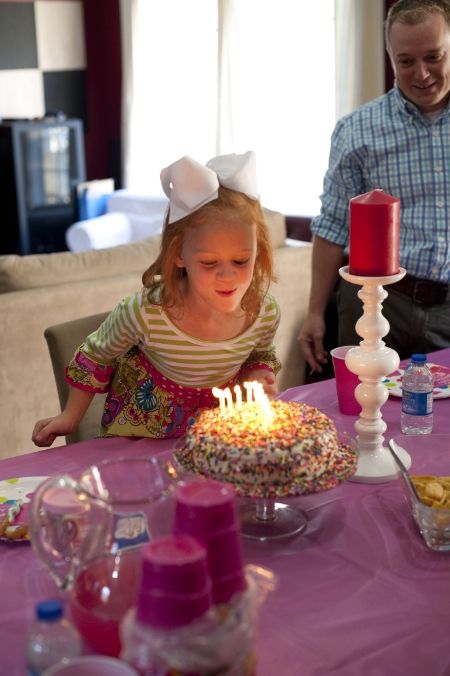 It's hard work blowing out all those candles!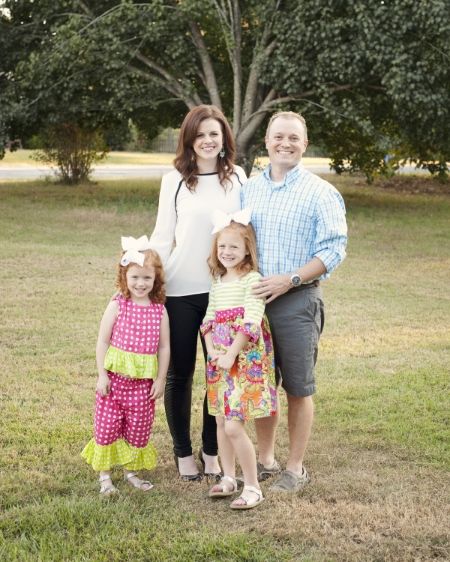 Several months ago, I had a phone call with Hubs that went like this:
Me: "Um. The Lumineers are coming in concert."
Hubs: "Yeah. I knew that."
Me: "How did you know that?!"
Hubs: "Um. Because I follow the Tuscaloosa Amphitheater on Twitter."
I was basically waiting on this night for MONTHS.
Becca and Robbie went with us and we ended up eating at Mugshots pre-concert.
I thought we were making it in enough time to miss the opener.. but we had plenty of time for photobombing…
Me, Hannah, and Rebecca– we had to make all boys stay within sight or else they would attempt to photobomb.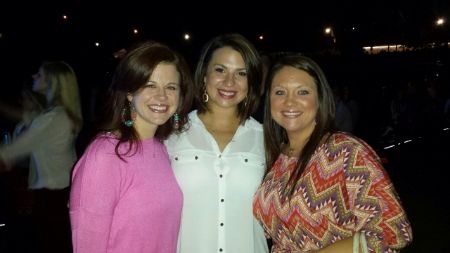 I'm not sure why this is relevant, but Robbie thinks that John Mayer has the scariest singing face. I would have to agree.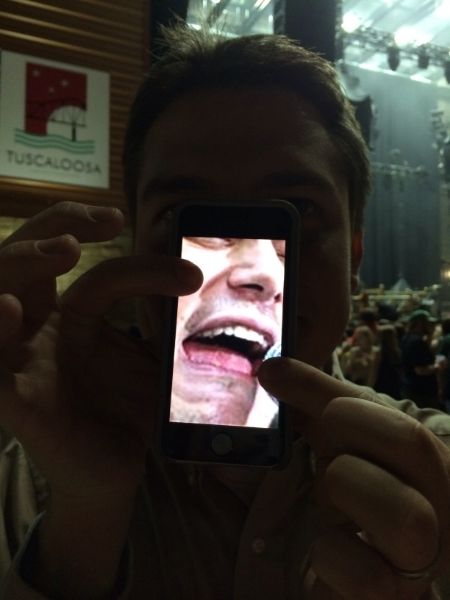 I had to ask some inebriated gentlemen to stop smoking and they didn't seem too pleased. But then I befriended them over a Good People Brewing shirt and we became fast friends. Until one of them stepped ALL OVER my injured foot and I wanted to punch him in the nuts. So, it's still sore and I am still bitter.
But then.. The Lumineers came on and made it ALL better!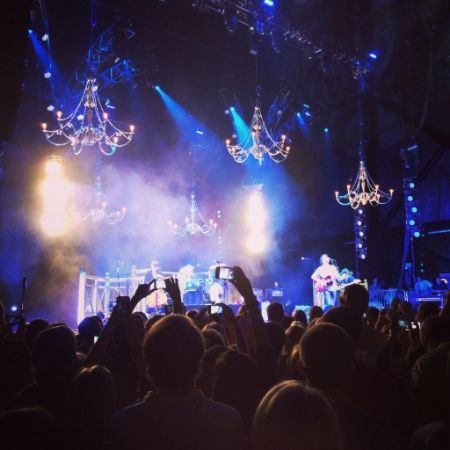 It was seriously one of the best concerts that I have been to in a while… They really interacted with the crowd and I just LOVED it.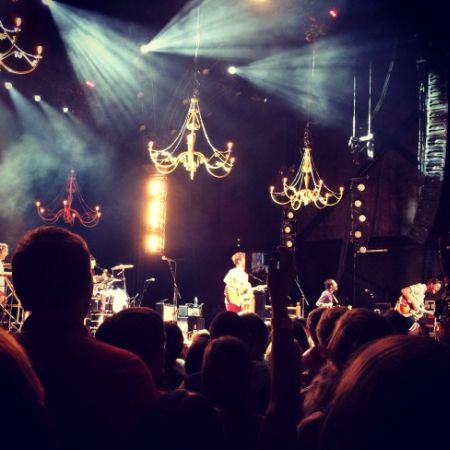 I didn't love the late night of driving that I had to do to get home at 1 am and then to wake up at 5 to go run… I was tired. But it was SO WORTH IT!!